Expanded Purdue University Veterinary Hospital Facilities Near Completion
Wednesday, December 15, 2021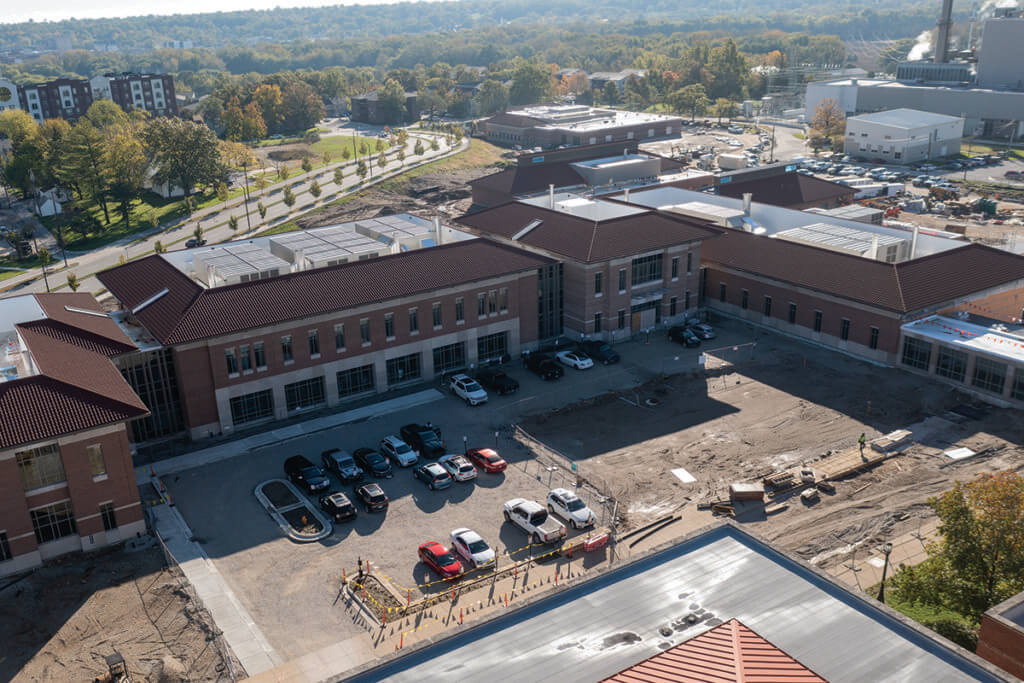 An air of anticipation fills the Purdue University College of Veterinary Medicine as construction of a new veterinary hospital complex reaches substantial completion with the start of 2022. A dedication ceremony is scheduled for Friday, April 8, and tours will be provided to the public during the day on April 9, in conjunction with the college's annual Open House.
The new facilities are located just east of Lynn Hall, which has served as the home of the college since the first class of veterinary students enrolled in 1959. Lynn Hall not only houses academic and office space, as well as laboratories for teaching and scientific discovery, it also contains the existing Small and Large Animal Hospitals. The new facilities will replace the Large Animal Hospital and provide for expansion of the Small Animal Hospital.
Named in recognition of a major gift by a PVM alumnus and his wife, the new David and Bonnie Brunner Purdue Veterinary Medical Hospital Complex will encompass more than 160,000 square feet of new hospital space on 13 acres. "We are excited to see our new Purdue University Veterinary Hospital facilities nearing completion," said Dr. Ellen Lowery, hospital director. "The new facilities will feature the latest designs and equipment, complementing the expertise of our faculty and staff to provide the most advanced level of care and treatment to our animal patients."
Notable components of the new complex include a separate hospital for equine patients, a stand-alone facility for farm animals, and a new structure that will expand the Small Animal Hospital by adding 65,000 square feet to the existing 40,000 square foot facility in Lynn Hall. The new David and Bonnie Brunner Small Animal Hospital building will provide state-of-the-art space for the heavily utilized Emergency and Critical Care Service and Intensive Care Unit as well as Anesthesiology, Diagnostic Imaging, Internal Medicine, Orthopedic and Soft Tissue Surgery, and Neurology and Physical Therapy. Moreover, it will double the number of exam rooms to a total of 30 and add 11 new operating rooms.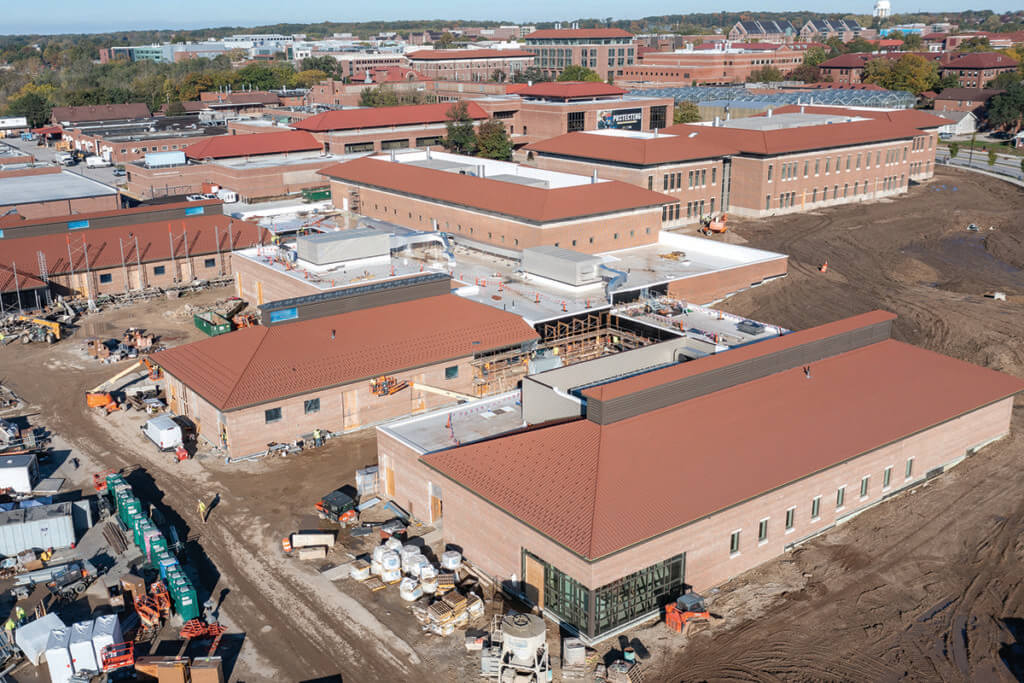 The new David and Bonnie Brunner Equine Hospital contains 73,000 square feet of space and will provide advanced capabilities to enhance diagnostics, surgical, and medical care. Additionally, the Equine Hospital will have its own Intensive Care Unit and dedicated space for Anesthesiology, Internal Medicine, Surgery, Outpatient Services, and a special Equine Theriogenology unit that will provide the latest in reproductive medicine and surgery.
The new hospital also will include a separate section for diagnostic imaging with the latest imaging equipment, including the advanced Qalibra Computed Tomography (CT) system that features the largest field-of-view for a CT machine, and an adjustable height to match the size of the patient, making it possible to scan equine patients while they are safely standing or under general anesthesia or light sedation.
"We are excited to be able to provide equine athletes and their owners access to the state-of-the-art Qalibra CT system both here in West Lafayette, as well as at our Caesars Entertainment Equine Specialty Hospital in Shelbyville," said Dr. Lowery. "This capability really moves us into the forefront of advanced equine diagnostics and treatment."
The 24,000 square foot David and Bonnie Brunner Farm Animal Hospital will have separate sections for cattle, goats, and swine as well as an isolation area and dedicated space for Surgery Services. Together, the Equine Hospital and Farm Animal Hospitals will replace the outdated Large Animal Hospital facilities in Lynn Hall. Moreover, the new hospital complex will enable a 30% increase in hospital caseload, and accommodate a future 35% expansion in veterinary student enrollment.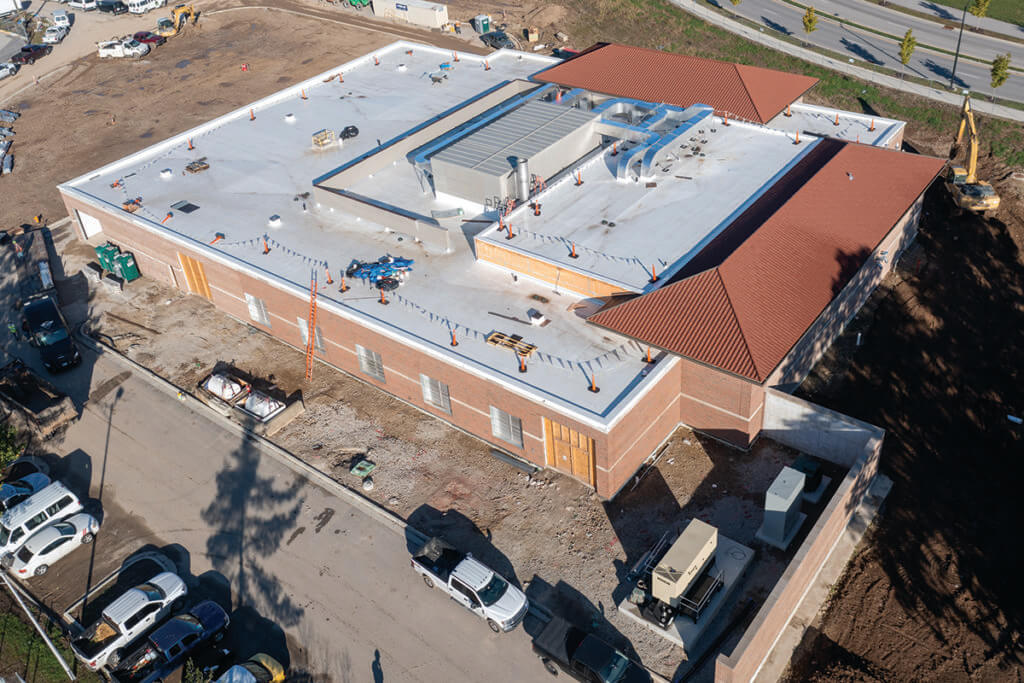 "These new state-of-the art facilities will enhance our capability to provide top-quality, compassionate animal health care and provide a wonderful learning environment for our students as we educate the next generation of veterinarians and veterinary nurses," said PVM Dean Willie Reed. "Additionally, the new facilities will enable our faculty to advance their clinical research programs that involve clinical trials."
The $108 million veterinary hospital project is being funded with $73 million in support from the State of Indiana and $35 million from Purdue University and the College of Veterinary Medicine. "As these new hospital buildings near completion, you can really get a sense of the massive scope of this project," Dr. Lowery said. "Every day brings us closer to even better patient care, client service, and student education. I am very grateful to our clients who have been understanding and appreciative, despite the challenges with parking, construction noise, and communication. With the talented, dedicated, and compassionate professionals who make up our Veterinary Hospital team, we are ready like never before to advance veterinary medicine and enhance both animal and human health and well-being across Indiana and beyond."
Writer(s): Kevin Doerr | pvmnews@purdue.edu