Revolutionizing Patient Care: Caesars Entertainment Equine Specialty Hospital Second Facility in the Country to Install Large Gantry CT Machine
Wednesday, December 15, 2021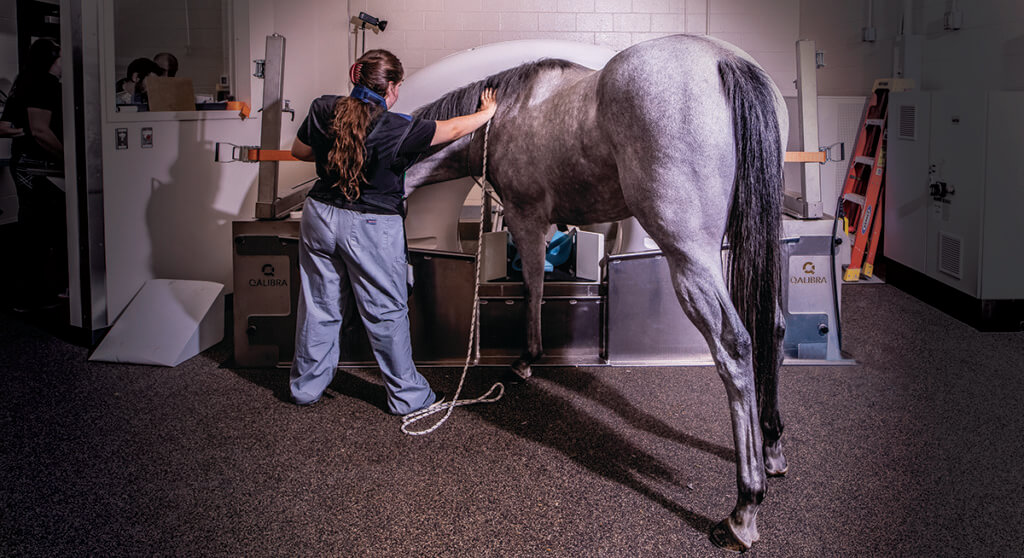 The Caesars Entertainment Equine Specialty Hospital, a satellite facility of the Purdue University College of Veterinary Medicine, is among the first veterinary hospitals in the nation to install a specialized large gantry helical CT scanning machine. The device, manufactured by Qalibra, is adapted to the anatomy and behavior of equine patients and provides more advanced diagnostic capabilities for medical staff treating equine athletes by covering more anatomy with greater accuracy.
"The installation of the Qalibra CT puts Caesars Entertainment Equine Specialty Hospital at the very forefront of a select group of practitioners globally who will be rewriting certain chapters of what we think we know," said Dr. Timm Gudehus, the hospital's senior equine surgeon. "That goes for the entire community of equine veterinarians. Anatomy that previously was only glimpsed by an ultrasound or X-ray can now be scanned and visualized in 3D. This is the future."
Computerized tomography (CT) combines data from several X-rays to produce a detailed image of structures inside the body. Previously, veterinarians working with large-scale mammals relied on CTs designed for humans and were limited by the size of the gantry, which is the ring or cylinder into which the patient is placed. Typical CT machines have an opening of around 70 to 75 centimeters. With a gantry opening of 90 centimeters, the Qalibra CT has the world's largest field-of-view, up to 85 centimeters.
Designed to accommodate equine patients, the Qalibra CT offers more versatility as well as increased safety for the patient and the personnel compared to traditional machines. One of the biggest advantages of the new technology is the ability to scan regions of the body without using anesthesia. A physician treating a human patient can instruct the patient to align their body with the machine. When treating an animal, it's the machine that must react to the patient. The Qalibra CT can be adjusted vertically and horizontally so it can be adapted to the size of the horse or the examination region.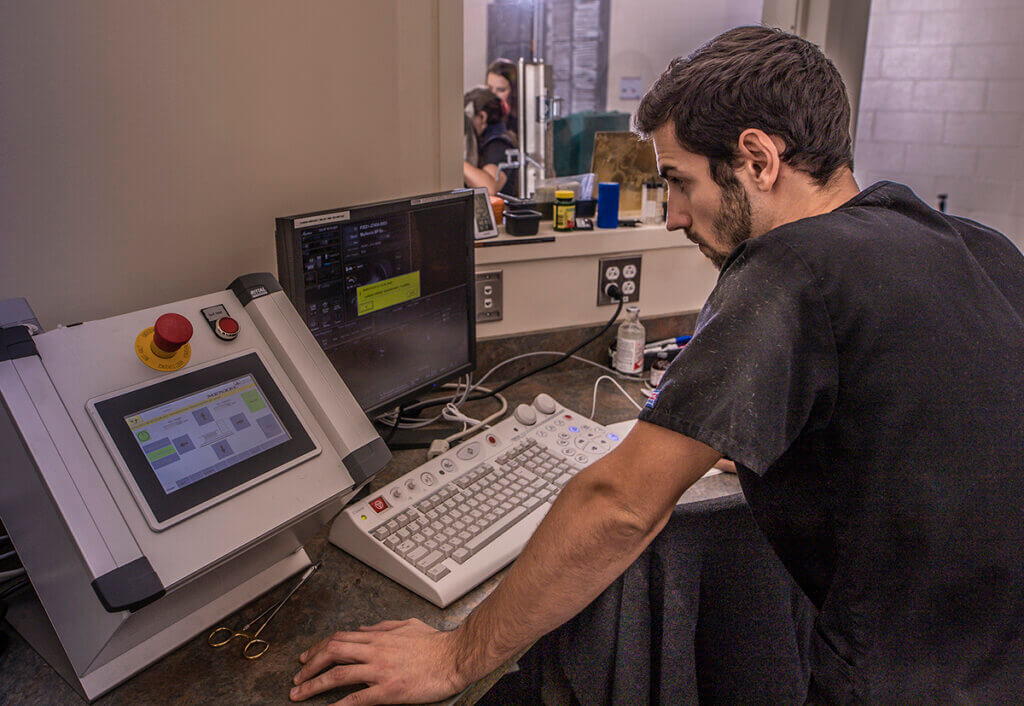 "There are still limitations depending on the size and proportions of the patient, but with this new CT, we can perform scans on the head and neck of a standing horse as well as its limbs above the carpus and tarsus," Gudehus said. "The positioning is similar to what a horse experiences at the farrier, so it's a very comfortable and accommodating stance that can be achieved without placing the horse in any constraints."
Many equine athlete patients suffer from orthopedic problems. With the use of anesthesia, the Qalibra CT allows radiologists to obtain high resolution images of regions of the body such as the chest, knees and hips that aid in diagnosis and treatment.
"Once you administer general anesthesia, anything that fits through the gantry can be scanned," Gudehus said. "We have scanned thoracic spines on adult horses, pelvises, sacroiliac joints, hip joints, the entire femur, all with and without contrast. We can conduct contrast myelograms on cervical spines, which is a huge diagnostic advantage in any case with questionable origins of neurologic symptoms."
Developed in Germany by equine specialists in conjunction with Canon Medical, the Qalibra CT system also will be installed in the new David and Bonnie Brunner Equine Hospital under construction on Purdue University's West Lafayette campus with an anticipated opening in spring 2022. At that time, the College of Veterinary Medicine will have two of the three known Qalibra CT installations in the United States.
"Acquisition of these machines demonstrates the College of Veterinary Medicine's commitment to state-of-the-art technology so that we can deliver the best possible diagnostics and care to our patients and service to our clients," said Dr. Ellen Lowery, director of the Purdue University Veterinary Hospital. "The mission of the college is to advance global animal health and overall well-being through excellence in learning, discovery and engagement. Specifically in the hospital, our mission is to provide excellent, compassionate care to all the animals entrusted to our service. With the Caesars Entertainment Equine Specialty Hospital's strategic location in the heart of Indiana's horseracing and equine athlete community, it expands our capacity to deliver on our mission."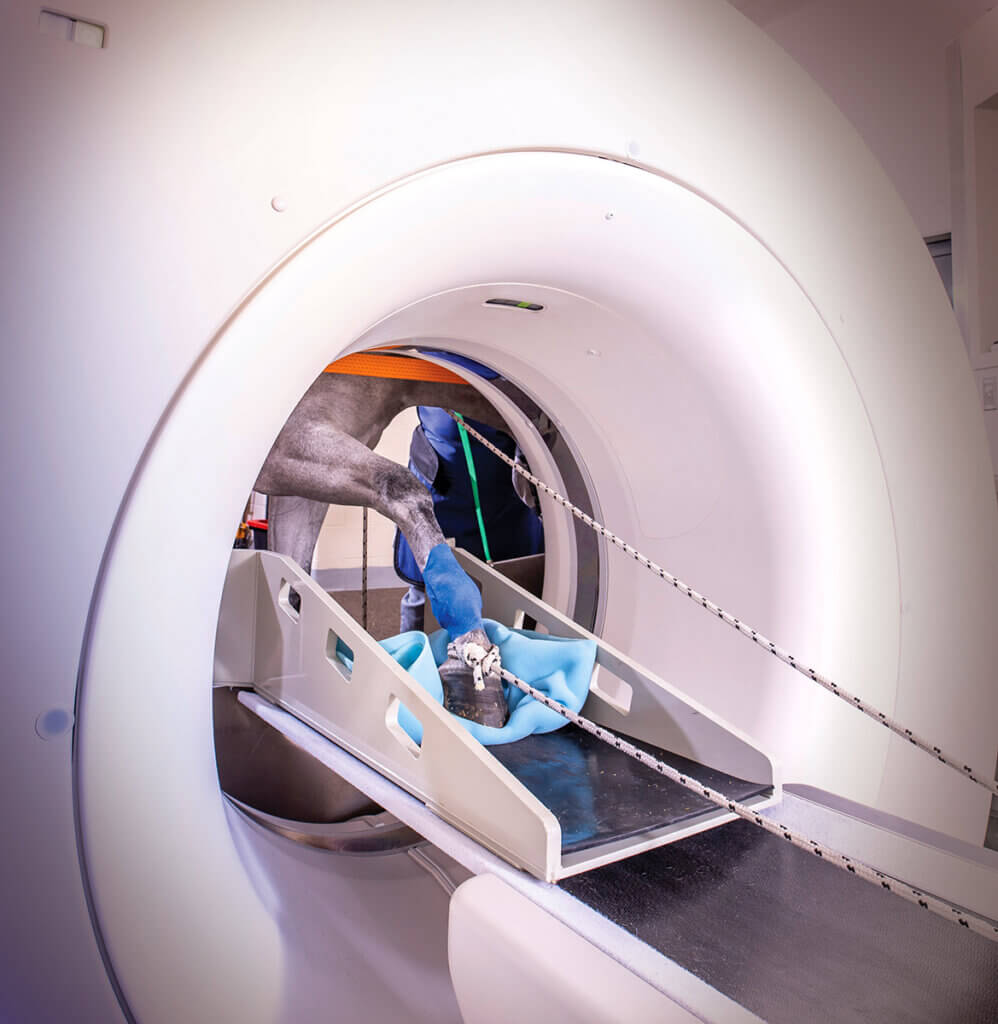 Situated near Indiana Grand Racing and Casino in Shelbyville, Indiana, the Caesars Entertainment Equine Specialty Hospital opened in 2017 as a service of the College of Veterinary Medicine focused on providing advanced veterinary medical support for Indiana's growing equine industry. In addition to racehorses, the hospital treats other types of equine athletes including Western performance horses, such as the American Quarter Horse, the most popular breed in the United States often used for barrel racing, team roping, cattle work and Western pleasure horsemanship, as well as warmbloods that compete in dressage or show jumping.
"We treat a lot of sports medicine-related cases, such as lameness or orthopedic issues," Gudehus said. "These are conditions that usually contribute to an equine athlete's failure to perform as expected whether it's speed index or overall performance level. Another common ailment is upper airway obstructions, which are fairly common in young racehorses. Because of the hospital's reputation in the performance horse industry, we're pulling cases from as far away as North and South Carolina, Tennessee and Pennsylvania."
Gudehus, who specializes in equine surgery as well as elective orthopedics and fracture repair, upper airway and laparoscopy, was tapped to head the Specialty Hospital after serving as the lead surgeon at one of the largest and fastest-growing animal hospitals in Europe where he worked on Olympic-level warmblood horses. The Caesars Entertainment Equine Specialty Hospital provides an expert level of medical services to performance horses throughout the region. The staff of 20 includes two equine surgeons.
"It's not always easy to make the trek to West Lafayette, especially with an injured large animal," Lowery said. "The Caesars Entertainment Equine Specialty Hospital is advantageously located right in the heart of Indiana's horse racing industry and its performance horse industry as well. The quality of the facility coupled with the expertise of Dr. Gudehus enables us to bring advanced medical and surgical services directly to the region where those horses and their owners are located."
Just like human athletes, there are a variety of different injuries that can occur with equine athletes that are unique to elite performers. Depending on the severity of the injury, swift diagnosis can be critical in determining a treatment protocol. The Qalibra CT enables the medical staff to obtain more thorough and accurate assessments of a patient's injury in less time than traditional methods.
"Thus far, we're averaging about five cases a week, but as owners and trainers learn about these advanced diagnostic capabilities, I expect we'll see that number grow drastically," Gudehus said. "The Qalibra CT is a revolutionary tool that supports our commitment to providing the highest level of orthopedics, specialized imaging, and general and orthopedic surgery to equine athletes throughout Indiana and neighboring states."
EQUINE SURGEON JOINS SPECIALTY HOSPITAL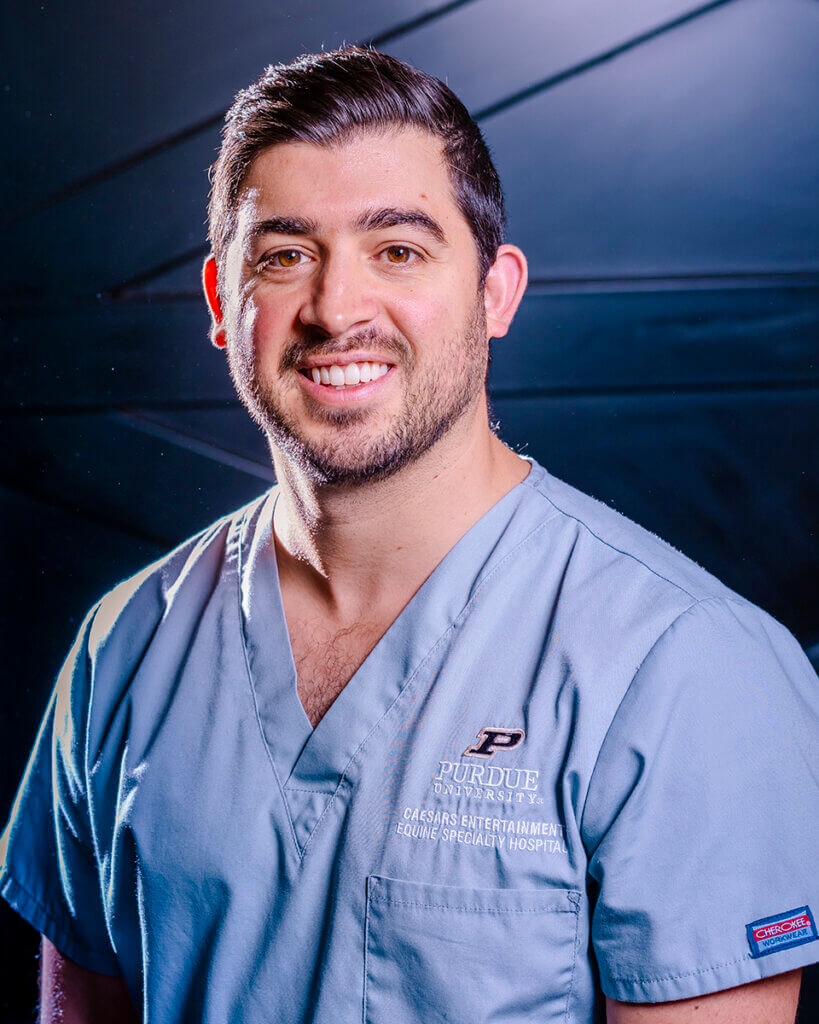 Dr. Javier Martinez joined the Caesars Entertainment Equine Specialty Hospital as an equine surgeon in 2021. Martinez earned his MVZ (DVM equivalent) in 2013 from the Universidad de Guadalajara in Mexico. He worked as an associate veterinarian at an equine hospital in Mexico before completing an internship at Chino Valley Equine Hospital in Chino Hills, Calif. Martinez then completed an equine surgery internship at Caesars Entertainment Equine Specialty Hospital followed by a large animal surgery residency program in 2021 at Virginia Tech Marion duPont Scott Equine Medical Center before returning to the Specialty Hospital to serve on staff. Martinez' areas of interest include equine abdominal emergency surgery, minimally invasive surgical endoscopic techniques, and sports medicine-related surgical procedures.
Writer(s): Kat Braz | pvmnews@purdue.edu