New Milestone Achieved as Roll of Distinguished Professors Grows
Wednesday, December 15, 2021
Take a look at the word "distinguished" in a lexicon like the Merriam Webster Dictionary and you will see that the term carries the sense of being marked by eminence, distinction, or excellence. Those also are qualities that an academic institution desires to see in its faculty. One measure of an institution's success in that regard is the number of faculty officially designated as "Distinguished Professors," and in the Purdue University College of Veterinary Medicine, the roll of professors with that distinction is growing.
In just the last two years the Purdue University Board of Trustees has ratified the appointments of four newly named Distinguished Professors in the college, including the first two women faculty to receive that designation in the college's history. Dr. Ourania Andrisani was named a Distinguished Professor of Basic Medical Sciences and Dr. Deborah Knapp was named a Distinguished Professor of Comparative Oncology, both in 2020. Then on October 1, 2021, the trustees ratified the appointment of Dr. Harm HogenEsch, the college's associate dean for research, as Distinguished Professor of Immunopathology. Two months later, at the trustees meeting December 3, the appointment of yet another Distinguished Professor in the college was ratified as Dr. J. Paul Robinson, a faculty member in the Department of Basic Medical Sciences and director of the Purdue University Cytometry Laboratories, was named Distinguished Professor of Cytometry.
As part of its commitment to excellence in discovery, learning, and engagement, the University awards distinguished and named professorships to outstandingly original, creative, and productive faculty whose achievements in discovery and learning have been internationally recognized or who have made a unique contribution to the University through discovery, learning, and/or engagement. "This recognition is most fitting for these phenomenal faculty members who are so talented and accomplished as scholars in their fields," said Purdue Veterinary Medicine Dean Willie Reed.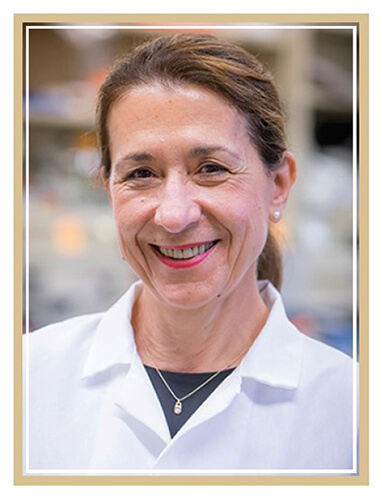 Dr. Ourania Andrisani joined the College of Veterinary Medicine faculty in the Department of Basic Medical Sciences in 2001, after initially coming to Purdue in 1982 as a postdoctoral fellow in the Department of Biological Sciences, and then working as a research associate at the Walther Cancer Institute in the Department of Biochemistry. Dr. Andrisani is an international expert on the molecular biology of the hepatitis B virus, a leading cause of liver disease, including cirrhosis and highly malignant liver cancer. Her research has identified aspects of the mechanisms by which proteins expressed by the hepatitis B virus contribute to cell transformation and development of the hepatocellular carcinoma, or cancer that starts in the liver.
Dr. Andrisani is highly respected by her peers in the scientific community, as evidenced by her leadership role in the International HBV Meeting on the Molecular Biology of Hepatitis B Viruses. She also has served on National Institutes of Health study sections for nearly 20 years and has obtained major federal funding in support of her research, which has consistently been published in high-impact journals. Additionally, Dr. Andrisani has been generous with her time in mentoring postdoctoral fellows and graduate students and has participated in the campus scientific community with particularly long-standing service and contributions to the Purdue University Center for Cancer Research.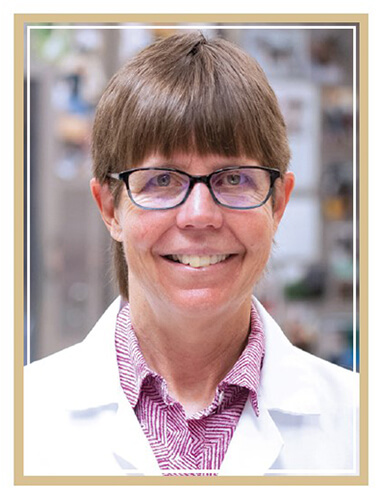 Dr. Deborah Knapp earned her DVM degree at Auburn University before coming to Purdue University in 1985. She completed her residency and earned her master's degree at Purdue in 1988. Two years later she became board certified by the American College of Veterinary Internal Medicine (Oncology). In 2006, she was named the Dolores L. McCall Professor of Comparative Oncology.
Dr. Knapp is regarded as the leading expert in the field of naturally occurring bladder cancer in dogs, and her research has established bladder cancer in dogs as the most relevant animal model for invasive bladder cancer in humans. Dr. Knapp is the author of more than 100 peer-reviewed journal articles related to the subject.
At Purdue, Dr. Knapp has led comparative cancer research for over 20 years. Her research has focused on invasive transitional cell carcinoma of the urinary bladder. In 2014, she received the AVMF/American Kennel Club Achievement Award in Canine Research at the Merial NIH Scholars Symposium. Additionally, Dr. Knapp has received numerous other awards for teaching and research, and in 2017 was inducted into the Purdue Research Foundation Innovator Hall of Fame. Dr. Knapp is director of the Purdue Comparative Oncology Program and a major contributor to the Purdue University Center for Cancer Research.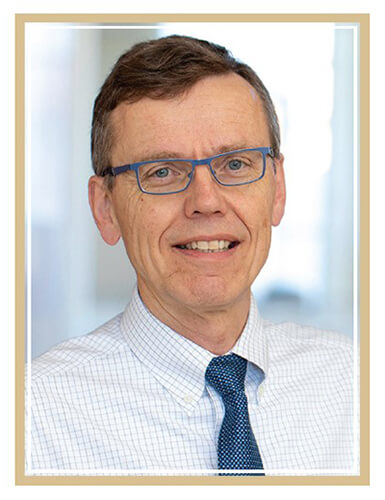 Dr. Harm HogenEsch is a veterinary immunologist and pathologist who came to Purdue in 1993. A world- renowned expert in vaccinology and allergic skin disease, Dr. HogenEsch is highly recognized for his research on the development of vaccines, with special expertise in the use of adjuvants to enhance the immune response. His contributions to science have benefited both human and animal health.
Dr. HogenEsch grew up in the Netherlands and earned his DVM degree from the University of Utrecht in 1984. He did his graduate training in immunology at the University of Illinois at Urbana-Champaign and received his PhD in 1989. He is board-certified by the American College of Veterinary Pathologists. He was promoted to professor at Purdue in 2001.
Dr. HogenEsch has published 148 research articles and 20 book chapters, and has served as advisor for 11 graduate students and 11 postdoctoral fellows. He also has contributed to the training of more than 70 graduate students as a member of graduate advisory committees in departments across campus. In addition, Dr. HogenEsch has been an active member in national veterinary organizations, serving on editorial boards of immunology and pathology journals, and as a grant reviewer for the National Institutes of Health and other granting agencies. During his tenure in the College of Veterinary Medicine, he served eight years as head of the Department of Comparative Pathobiology and now is in his 13th year as associate dean for research and graduate programs.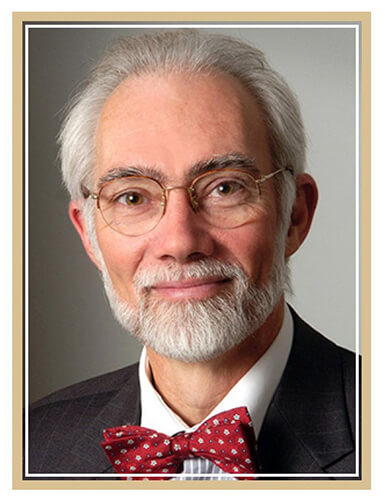 Dr. J. Paul Robinson holds a joint appointment as the SVM Professor of Cytomics in the Department of Basic Medical Sciences and professor of biomedical engineering in the Weldon School of Biomedical Engineering. He is internationally recognized for his contributions to cytometry, including the latest spectral technology. Dr. Robinson's work has led to 18 patents in the U.S., Europe, and Japan. In 2019, Dr. Robinson received the Distinguished Service Award from the International Society for Advancement of Cytometry. He also is a past president of the International Society for Advancement of Cytometry and currently serves as editor-in-chief of "Current Protocols in Cytometry."
Dr. Robinson earned his PhD in immunopathology from the University of New South Wales in Sydney, Australia and completed a postdoctoral fellowship at the University of Michigan. In 2020, he was elected as a fellow of the American Association for the Advancement of Science, which is the world's largest general scientific society. Dr. Robinson has had a long-term interest in the evaluation of phenotypic analysis of blood cells. He and his team have developed several cell analysis technologies for functional analysis of white blood cells using flow cytometry and various imaging modalities.
Dr. Robinson has taught advanced courses in over a dozen countries, given over 160 invited international lectures, and made over 400 conference presentations. He also was an early adopter of web-based educational materials by producing one of the first-known published CD-ROMs in 1996. He has since published 15 CD-ROMS or DVDs with a total distribution of around 100,000 copies – all free-of-charge.
The appointments of Drs. Andrisani, Knapp, HogenEsch, and Robinson as Distinguished Professors brings the total number of Distinguished Professors in the College of Veterinary Medicine to six. The other two are Dr. Suresh Mittal, Distinguished Professor of Virology, and Dr. Timothy Ratliff, Distinguished Professor of Comparative Pathobiology, both in the Department of Comparative Pathobiology.
Writer(s): PVM News | pvmnews@purdue.edu