Veterinary Friends Set Sail on Dream to Lift Financial Burden from Future Veterinary Students
Wednesday, December 15, 2021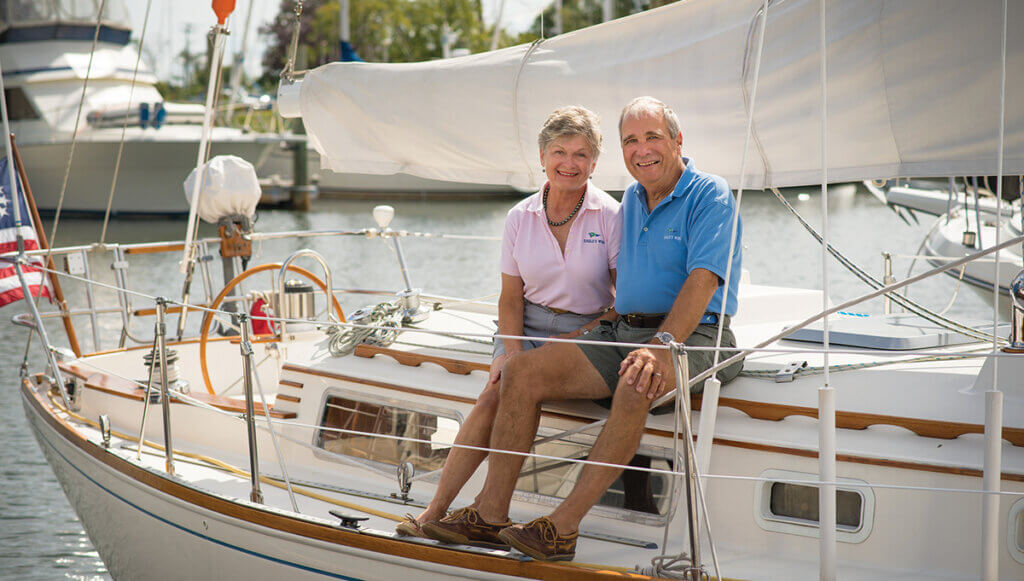 This is a Purdue Veterinary Medicine story that begins nowhere near Purdue's campus in West Lafayette, Ind. It starts at separate homes ― one on a family farm in Ohio, and the other at the residence of a family involved in medicine in New Jersey. The common thread involves love and the human-animal bond.
To begin, meet Janice, a first-generation college student who found her way from the family farm in Ohio to Purdue University, where she graduated at the top of her class in nutrition research and dietetics. As she looks back on that experience, one thing that stands out in her mind is the impact of scholarships. "Without scholarships, I would not have made it through my education, which provided me a solid foundation for a successful career," said Janice.
After working as a food scientist for General Foods in New York for two-and-a-half years, Janice shifted from the laboratory to marketing research and finally into a marketing role in product management. She worked 11 years in the food industry before moving to product development for Oil of Olay at Richardson-Vicks. Two years later she followed her ambition to start her own marketing and marketing research consulting practice.
"We carry a fundamental belief that there is no better use of money than to provide the opportunity for education to someone who would otherwise not be able to afford it."

― Janice and Ted Strauss
Then there's Ted, the boy who grew up in New Jersey and went to Bowdoin College in Brunswick, Maine, where he graduated in 1965 with a degree in mathematics and without any educational debt due to support that his parents were able to provide (since 2008, Bowdoin has been one of 19 undergraduate colleges and universities in the United States where all students graduate debt-free). Ted then continued his education at the State University of New York (SUNY) at Albany, earning his master's degree in mathematics before volunteering to enter the U.S. Public Health Service as a commissioned officer in Information Technology. Three years later, he took a position with IBM, and remained with the company for a total of 31 years. Throughout his career, he worked as a programmer, instructor, systems engineer, and finished his time in several middle management positions.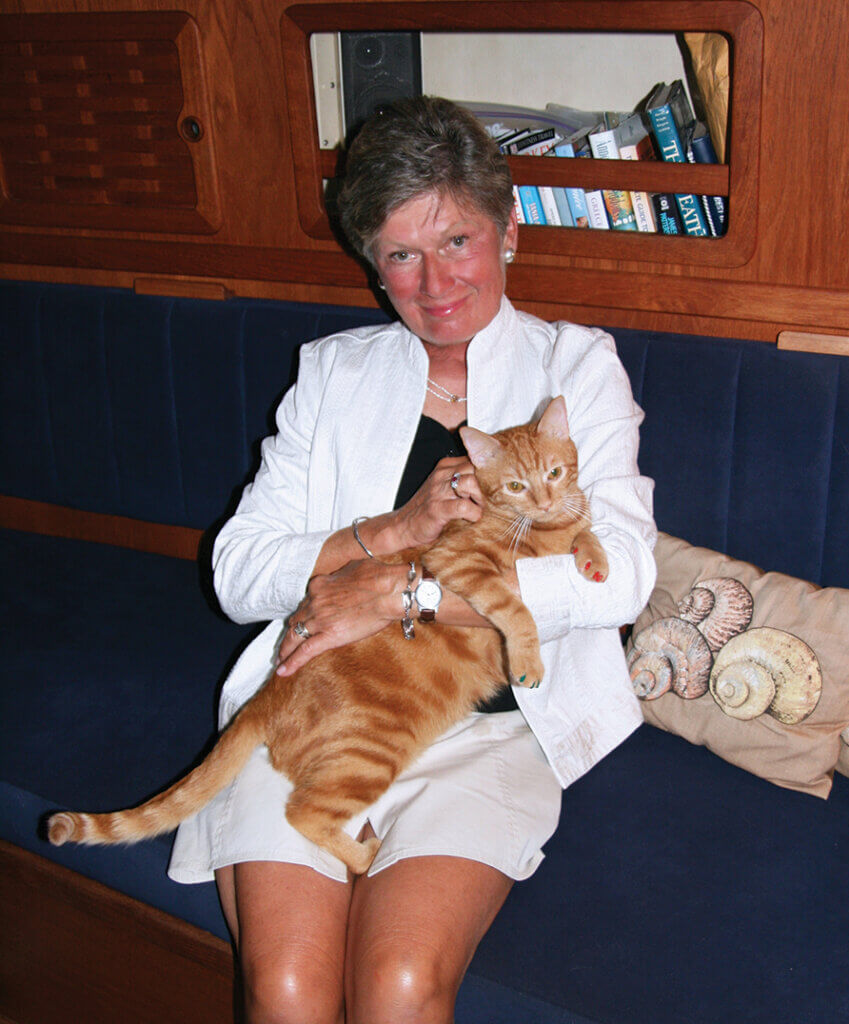 Following his retirement from IBM in 1999, he founded Ted Strauss Websites, LLC, designing and maintaining websites for small businesses ― a love that remains with him today, even after helping more than 450 small businesses!
Today, these two individuals are known by their life together as Janice and Ted Strauss. Their shared interests include period American antiques, which sprung from buying and restoring their 1734 saltbox home in 1977. After uncovering a previously unrealized passion for researching antique furnishings, Janice made her last career change, becoming a self-taught dealer of American antique furniture. "It may seem strange, but dealing in American antique furniture requires highly technical skills combined with a strong aesthetic sense," Janice said.
They also found enjoyment in escaping from life on the land by setting sail on the waters of New England in their classic Sabre 34 sloop, "Eagle's Wing". For over 50 years during the warm months, they have enjoyed sailing with a variety of cats, including one special companion ― their first mate of choice in 2009, a cat named Linus. No coaxing was needed to get their beloved feline companion to join them. Linus adored the open sea and spent a large portion of his life sailing with the Strauss family.
Life, however, can be a mix of joy and sadness. For Janice and Ted, profound sadness came in the form of a diagnosis of terminal cancer for Linus at age 10. As they worked through the intense grief that followed the passing of their dearest friend and companion, they connected with Purdue Veterinary Medicine Associate Professor of Comparative Oncology Michael Childress. A board certified specialist in oncology and head of the Oncology Section in the Purdue University Veterinary Hospital, Dr. Childress helped Janice and Ted learn about the cancer that took the life of their beloved Linus. Through this tragedy, they formed a bond with the college and began to learn more about what is involved in getting a veterinary medical education. Their research brought them full circle back to an issue Janice had faced personally herself. They were astounded to realize the level of indebtedness that many veterinary students must incur to pursue their passion of helping animals by becoming Doctors of Veterinary Medicine.
"This is so astounding, it is hard to put into words how much this means to our college and how much of a difference this will make in the lives of students and the animals they will treat and care for in the future."

― Dean Willie Reed
As Janice and Ted thought about their desire to promote the health of animals and support the education of those who provide the veterinary care and treatment animals need, they decided to take significant action. Remembering the example of Bowdoin College where graduates earn their degrees debt-free, Janice and Ted wanted to give back at that kind of level and enable veterinary students to also graduate with no debt.
So they went to work and through their estate plans, created the Janice Filipowicz Strauss and William Theodore Strauss III Memorial Scholarship Endowment that will one day fund several full-ride veterinary scholarships covering all expenses for Doctor of Veterinary Medicine students. In so doing, they will create something very unique in the veterinary medical profession ― a comprehensive financial package to provide future veterinary graduates a financially free start on their careers dedicated to animal health and well-being.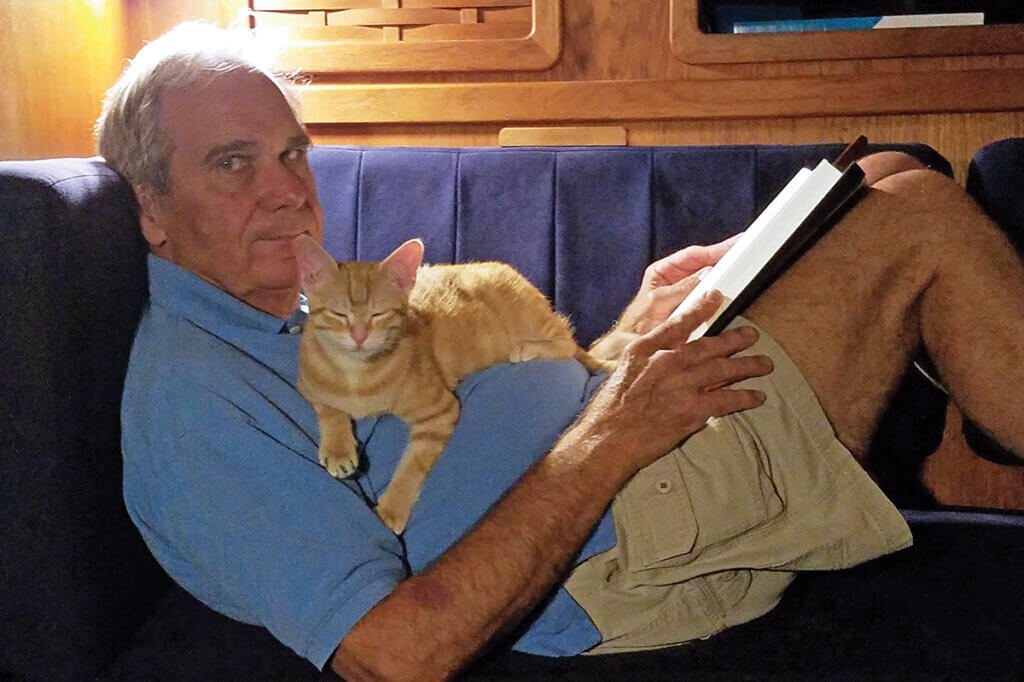 "This truly will be an incredible opportunity for the future of our college, empowering us to recruit the most excellent students," said Purdue Veterinary Medicine Dean Willie Reed. "Scholarships at this level also will impact the recruitment and retention of excellent faculty and staff. This is so astounding, it is hard to put into words how much this means to our college and how much of a difference this will make in the lives of students and the animals they will treat and care for in the future."
As Janice and Ted attribute their own success in life to the generosity that others extended to them in their educations, they felt it was only appropriate to create the same life-changing opportunities for such a worthy cause as educating future veterinarians. "It is an honor to welcome Janice and Ted into our PVM family," Dean Reed said. "We feel so fortunate because of all of the support they are providing through this significant contribution."
Meanwhile, Janice and Ted continue to set sail regularly with their new first mate, a kitten named "Mieze" (which rhymes with "pizza" and is the German word for "pussycat"), knowing that their generosity will help many students in the future set sail on their own dreams of becoming veterinarians and helping countless other animals, perhaps even some other sailors' first mates.
INSPIRING THE NEXT GIANT LEAP
At Purdue University, we believe in transformative education that's accessible for all. With the generosity shown by the Strauss family, future Boilermakers will be granted the opportunity to leave their mark. In small steps and giant leaps, we can make an impact on student support, together.

LEAVE YOUR MARK TODAY // 765-494-6304 // vet.purdue.edu/giving
Writer(s): Kevin Doerr and Tanya Finkbiner | pvmnews@purdue.edu