League of VetaHumanz Pursues Diversification of Veterinary Workforce
Wednesday, December 15, 2021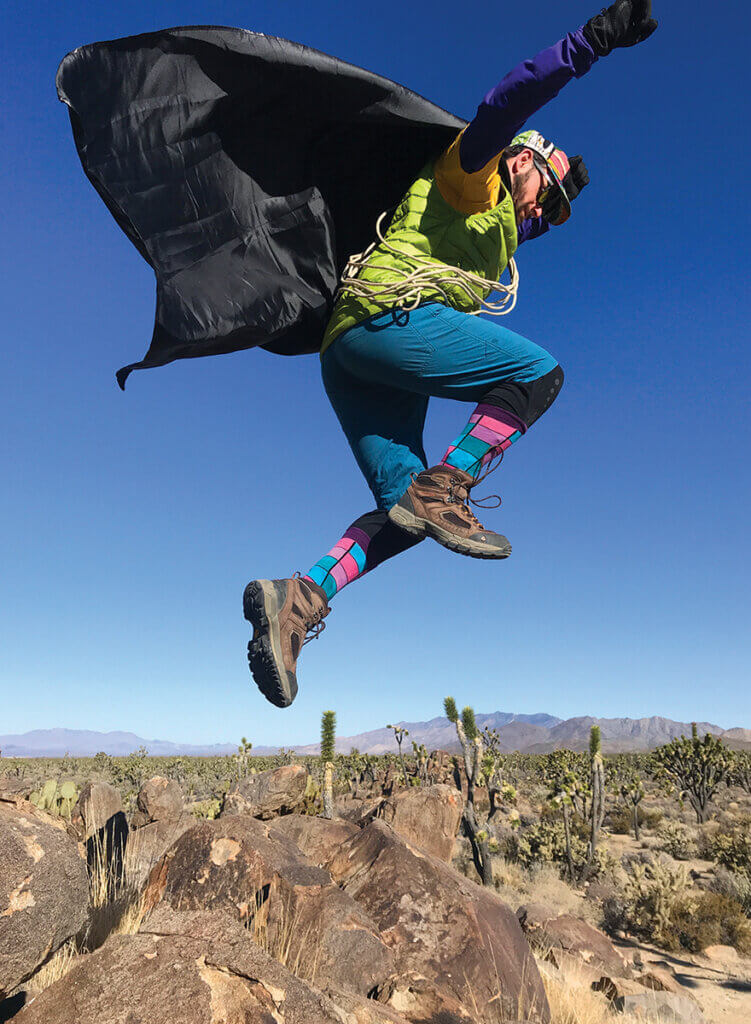 Role models can help children see themselves in a future career, and a growing program at the Purdue University College of Veterinary Medicine is helping develop veterinary medical role models every child can relate to. The college launched a new organization in 2020 called the League of VetaHumanz as an alliance of veterinary superheroes in academia, practice, research, government, and industry who are committed to engaging with under-resourced communities across the globe to provide access and support for children who aspire to careers in the veterinary profession. The visionary approach took off as fast as a caped superhero, and now includes national and international participation even as additional plans unfold to expand the program's reach even further.
USE YOUR POWERS FOR GOOD!
Do you have what it takes to be a superhero? Committed to excellence through diversity, equity, and inclusion, volunteer members of the League of VetaHumanz wield their "superpowers" to support each other, and future VetaHumanz, in protecting animal and public health across the globe. The League is the culmination of over a decade of Purdue Veterinary Medicine's programming for under-resourced K-4 children supported by the Science Education Partnership Award (SEPA) program of the National Institute of General Medical Sciences of the National Institutes of Health to diversify the veterinary profession.
"We have an amazing team of superheroes, including teachers, community leaders, artists, graphic designers, communications experts, evaluators, students, veterinarians, veterinary nurses, and experts in diversity, equity, and inclusion who are all thrilled to take our role modeling programs to the next level and inspire future veterinary professionals," said Dr. Sandra San Miguel, founder of the League of VetaHumanz and associate dean for engagement in the College of Veterinary Medicine, who is also known by her superhero identity, "Pink Phoenix."
The League of VetaHumanz is premised on social cognitive career theory and the "Batman Effect." Children participate in role model-led or self-guided educational experiences in which they complete veterinary-focused activities to develop a sense of belonging to the profession; engage with relatable veterinary role models to develop self-efficacy ― I CAN be a veterinary professional; and seed career expectations ― I WILL be a veterinary professional.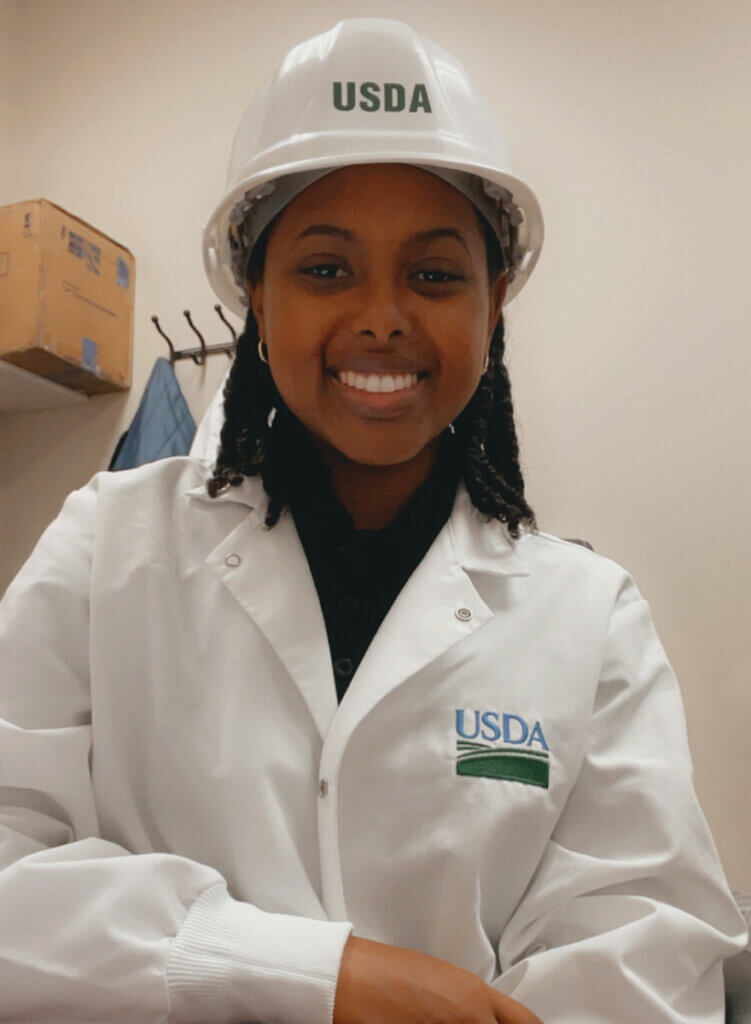 During self-guided experiences, children take on the persona of a veterinary superhero. A longstanding partnership with Purdue's Evaluation and Learning Research Center enables evaluation of the impact of the program on veterinary professionals in practice, professional skill development in veterinary student role models, and the career aspirations and veterinary knowledge of participating children. In 2021, the League received an Inspiring Programs in STEM Award from INSIGHT Into Diversity magazine.
COMMUNITY ENGAGEMENT
The League's 340 active veterinary role models make up 30 (and counting!) role model teams. Each team partners with community centers and schools supporting under-resourced children to deliver Purdue Veterinary Medicine's This Is How We "Role" lessons on veterinary careers and animal health during in-school, afterschool, and summer camp programs. Locally, PVM's team partners with the Hanna Community Center in Lafayette, Ind. In order to facilitate scaling, PVM provides 56 veterinary lessons and free online certification for veterinary role models to ensure age-appropriate and culturally responsive delivery.
Current veterinary medical students may participate as VetaHumanz-in-training. After graduation, they can receive their capes and the curriculum to continue to impact their communities as they embark on their careers as veterinary medical professionals. The League will even help them launch and lead a team at their workplace.
SUPERPOWER PACKS!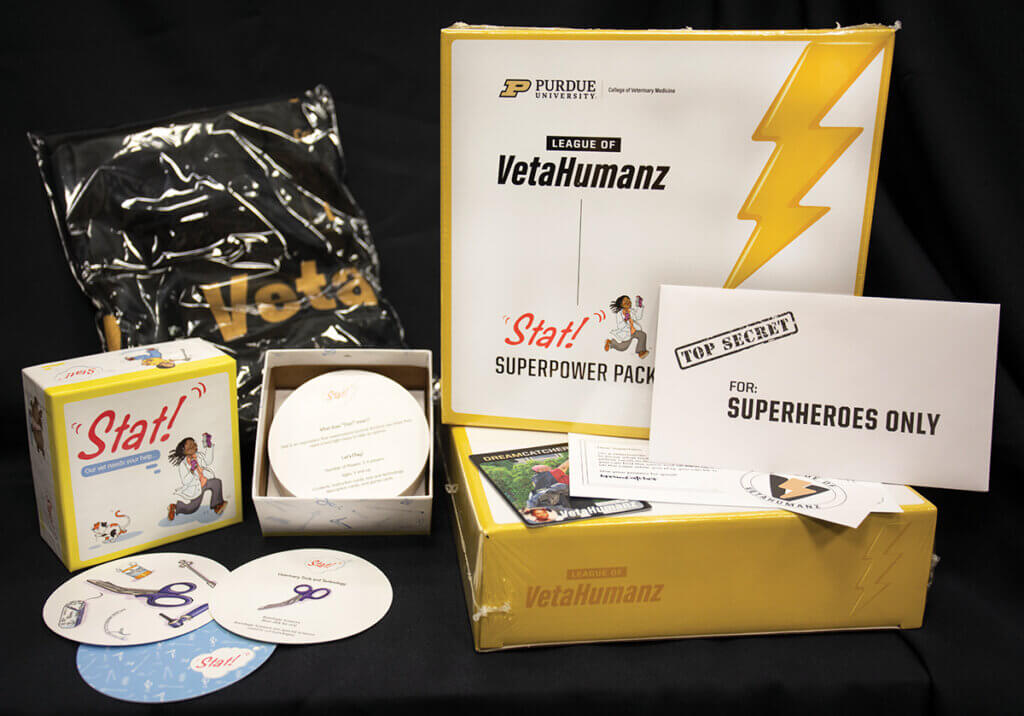 The League of VetaHumanz also features SuperPower Packs that were developed and evaluated through the Purdue University College of Veterinary Medicine. The SuperPower Packs are inspiring, STEM educational experiences that can be used independently by children who lack direct access to veterinary role models. The "Stat!" SuperPower Pack highlights an emergency veterinarian superhero. While playing with the kit, children learn to identify tools and instruments that veterinarians use. The "Do You Have Diarrhea?" SuperPower Pack helps children learn about causes of diarrhea in people and their animals and how to stay healthy. The "Vaccines" SuperPower Pack features a book called, "VetaHumanz Need Vaccines, Too!" about vaccines and the veterinarian's role in vaccine development and delivery. Thanks to program sponsors, the League of VetaHumanz will give away nearly 8,000 SuperPower Packs to participating children in 2021.
Aspiring veterinarians can also visit www.VetaHumanz.org, to: learn more about the program; read about the journeys of the League's veterinary superheroes; listen to the VetaHumanz Live! podcast hosted by "A New Dawn," aka Dr. Tiffany Lyle, PVM assistant professor of veterinary anatomic pathology; find educational opportunities; read books; and play an online game. The site is a resource where every child can find and relate to a veterinary role model.
Writer(s): Kevin Doerr | pvmnews@purdue.edu