The Art of the Matter: Retiring Medical Illustrator and Professor of Veterinary History David Williams Leaves Artistic Legacy
Wednesday, December 15, 2021
It's hard to walk the hallways of Lynn Hall and not sense in some way the influence of Professor David Williams, who found the perfect blend of his passions for art, history, and veterinary medicine in his Purdue University College of Veterinary Medicine career that spanned nearly five decades. Professor Williams retired in the summer of 2021, concluding 48 years as a Purdue Veterinary Medicine faculty member and talented medical illustrator.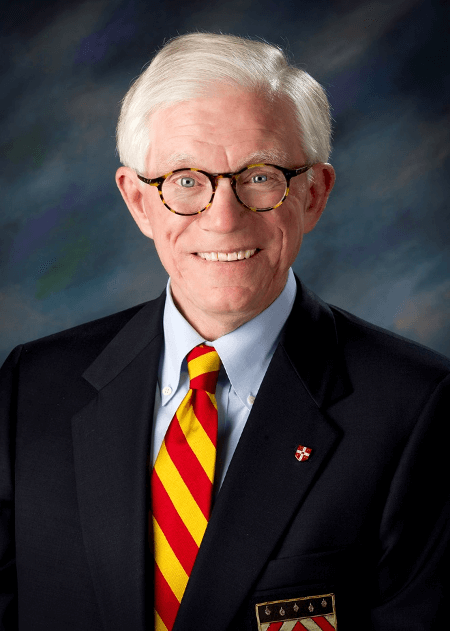 It was in 1973 when Professor Williams came to Purdue after earning his Bachelor of Arts and Master of Arts degrees in Instructional Development and Technology from Michigan State University and receiving his training in Medical Illustration at the University of Cincinnati's School of Medical Illustration. His initial appointment at Purdue was as an assistant professor and associate director of Medical Illustration and Communications in the College of Veterinary Medicine. In 1978, he was promoted to associate professor.
Professor Williams' work in the College of Veterinary Medicine involved creating very detailed and precise medical illustrations for many PVM faculty throughout his career, including illustrations for Dr. Charles Knecht's textbook Fundamental Techniques in Veterinary Surgery. His major accomplishment was co-authoring with Robert Dunlop the extensively researched and illustrated book Veterinary Medicine: An Illustrated History, published by Mosby in 1996. That same year he was promoted to professor.
In 1999, Professor Williams presented "The History of Werner Spalteholz's Handatlas der Anatomie des Menschen" at the 50th Anniversary Conference of the Medical Artists' Association of Great Britain at Exeter College, Oxford University. Ten years later, he took a sabbatical leave to England as a visiting scholar in the Department of History and Philosophy of Sciences and Medicine and a visiting fellow at Clare Hall, University of Cambridge. In 2010, he was elected by the Governing Board of Clare Hall as a life member.
Professor Williams also played a key role in the college's project that resulted in the creation of the popular Continuum© Sculpture in front of Lynn Hall. Conceived as a means of drawing public attention to the college and promoting awareness of veterinary medicine and the human-animal bond, the sculpture project was spearheaded by a committee which Professor Williams served on and advised. He also was a key liaison with the artist, Larry Anderson, and was actively involved in events and activities surrounding the sculpture installation and dedication in 2000.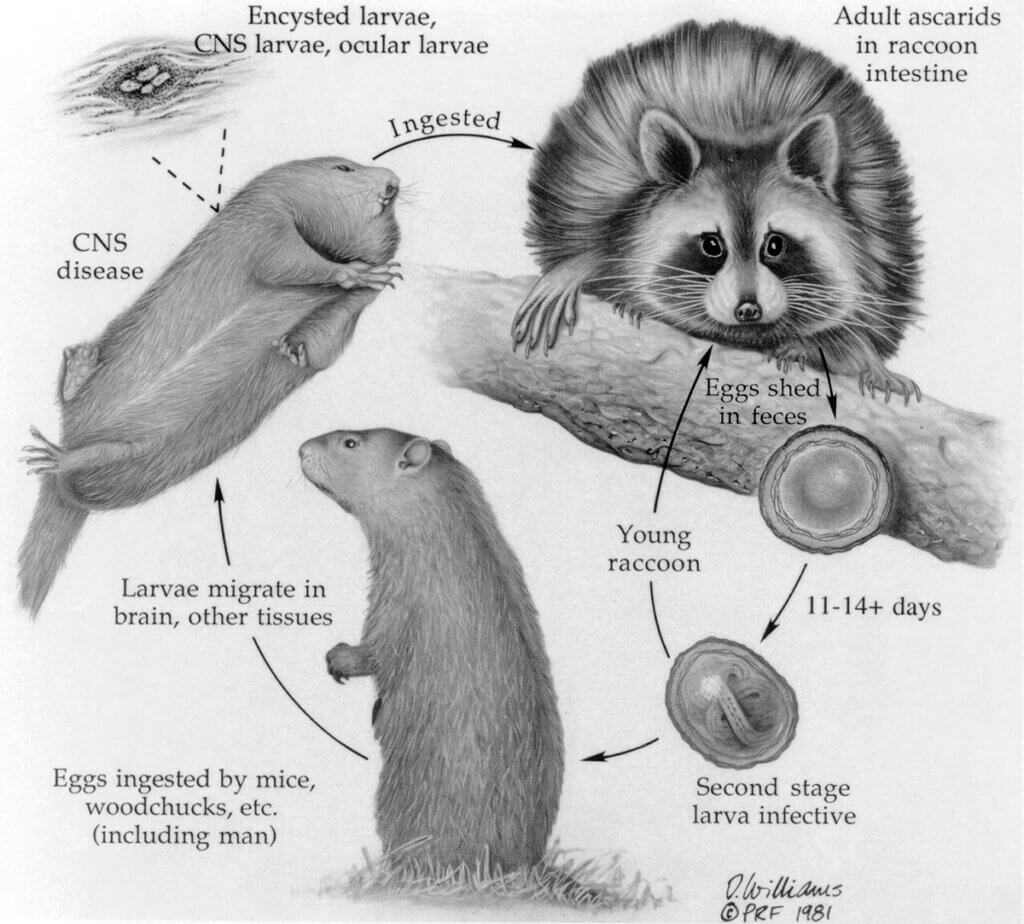 A dedicated scholar, Professor Williams served twice as the president of the American Veterinary Medical History Society (AVMHS) as well as managing editor of Veterinary Heritage, the bulletin of the AVMHS. This group sponsors the J. Fred Smithcors Student Veterinary History Essay Contest, for which he has mentored many PVM veterinary students who have won awards for their essays.
Professor Williams also has held a variety of leadership roles on Purdue's campus including advisor to Iron Key (Purdue's Honorary Society) and chair of Purdue's Student Affairs Committee and Faculty Affairs Committee for five years. From 2012-2015, he served as vice-chair, chair, and immediate past chair of the University Senate.
In 2013, he launched a series of five elective courses on veterinary history for Purdue DVM students, including Early Origins of Veterinary Medicine; The History of Marshalls, Horse Doctors, Cow Leeches, and the First Schools of Veterinary Medicine; and Veterinary Medicine Comes of Age. Through these history courses, veterinary students enjoyed unique opportunities to satisfy their interest in humanities in a veterinary medical context. Students have praised Professor Williams for stretching their thinking and have remarked how refreshing it was to take these courses during the rigorous DVM program. He has taught similar courses to students in the University's Honors College.
Professor Williams leaves a lasting legacy at PVM through his original artwork and artwork that he has fostered by other members of the PVM family. For a number of years, Professor Williams has created original portraits in honor of faculty who receive promotions, endeavoring to capture each faculty member's unique characteristics and interests in their individual portrait. He also has led the Art in Lynn Hall program launched under the leadership of Dean Willie Reed. The program began in the spring of 2010 with an initial call for members of the Purdue Veterinary Medicine family to submit proposals. The first set of three pieces was dedicated the following year.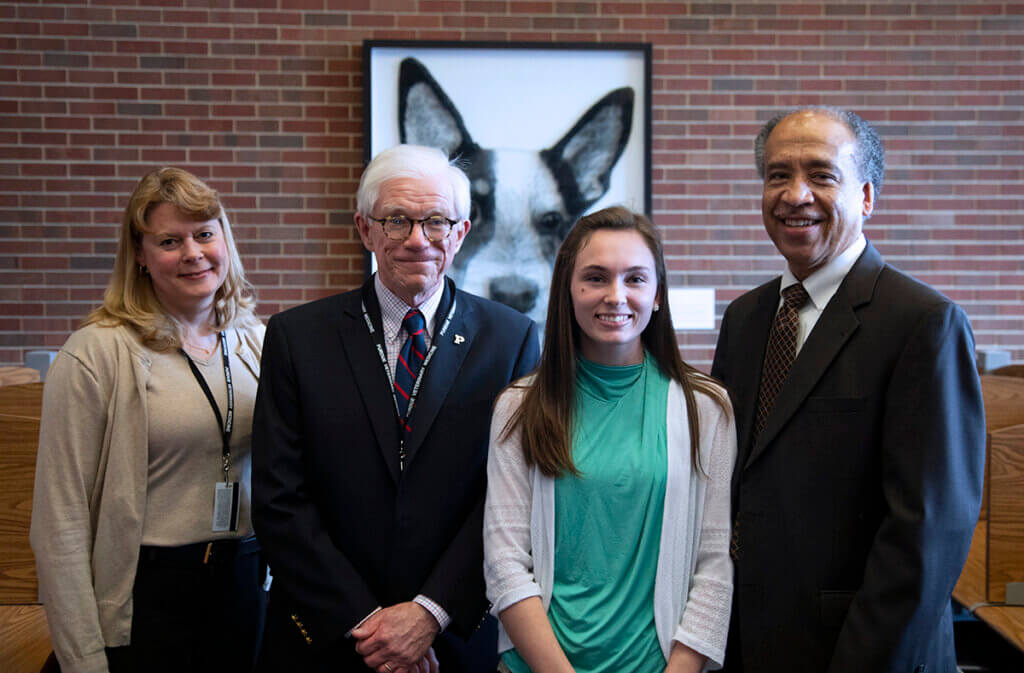 Recalling the early days of the program, Dean Willie Reed described the unpretentious beginning by explaining, "We started this with the idea of, 'wouldn't it be wonderful to have members of the PVM family contribute original art that we could display in our college?…' And so, with the help of Professor Williams, who has really led this project from the beginning, it became a reality." The Art in Lynn Hall program provides the PVM faculty, staff, and student artists who submit winning proposals with funds to cover the cost of needed supplies. After the completed artwork is framed and hung for display, an annual dedication ceremony is held for PVM faculty, staff, students and guests, often including the artists' family members.
"Lynn Hall is rapidly becoming a beautiful exhibit of the talents of our PVM family, thanks to the dedicated efforts of Professor Williams and his love for helping and mentoring anyone with a shared interest in art, history, and veterinary medicine," said Dr. Kathy Salisbury, associate dean for academic affairs and professor of small animal surgery. "We are most grateful that he agreed to continue to lead the PVM art competition after his retirement."
Professor Williams' numerous original medical illustrations, photographs, slides, and other drawings created from 1970 through the 1990s have been deposited in the Purdue University Archives and Special Collections as the "David J. Williams Collection of Medical Artwork."
As a fitting capstone to his career, Professor Williams was honored by the Association of Medical Illustrators (AMI) upon his retirement as the recipient of the organization's 2021 Literary Award for excellence in journalism, which was presented in a virtual ceremony by Gary Schnitz, one of the editors of the Journal of Biocommunication (JBC) and chair of the Journal Management Board. The award recognized a paper that had become a milestone in Professor Williams' life work.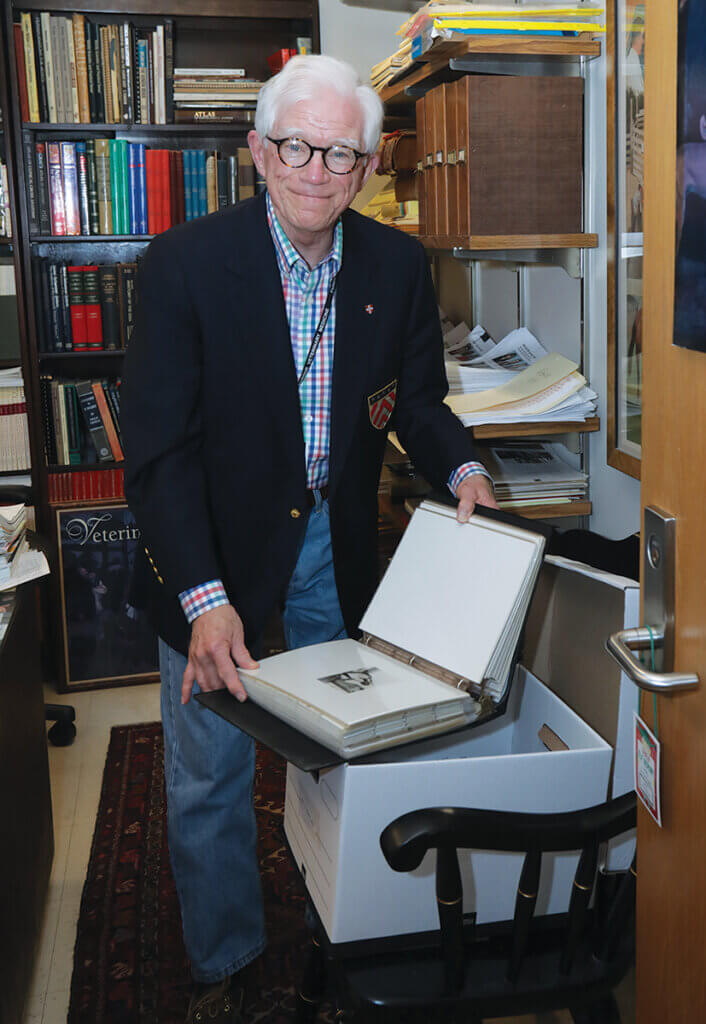 In 1979, Professor Williams took a sabbatical leave from the College of Veterinary Medicine as a guest associate professor with Urban and Schwarzenberg Medical Publisher in Munich, West Germany, where he studied the original paintings for the artwork in Eduard Pernkopf's Topographical Anatomy of Man, a two-volume human anatomical atlas. He also studied with Franz Batke who was the last living artist who had created some of those paintings. Professor Williams continued to study the work of Pernkopf throughout his career.
In presenting the AMI's Literary Award, Schnitz explained, "David's original paper about the Pernkopf Atlas of Anatomy first appeared in the JBC back in 1988…David's article provided a detailed discussion about the Atlas, as well as the Pernkopf artist." Mr. Schnitz then announced that the August 2021 issue of the JBC is called a special issue and is devoted entirely to the discussion of the Pernkopf Atlas and its dark history. The issue includes Professor Williams' 1988 article, which he gave JBC permission to republish in its entirety for the special issue.
In accepting the award, Professor Williams thanked the JBC board as well as AMI for presenting him with the 2021 Literary Award for his paper on Edward Pernkopf, the Pernkopf painters, and the beautiful Atlas that they created. "I want you all to know one thing… and that is that my interest in the Pernkopf Atlas was a pure interest right from the very beginning," Professor Williams said. "I had no vested interest in the Atlas. It was a pure academic scholarly interest. Thank you again and this was a wonderful way to end my 48-plus year career at Purdue University."
The original Pernkopf paintings ended up at the Josephinum, the 650-year-old medical museum at the University of Vienna. Professor Williams has chosen to gift his entire archive on Pernkopf to the Josephinum to accompany the original paintings.
Writer(s): Kevin Doerr | pvmnews@purdue.edu