A Message from Dean Willie Reed
Wednesday, December 15, 2021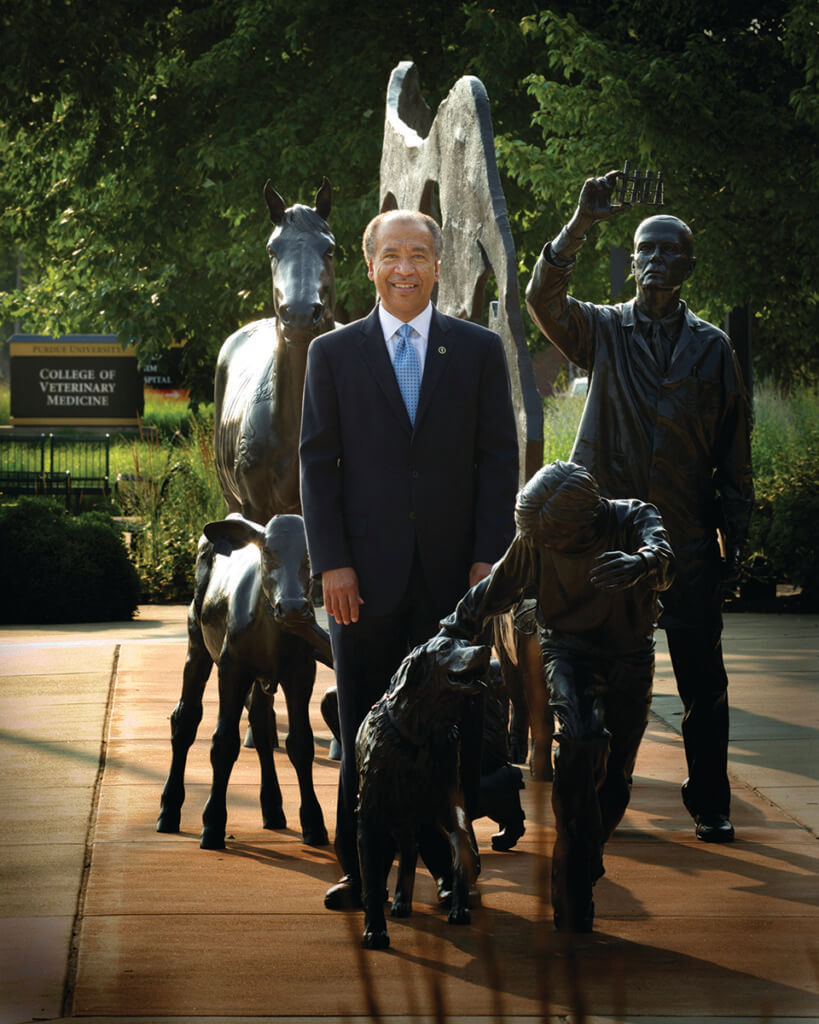 A sold-out football game at Ross Ade Stadium. The largest freshman undergraduate class in Purdue University history. Reopened reception areas in the Purdue University Veterinary Hospital. These are just some of the realities that characterized life on the Purdue campus this fall after the University returned to "full density" for the 2021-2022 academic year. With careful attention to Protect Purdue policies and practices to safeguard the health of faculty, staff, and students, and a high vaccination rate of close to 90%, our University and our College of Veterinary Medicine safely transitioned to a lively and robust educational setting marked by a welcome return to a more normal amount of hustle and bustle.
Most importantly, these circumstances enabled us to continue and even accentuate the vital in-person clinical instruction for DVM and veterinary nursing students that we reintroduced last year after temporarily pivoting to virtual learning when the pandemic hit in the spring of 2020. We also were able to open the doors of our Veterinary Hospital reception areas for limited access to clients dropping off patients. All during this time, we have watched the landscape around Lynn Hall continue to change as we near completion of our new hospital facilities, set to open in the spring, with a dedication ceremony planned April 8.
All of these developments make for exciting days for our college as we work with determination and innovation to fulfill our mission of advancing global animal and human health and well-being through excellence in learning, discovery, and engagement. With a persistent commitment to excellence, our PVM family of faculty, staff, and students is not just surviving but thriving in an era that needs, more than ever, the distinctive aptitude and tenacity of Boilermakers to build a better world together by delivering practical solutions to today's toughest challenges.
One area in particular where we have emerged as a nationally recognized leader in academic veterinary medicine involves our efforts to advance diversity, equity, and inclusion. Through the implementation of our new Diversity Strategic Plan and the establishment of a number of innovative and effective programs to expand diversity in our college and the veterinary medical profession, we are being looked to as a model. This national standing is reflected in several awards given by INSIGHT Into Diversity, the oldest and largest diversity magazine in higher education, including back-to-back Health Professions Higher Education Excellence in Diversity (HEED) Awards. Additionally, this year, we became the first veterinary medical college to be named as one of INSIGHT Into Diversity's elite Diversity Champions.
These accomplishments are not the result of any one person or leader, but rather our team of faculty, staff, and students, with vital support from our alumni, donors, and friends. Together we will continue to set the pace, even in extremely challenging times, as we jointly take vital small steps in pursuit of our next, collective giant leap.
Willie M. Reed, DVM, PhD, DACVP, DACPV
Dean, Purdue University College of Veterinary Medicine
Writer(s): Willie Reed | pvmnews@purdue.edu