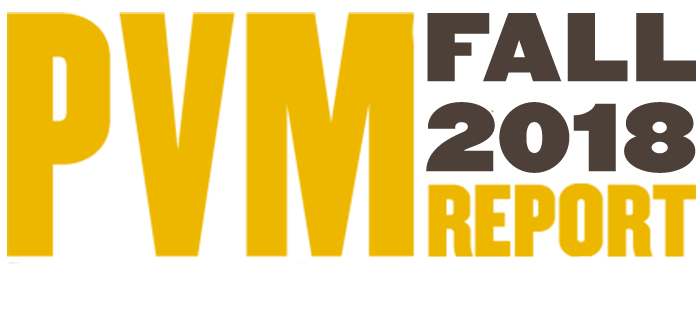 Summer Research Program Opens Door to Discovery for Students
Wednesday, August 15, 2018
Purdue Veterinary Medicine's 2018 Veterinary Scholars Summer Research Program (SRP) gave 21 DVM and pre-veterinary students first-hand experience working with faculty on a wide variety of research projects. The program is designed to provide students the opportunity to work on independent research projects and explore non-practice careers by being partnered with faculty members who share mutual areas of interest. The SRP involved 11 weeks, from May 21 to August 5, of focused research as well as seminars, field trips, and symposia. The program has been held annually since 1991.
This year's participants included 15 Purdue DVM students and six pre-veterinary students from Purdue, Prairie View A&M University, Agnes Scott College, Grambling State University, and North Carolina A&T University. Dr. Harm HogenEsch, Purdue Veterinary Medicine associate dean for research and professor of immunopathology, and Dr. Eli Asem, professor of physiology in the Department of Basic Medical Sciences, organize the program by matching students and faculty.  "Over the years, this program has influenced dozens of students who had their eyes opened to the kinds of career opportunities available in veterinary research and the powerful way in which scientific discovery can positively impact the future of veterinary medicine," Dr. HogenEsch said.  "Ultimately, we want to increase the number of students who are interested in advanced training following graduation."
As part of the program, students participated in weekly seminars on a variety of topics including: careers in academia, industry and government, lab animal medicine, ethics, scientific writing, research funding, and how to balance a career and personal life.  They also visited Covance Laboratories in Greenfield, Ind., and attended a joint symposium with the University of Illinois Summer Research Fellows.  In addition, each of the Summer Research Fellows prepared an abstract and poster about their research that they presented to PVM faculty, staff and students during a special poster presentation August 1 in Lynn Hall.  Then, the veterinary students traveled to the national Boehringer Ingelheim/NIH Symposium held at the Texas A&M College of Veterinary Medicine & Biomedical Sciences August 2-5.
Special thanks to all of the PVM faculty members who mentored students as part of the 2018 Veterinary Scholars Summer Research Program:
Purdue DVM Students and Faculty Mentors
Claudine Auld (Class of 2021)– Dr. Gert Breur, professor of small animal surgery
Kevin Bersch (Class of 2021) – Dr. Russell Main, associate professor of basic medical sciences
Eric Boone (Class of 2020) – Dr. Deborah Knapp, Dolores L. McCall professor of comparative oncology
Sara Canada (Class of 2020) – Dr. Kari Ekenstedt, assistant professor of anatomy and genetics
Christa Cheatham (Class of 2021) – Dr. Tiffany Lyle, assistant professor of veterinary anatomic pathology
Chad Coakley (Class of 2021) – Dr. Arun Bhunia, professor of food science, College of Agriculture
Jonathon Daniel (Class of 2020) – Dr. Riyi Shi, professor of basic medical sciences
Carly Gundlach (Class of 2020) – Dr. Maggie O'Haire, associate professor of human-animal interaction
Blair Hooser (Class of 2021) – Dr. Kari Ekenstedt, professor of anatomy and genetics
Ashley Hopkins (Class of 2020) – Dr. Lynn Guptill, associate professor of small animal internal medicine
Jessica Linder (Class of 2020) – Dr. Melissa Lewis, assistant professor of neurology
Chris Mapes (Class of 2021) – Dr. Abigail Durkes, assistant professor of veterinary anatomic pathology
Caitlyn Ridenour (Class of 2021) – Dr. Andrea Santos, assistant professor of veterinary clinical pathology
Caitlin Smith (Class of 2020) – Dr. Grant Burcham, veterinary diagnostician and Dr. Nancy Boedeker, adjunct assistant professor, Department of Comparative Pathobiology
Levi Smith (Class of 2020) – Dr. Audrey Ruple, assistant professor of one health epidemiology
Undergraduate Pre-veterinary Students and Faculty Mentors
Writer(s): Rachel Nellett, PVM Communications Intern | pvmnews@purdue.edu