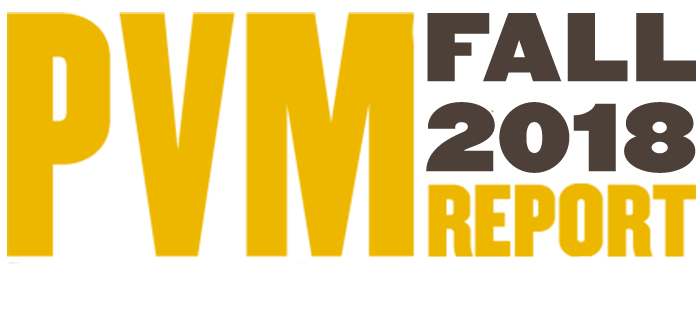 Learning Through Discovery: Summer Research Program Teams Recount Experiences
Wednesday, August 15, 2018
Purdue Veterinary Medicine faculty participating in the Veterinary Scholars Summer Research Program (SRP) are "paying it forward" by giving today's veterinary students career-influencing opportunities like they had when they were in veterinary school.  The following examples showcase how the SRP has been making an impact by partnering current veterinary students with researchers on faculty who share mutual areas of interest, for 11 weeks of scientific discovery during the summer.
Dr. Kari Ekenstedt, assistant professor of anatomy and genetics in the Department of Basic Medical Sciences, teamed-up with two veterinary students, Sara Canada, of the DVM Class of 2020, and Blair Hooser, of the DVM Class of 2021, to study "Genetic Basis of Dwarfism in Scottish Deerhounds" and "Frequency of Hidden Coat Color Alleles."  At the same time, Dr. Andrea Santos, assistant professor of veterinary clinical pathology in the Department of Comparative Pathobiology, was paired-up with Caitlyn Ridenour, of the DVM Class of 2021, to research "Differential micro RNA Expression Profiles in Dogs with Transitional Cell Carcinoma."
Dr. Ekenstedt said when she was a veterinary student, she had an amazing summer scholar experience. Now she enjoys having her turn at providing such opportunities to current veterinary students, since her own mentor from that summer became a dear friend as well as a career mentor, and eventually went on to sit on her PhD committee. The summer project Dr. Ekenstedt completed as a student solidified her desire to pursue research after earning her DVM degree and resulted in her authoring her first research paper. Now, Dr. Ekenstedt is able to guide Sara and Blair as they dip their toes into the world of research and decide if it is a good fit for them.
As a rising third-year DVM student, Sara became interested in the Summer Research Program because she wanted to gain first-hand experience in research and a better sense of where her One Health and public health interests can take her. She also wanted to take advantage of the opportunity to learn more in her home environment as well as to build connections that she had not realized were so close at-hand. Through her project, Sara sought to identify the genetic mutation causing dwarfism in historical cases of Scottish Deerhounds with pseudoachondroplasia, a form of dwarfism, using archived bone samples. The DNA samples she used are older than she is! Dr. Gert Breur, PVM professor of small animal surgery, was able to provide bone samples dating from his original description of the cases in the mid-1980s. The project involved a lot of work at the laboratory bench, so Sara learned polymerase chain reaction (PCR), gel electrophoresis, and DNA sequencing. She also was able to build on her abilities to comprehend and troubleshoot problems when test results don't turn out as expected.
Blair Hooser, a rising second-year DVM student, said she enjoyed working in one of PVM's world class research labs. Blair's project was unique in the enormity of the data set – around 15,000 dogs, each with genotype data for multiple color coat and trait genes. It also was unique because it represented a partnership with the company Wisdom Health, which is part of Mars, Inc. Blair examined the frequency of "hidden" coat color alleles, which typically are masked by the expression of other coat colors. Dr. Ekenstedt gave the example of the Bernese Mountain Dog breed, which is known for a tri-color black coat with brown and white points but that also carries the allele for "yellow" – it is just never expressed in a visible coat color. By looking at which breeds carry the yellow allele, even when it is not visible, they can ask interesting questions about the age of those alleles, why they might be in some breed populations and not others, etc.  Blair's favorite experience was discovering alleles that are unexpected in a particular breed and that no one else has found before.
During her first year of her DVM degree program, Dr. Santos remembers working in a research laboratory and how the experience made her fall in love with science and helped her shape her future career as a researcher. She hopes to spark the same feeling in her students or to simply help them make informed decisions about their careers. Dr. Santos believes the SRP is a great opportunity because it offers students the chance to go beyond the course and clinical work they typically experience during veterinary school. Her favorite aspects have involved the one-to-one mentorship, creating a team atmosphere, and working alongside the students while they master new skills and techniques to solve research problems.
Dr. Santos worked closely with Caitlyn Ridenour, a rising second-year DVM student, on her project. When she came to Purdue, Caitlyn thought she knew exactly what she wanted to be, but then realized there were many different veterinary careers and opportunities for study. She decided to participate in the SRP to help her branch out and learn more about what the world of veterinary research has to offer. Caitlyn was thrilled about the lab techniques and knowledge she gained from the program, but truly believes the most valuable thing that her mentor gave her is confidence in herself. For example, she said she now is able to independently do a variety of lab techniques including: PCR, DNA gel electrophoresis, NanoDrop, gel imaging, and more. She also explained how she has learned skills that she will be able to apply to any area of life – how to keep an organized laboratory notebook, how to work with others, and how to work neatly and efficiently. Caitlyn added that it is a great feeling to be so comfortable in a lab setting now. She eagerly anticipates further opportunities to be involved in biomedical and clinical research and is so thankful to have had the chance to help veterinary medicine move forward.
All three of the veterinary students expressed interest in being more involved in biomedical and clinical research. Sara recommends the SRP to other veterinary students because participants can develop the projects on their own, which has allowed her to take responsibility and have accountability for the success of the project much like she would in a future research career. Caitlyn explained that even students who do not intend to pursue research careers can benefit from the program because it can give them a much deeper understanding of how something goes from just being an idea to something that can help better veterinary medicine and animal health. Blair added that the SRP gives students the opportunity to work side-by-side with distinguished researchers on the PVM faculty, and allows the students to be part of the influential research that is being conducted.
From the perspective of the faculty, Dr. Santos said that the "SRP is vital to maintaining the richness of our veterinary program," while Dr. Ekenstedt expressed her view that "…the program helps draw some veterinary students into research since the world needs more veterinary clinician-scientists."
Writer(s): Rachel Nellett, PVM Communications Intern | pvmnews@purdue.edu