The Seemingly Impossible, Made Possible
Monday, December 16, 2019
Deaf Purdue Veterinary Medicine Alumna Lives Out a Quietly Inspiring Dream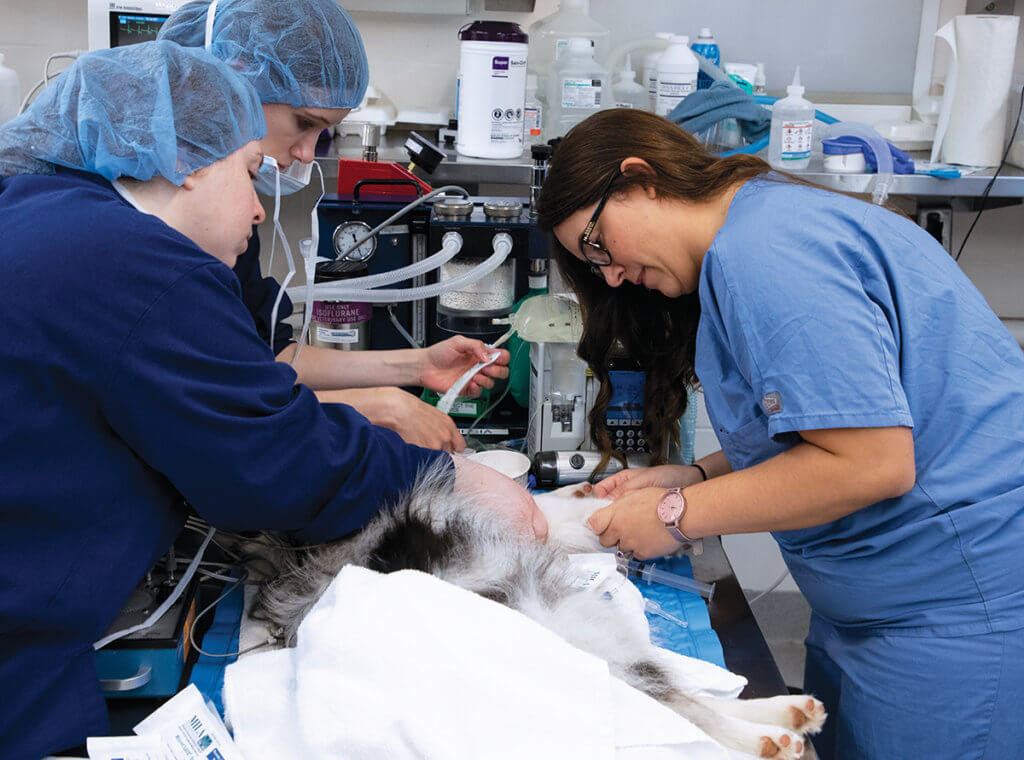 They said it couldn't be done. So goes the oft-quoted expression used when people want to characterize a monumental challenge. That phrase might be considered especially true for Dr. Taylor Thompson (PU DVM 2019), who lived in opposition to the idea that she was pursuing something impossible when she gave voice to her heart's desire of becoming a veterinarian.
Taylor grew up in the Indiana communities of Greenwood and Franklin, south of Indianapolis. Like many children, she loved animals. But there was something special about Taylor's relationship with the pocket pets, cats, and dogs she counted among her childhood friends. "I was compelled by their ability to listen without judgement and ability to love unconditionally," Taylor said. To understand why she felt that way, you have to listen carefully to the rest of her story.
"Growing up, I struggled with my identity since I was born deaf, but also had a cochlear implant that allowed me to hear," Taylor explained. "I didn't truly identify as deaf or hearing. I was always an outsider among my peers – both hearing and deaf. It was also difficult for me to create meaningful relationships with my hearing peers since most were not patient enough to communicate with me."
So animals filled the void. "This unique bond with pets would ultimately foster my passion for animals," Taylor said. "I would spend much of my free time volunteering around animals whether it was at the local animal shelter or with a rescue group. The more I interacted with animals, the more I began to appreciate the role animals play in our lives – both big and small."
Taylor was gaining a deep appreciation for the meaning of the term human-animal bond. "It was clear to me how important the human-animal bond is. It became evident that this type of bond is crucial to maintaining the well-being of our community. While I never will be able to thank all of the animals that positively influenced my life, I would like to believe that as a veterinarian I will be able to return the kindness and thank them indirectly for the positive impact they made on my life."
Taylor's special connection with animals guided her through a variety of challenges. Coming from a blended family with stepparents and stepsiblings, Taylor attended an elementary school with a program for the deaf and hard-of-hearing that was integrated into the mainstream school. "I attended school with some similar peers and hearing peers," Taylor recalled. She went on to Franklin Community High School and then attended Franklin College on a Lilly Endowment scholarship.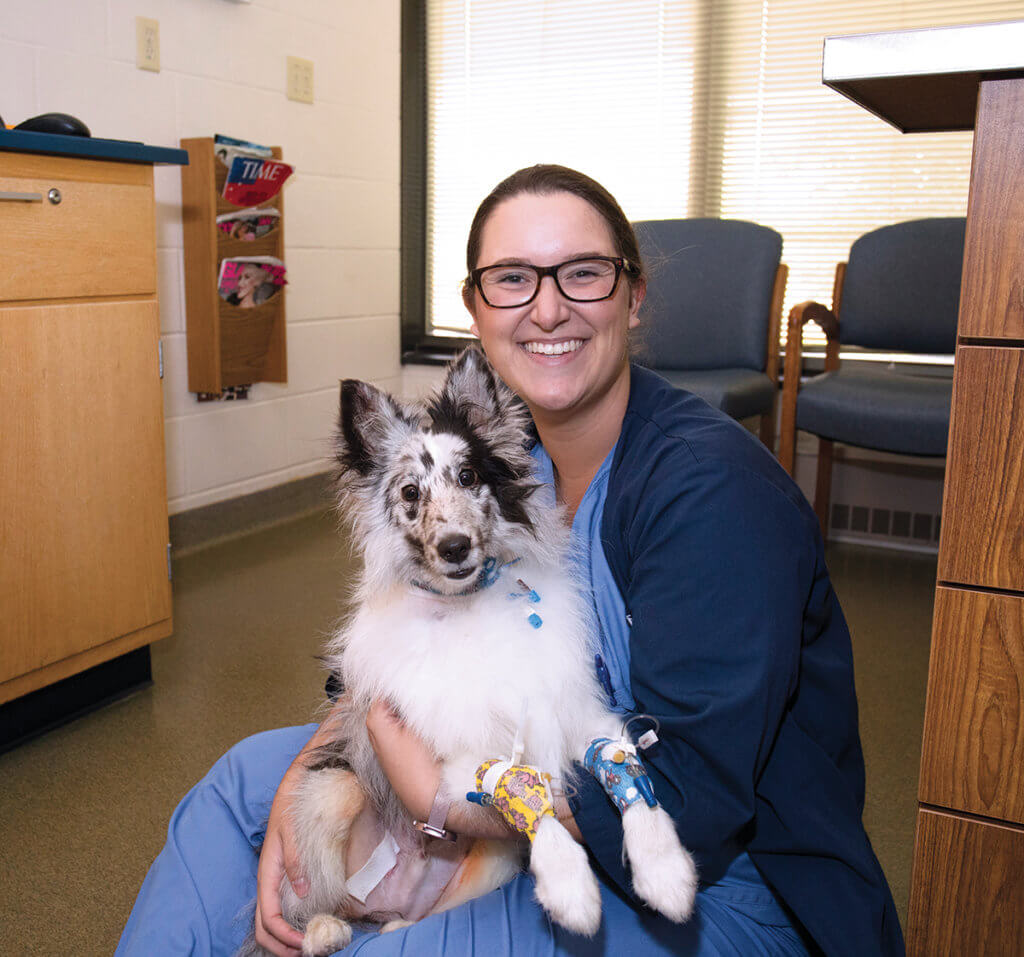 Taylor chose not to focus on the hearing she lacked, but on the advantages she had, recognizing she was blessed with a sense of purpose and an understanding of what kind of work would be rewarding for her. "While there was no doubt I had a passion for animals, I also excelled academically and developed strong communication skills due to my upbringing. It was clear that I had the skills and determination to pursue a DVM degree," Taylor said. "Deep down, I also knew I wanted to have a job about which I could say, 'I never work a day in my life.' I had seen first-hand the impact that working a job with high pay, but poor satisfaction has on personal relationships. I knew that, as a veterinarian, I would be able to enjoy and find satisfaction in my work – at least most days!"
But what about being a veterinarian who is deaf? One thing everyone knows about veterinary school is that it's hard – really hard – for students who have all five senses. And, as a student without hearing, Taylor did not have the benefit of any role models who were like her. Yet she knew what she did have. "My passion for animals led me to where I am today. I was not going to allow anyone to tell me I could not become a veterinarian because of my deafness. I was determined to find a way to become a veterinarian despite not knowing any other deaf veterinarians personally. I knew coming to vet school, I would not be able to do some things in the same manner as my hearing peers, such as using a traditional stethoscope. However, I also knew that there were other possible methods I could use that were accessible to me because I knew deaf human medical doctors and veterinarians do exist."
Given the career she wanted to pursue, the obvious next step was to go to Purdue. Being practically minded, Taylor recognized that, as the only veterinary college that she could attend as an in-state student, Purdue was her ideal choice. Taylor was accepted into the Purdue DVM Class of 2019, and set off to begin her veterinary education, with the help of the Graeme Clark scholarship that she received in 2016. The scholarship is awarded to Cochlear Nucleus Implant recipients based on their academic achievement and community involvement.
Taylor had the passion, intellect, and commitment to succeed. But she had no idea of just how hard her journey would get. "As many realize, completing any DVM program is no easy feat for anyone," Taylor said. "Unfortunately, the DVM program was excruciatingly challenging for me, not because of any lack in terms of the grit or intelligence necessary to complete the program, but because of a series of unfortunate circumstances."
Taylor said the most challenging obstacle she faced surfaced halfway through her third year in veterinary school. She still relied on the original hearing device she had received in 1995. "It was single-handedly responsible for my independence. This device enabled me to have relationships with my hearing peers," Taylor said. Then one day…"I suddenly lost all hearing when my cochlear implant unexpectedly failed. Everything around me fell dead silent."
Taylor had her cochlear implant replaced two months later – at the earliest available surgery date. Nothing returned to normal immediately, however. Because of the way cochlear implants work, Taylor had a long road to recovery ahead. The implant is a complex electronic device. It does not restore normal hearing but instead helps a deaf person understand speech by providing a useful representation of sounds in the person's environment.
"Even when I received the replacement implant, it took me nearly another year before I was able to truly understand spoken language. Unfortunately, having an implant replaced is not simple like replacing eye glasses," Taylor explained. "It is a machine that works intricately with the brain. Therefore, it was impossible to replicate what 'hearing' I had before. My brain had to relearn what sounds were. This was an exceptionally difficult time for me, both physically and mentally. It was exhausting physically as my brain worked tirelessly to piece together what sounds corresponded to what. It was grueling mentally as I lost my primary method of communication. I could not communicate readily with my friends and colleagues. Everything took twice the effort and twice as long to communicate. It was an extremely isolating experience I would never wish on my worst enemy."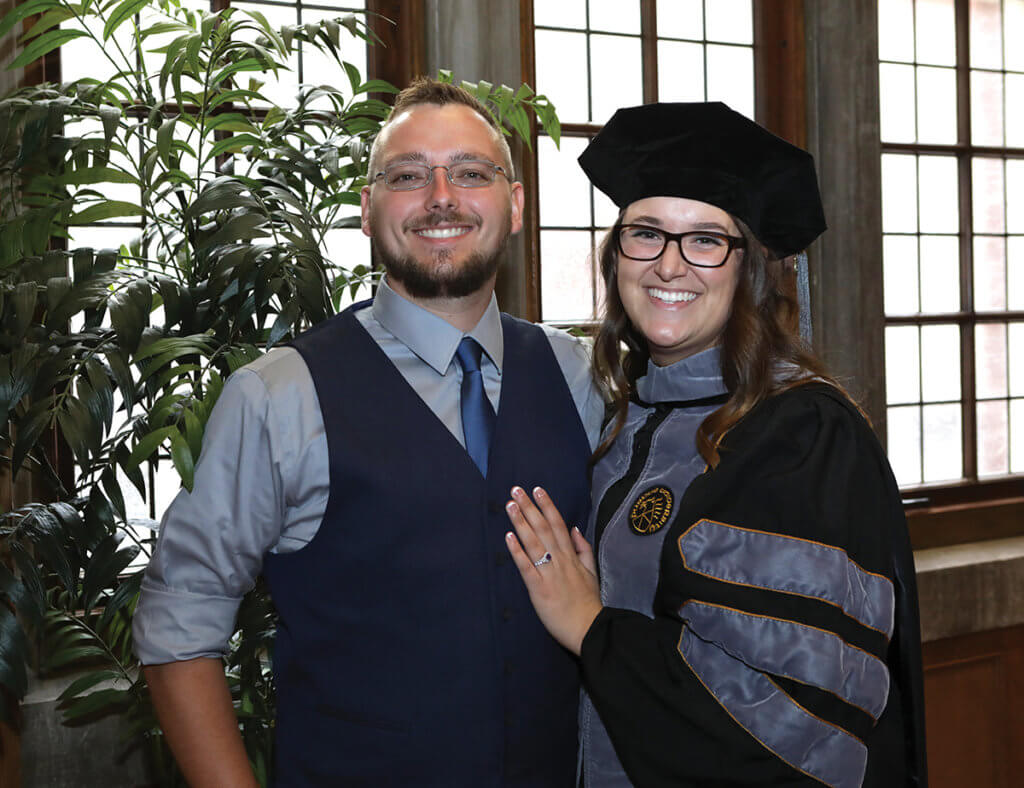 Thankfully, throughout that time, Taylor's dream stayed alive. "Thanks to my husband, family, friends, and of course, my dogs, I remained resilient and completed my dream of becoming a veterinarian. Because of this experience, I will be a better veterinarian," Taylor said.
At the end of her third year, Taylor and her classmates received white coats during a special White Coat Ceremony when the College celebrates the students' transition from the classroom to the clinics. Taylor donned her white coat and boldly progressed through her clinical education, working in the Veterinary Teaching Hospital throughout her fourth and final year of veterinary school.
Then came graduation day, which Taylor described as surreal and strange. "It was strange to think how I no longer had any classes after studying tirelessly for eight years (both undergraduate and professional degree programs). My diploma represents my journey to where I am today. It really is a token of all my hard work during the last four years. It is unreal to think how I AM a veterinarian now."
Taylor sees her story as something that can encourage anyone. "If you have a passion for something, chase after it," she advises. "If there is something you have a strong passion for, you will be amazed at how you can find a way to make it work! Technology is also advancing at an incredible speed these days – and it is opening doors in new ways we otherwise may have never imagined. During my short four years in veterinary school, there have been new developments in stethoscope technology and medical equipment. Thanks to some of these advancements, I can now use a stethoscope that converts the sound of the heart into visual waveforms which I can interpret." Taylor said another helpful development involves a new medical mask designed with a clear window specifically to enable communication for individuals who rely on lip-reading.
The list goes on, and Taylor can easily think of a variety of other alternate methods and equipment she uses to do things differently, but just as effectively as her hearing colleagues, from Doppler to Bluetooth. "I use Doppler ultrasound to not only be able to listen to the heart without using the earpieces found on the stethoscope, but also to feel by hand the vibrations on the machine. I also learned how to recognize an abnormal heartbeat and rhythm with my hands. A normal, healthy heart should essentially beat a nice strong, single thump in a rhythm. An abnormal heart may feel different depending on the cause."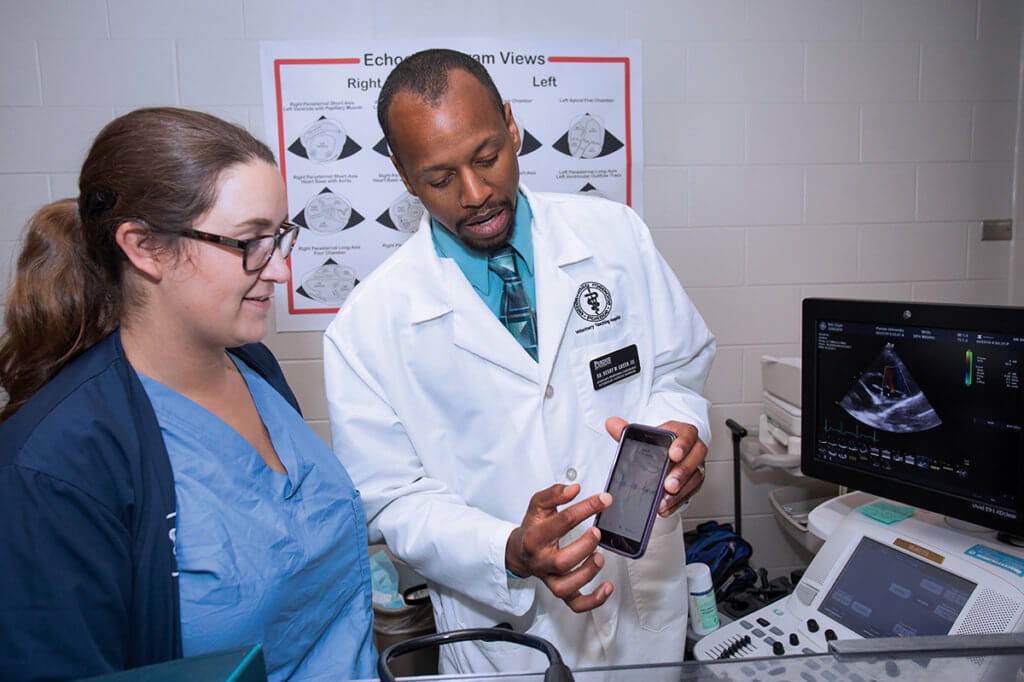 Dr. Henry Green, a board-certified veterinary cardiologist, is one of Taylor's key mentors. "Taylor not only excelled as a student, she also challenged me in a positive way to push the boundaries in search of better ways of doing things," Dr. Green said. "She gave me the opportunity to rethink how I teach cardiology, by putting myself in the shoes of the student. When I focused on Taylor's frame of reference and the way she could perceive things, I gained a new understanding about ways to transmit knowledge and skills without just relying on traditional tools and methods. Really, we both were learning together, and each of us is better and more effective in our respective roles as a result."
Dr. Green admires Taylor's determination and perseverance in completing the program, realizing that in the process of learning the immense amount of knowledge and skills required to earn the DVM degree, she often had to work harder and take extra steps to master alternative methods for treating cases. "Taylor's story should be an inspiration to anyone, and a reminder of what we can do when we work together as a team, support each other, and celebrate the unique contributions each member of a team makes. I will always be grateful that I had a small part to play in Taylor's success as a veterinarian."
After graduation, Taylor returned to the area where she grew up, joining the veterinary team at the Meridian Veterinary Clinic and Hospital in Greenwood, to work as a small animal practitioner. In so doing, she begins the process of returning the kindness to animals that they showed to her when they taught her about the value of the human-animal bond, and helped instill in her the passion she lives out today as Dr. Taylor Thompson.
Writer(s): Kevin Doerr | pvmnews@purdue.edu