Comparative Blood-Brain Barrier Laboratory Seeks to Unlock Mystery of Lung Cancer Brain Metastases
Monday, December 16, 2019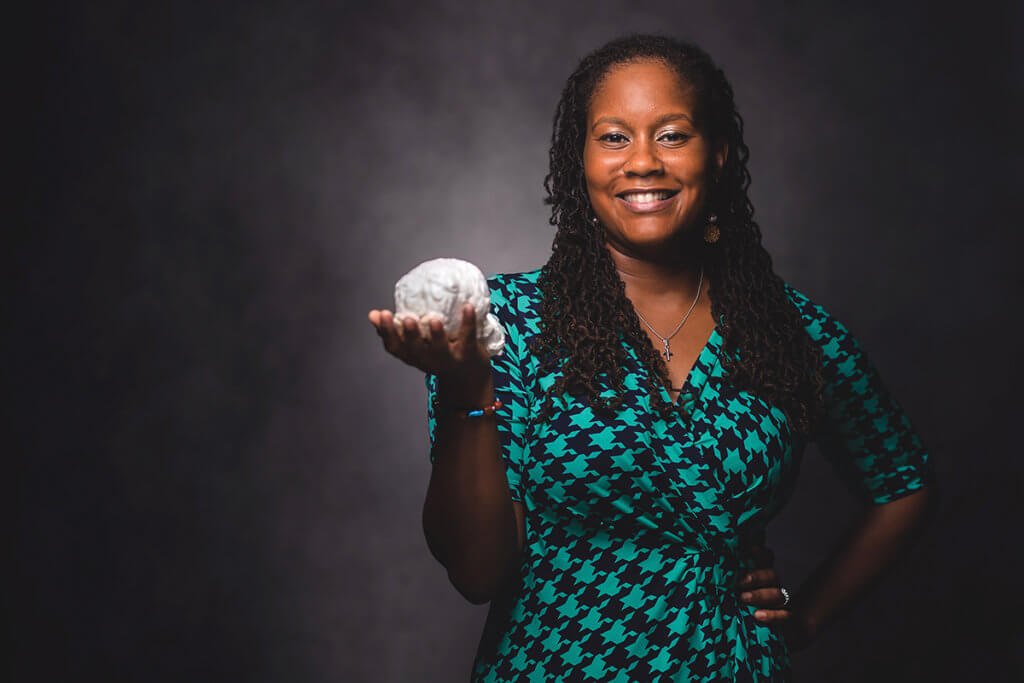 The research team at the Comparative Blood-Brain Barrier Laboratory (CBBBL) in the Purdue University College of Veterinary Medicine is conducting studies that aim to improve drug delivery techniques, increase the lung cancer survival rate, and enhance quality of life for patients.
Established by Dr. L. Tiffany Lyle, assistant professor of veterinary anatomic pathology in the Department of Comparative Pathobiology, the CBBBL operates with a focus on One Health, an initiative that fosters the connection between the health of people, animals, and the environment.
Dr. Lyle's team researches the blood-brain barrier, the tightest and most effective barrier in the body, which protects the brain from dangerous molecules in circulation. When the blood-brain barrier is disturbed by cancer cells, a blood-tumor barrier is formed. While the blood-tumor barrier becomes slightly more permeable than the blood-brain barrier it is still not permeable enough for cancer-treating drugs to penetrate into the brain. "What we are trying to do is develop a guide map of the transition of the blood-brain barrier to the blood-tumor barrier, so that we can enhance drug delivery into the brain and improve patient quality of life, whether that patient is a human or an animal," said Dr. Lyle.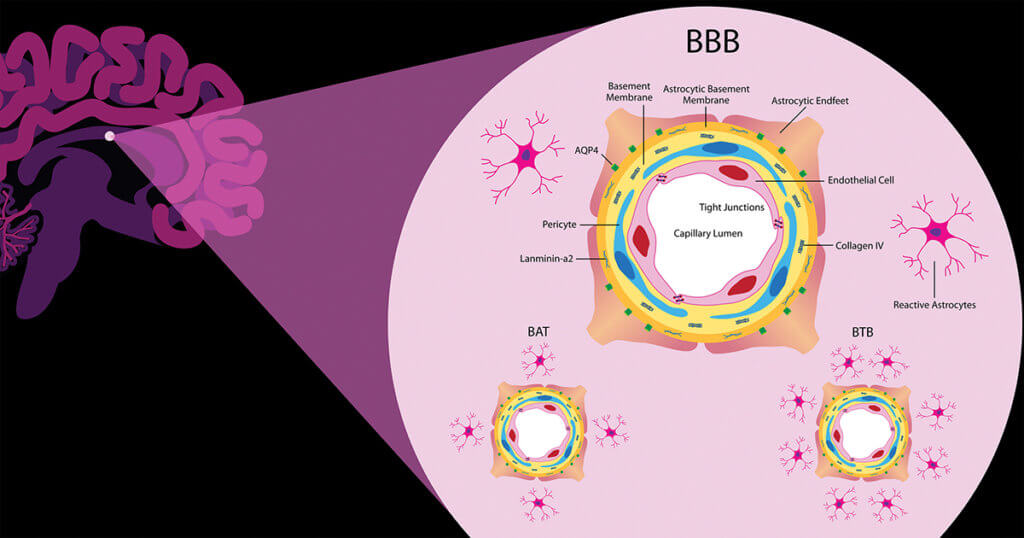 As principal investigator, Dr. Lyle is in charge of formulating an experimental plan that she and her team will use to unravel changes in the blood-brain barrier in disease. The CBBBL aims to use experimental pathology to unravel the molecular framework of the blood-brain barrier to improve targeted therapies. Dr. Lyle and her team have not stopped at metastatic brain cancer. They have also applied their scientific tools to understanding other diseases, including traumatic brain injury. The CBBBL has collaborated with Dr. Riyi Shi, professor of basic medical sciences, to investigate the pathology of the blood-brain barrier in veterans impacted by traumatic brain injury in combat.
The other members of the CBBBL team are Dr. Gozde Uzunalli, a postdoctoral research associate in the Comparative Pathobiology Department, Dr. Alix Dieterly, a graduate student, and Chinyere Kemet, an undergraduate research fellow, each of whom has a significant role in the laboratory. Chinyere, a senior at Purdue, has worked under Dr. Lyle in the CBBBL since her freshman year through the Louis Stokes Alliance for Minority Participation (LSAMP) program. Drs. Uzunalli and Dieterly work together to develop animal models for non-small cell lung cancer and traumatic brain injury, optimize experimental protocols, and train a rotating team of veterinary and undergraduate students who have short-term projects in the lab.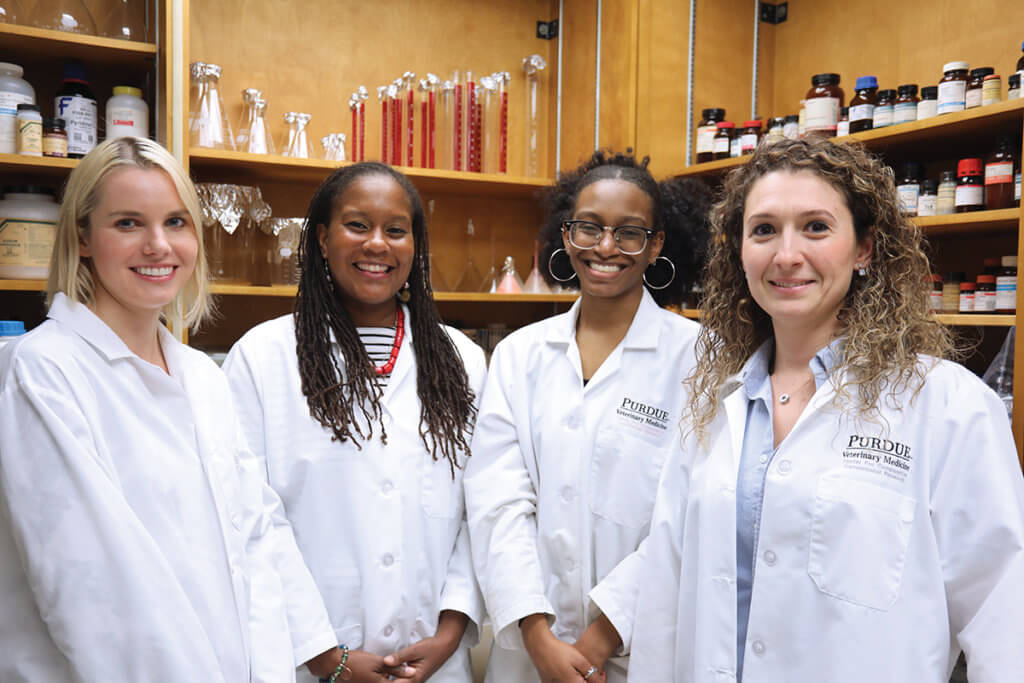 Dr. Uzunalli's most recent 1st author publication in Oncotarget highlighted the transition of the blood-brain barrier into the blood-tumor barrier over time in brain metastases of lung cancer. "The goal is to screen for potential molecular targets to increase chemotherapeutic delivery to metastatic brain lesions," said Dr. Uzunalli. Dr. Lyle emphasized that Dr. Uzunalli is vital in the execution of all experiments in the laboratory, and is a driver in training all laboratory members. She has received two postdoctoral awards for her work with Dr. Lyle on this research.
Dr. Dieterly, a certified veterinary pathologist and PhD candidate in the Department of Comparative Pathobiology, received three national awards this year at the 38th Annual Society of Toxicologic Pathology Symposium in recognition of her work on the blood-brain barrier research.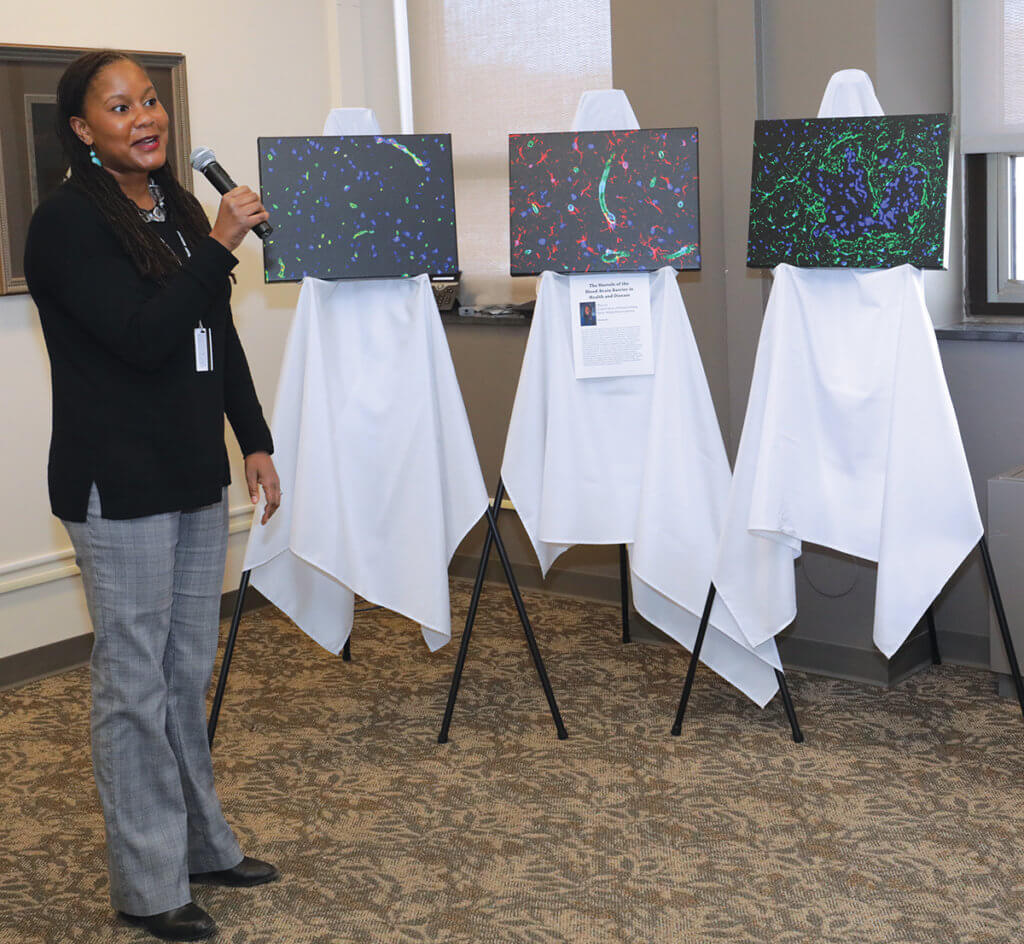 Prior to coming to Purdue as a faculty member, Dr. Lyle worked at the National Cancer Institute (NCI), where she studied brain metastases in breast cancer. "It was during my pathology residency that I became interested in pursuing further research on metastases. This background, along with my rich research training at the NCI, guided my decision to continue blood-brain barrier research with an emphasis on metastatic lung cancer at Purdue," explained Dr. Lyle. "The CBBBL is unique because, while we are a small team, the impact that we are having in the blood-brain barrier field is palpable. A cohesive team that regularly challenges the scientific status quo has been critical to the early success of the CBBBL. We look forward to overcoming scientific challenges and further contributing to neuroscience research and improving animal and human health."
Dr. Lyle regularly combines her passion for veterinary pathology with her interest in art, and she has combined art and pathology in a unique medium. She presented a piece, titled "Marvels of the Blood-Brain Barrier in Health and Disease," at the College's dedication ceremony in February for several new works of art created for placement in Lynn Hall.
Dr. Lyle's entry features three images of the microscopic view of the blood-brain barrier, which were taken in the CBBBL. The dedication ceremony was part of an ongoing program to place artwork created by Purdue Veterinary Medicine faculty, staff, and students around the principal building for the College. Dr. Lyle's entry now is displayed in one of Lynn Hall's main hallways, providing a vivid reflection of this unique leading edge research.
Writer(s): Maya Sanaba, PVM Communications Intern | pvmnews@purdue.edu