Purdue Approval Clears Way for Construction of New Hospital
Monday, December 9, 2019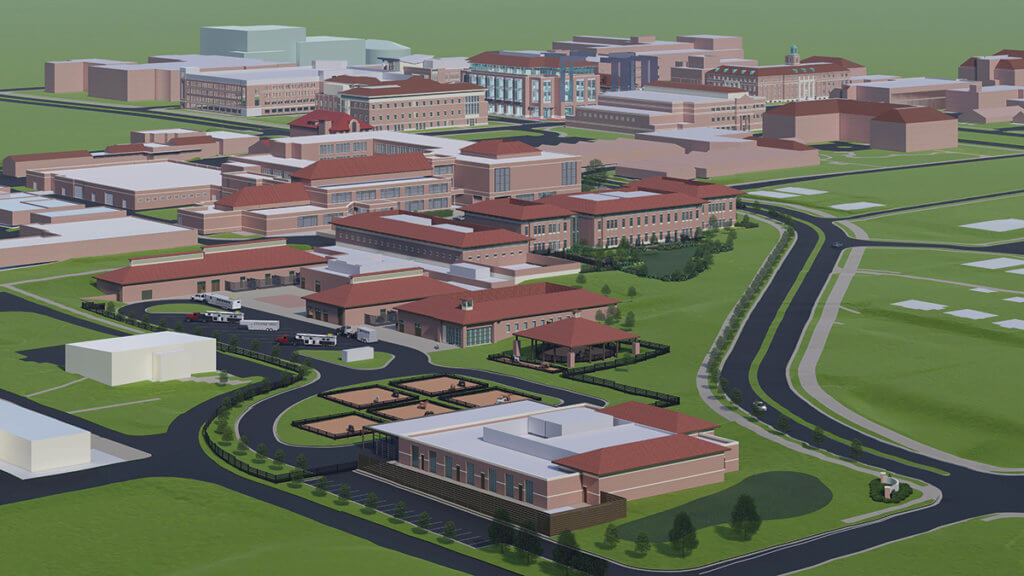 Years of dreaming and planning came to fruition as Purdue University took the final administrative steps during the summer toward construction of the new Veterinary Teaching Hospital, as the Purdue Trustees approved plans to finance, develop, and award construction contracts. Purdue Veterinary Medicine Dean Willie Reed has been laying groundwork for the new facility since 2007. An important breakthrough came this spring when the Indiana General Assembly approved a $73 million appropriation toward the $108 million project. Purdue is making up the remaining $35 million, of which the College of Veterinary Medicine is responsible for raising $8.1 million.
"We are thrilled that we can move forward," said Dean Reed. "The Veterinary Teaching Hospital is a priceless resource for the people of Indiana. Investing in new facilities to enable the hospital to thrive is both necessary and strategic for Purdue and the state."
The new hospital complex will include three facilities just east of the existing Lynn Hall of Veterinary Medicine:
A Small Animal Hospital that will add 65,000 gross square feet (GSF) to the existing small animal hospital facilities in Lynn Hall, which presently amount to about 40,000 GSF
An Equine Hospital providing 73,000 GSF of new space
A Farm Animal Hospital amounting to 24,000 GSF, which will replace facilities in the existing large animal hospital
The new facilities will provide for the varied needs of clients while also maximizing efficiency. For the first time, horses will have their own Equine Hospital instead of mixing with farm animals like cows, pigs, and sheep, which will be treated at the separate Farm Animal Hospital. However, efficiencies utilized in the existing hospital facility will be incorporated into the new structures. For example, expensive imaging technology will be located centrally so it can be shared by both small animal and equine patients, as is the case currently. Some small animal services will remain in existing space in the current Small Animal Hospital.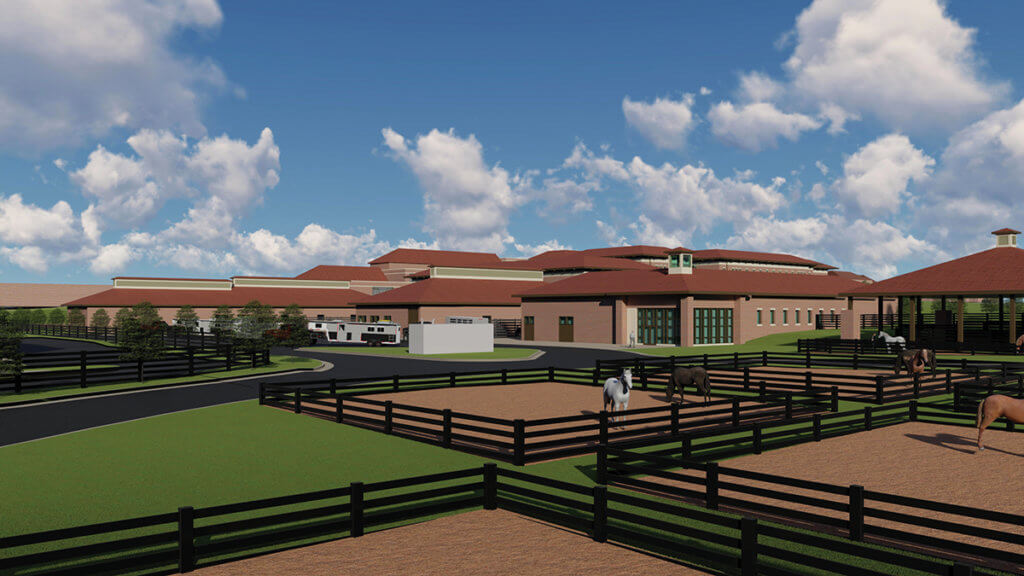 Growing Caseload, Expanding Services, and New Technologies Drive Need for New Facilities
With the new square footage, the Veterinary Teaching Hospital will be able to better meet demand, expand its caseload and adopt new and future technologies. The new facilities also will address personnel needs and enable the hospital staff to improve biosecurity and infectious disease management for all species.
"The hospital serves so many roles for the college, the university and the state," said Dean Reed, noting how it functions as a catalyst for interdisciplinary research, including cancer drug discovery and the development of treatments for paralysis. "People from across the country bring animals to the Purdue Veterinary Teaching Hospital, where livestock, pets, and their owners intersect with some of the world's brightest young people pursuing careers in veterinary practice, public health and food safety, academia, and medical research," Dean Reed explained. The hospital's field services for equine, bovine, and swine also provide vital expertise, care, and treatment for animals on farms across Indiana.
The new teaching hospital also will resolve several important issues that could not be addressed in the existing facilities, including appointment backlogs for some services, and the need for space to accommodate growth in staffing, students, services, and new technologies. Hospital caseload has increased more than 50 percent in less than ten years, from 13,332 in 2010 to 20,016 in 2018.
The oldest portions of the existing hospital were built in 1959, and rooms originally designed as storage and office spaces have been retrofitted to accommodate new service teams and equipment. Dr. Nickie Baird, Large Animal Hospital chief of staff, said much had been done to refurbish existing space and lawmakers and other special guests who have toured the facility took note of the retrofitting. "We have programs now that weren't even thought about 60 years ago. I'm pretty sure biosecurity had not even been coined as a term when the original hospital was constructed."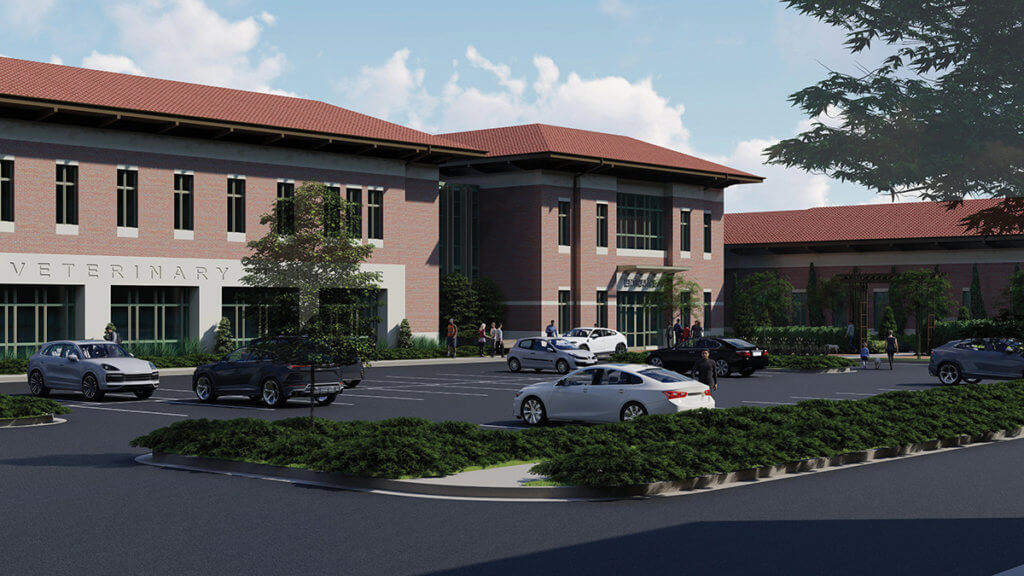 The retrofitting had its limits and new space was needed both for large and small animal patients. To deal with existing issues involving appointment backlogs, some small animal clients have turned to the hospital's Animal Emergency Service. Dr. Aimee Brooks, clinical assistant professor of small animal emergency and critical care, notes that emergency room caseload has increased by about 15% in the last year. "A significant number of our referral cases for small animals are coming in through the emergency room as a back door." Noting that currently there can be a six-week wait to get an animal in for a non-emergency operation such as an orthopedic procedure, Dean Reed said, "New facilities will significantly improve wait times for clients and patients."
The hospital also has experienced increased demand for specialty services for companion animals as rates of animal ownership grow nationally. According to the 2017-2018 National Pet Owners Survey conducted by the American Pet Products Association (APPA), 68% of U.S. households, or about 85 million families, own a companion animal, and households in the survey reported significant interest in health and wellness products and services for their pets.
"Veterinary medicine has grown and expanded in ways that a prior generation may never have envisioned," said Veterinary Teaching Hospital Administrator Alan Schrope. "Over the years, advancements in medicine led to new offerings such as hemodialysis, physical therapy, urology, joint replacements, performance horse medicine, and more. We are excited to add roughly 160,000 square feet of space to allow for all of this."
Nearly 60 clinicians work in the Veterinary Teaching Hospital in specialty areas ranging from neurosurgery and oncology to sports medicine and rehabilitation therapy. The hospital is supported by an additional 150 staff members with roles ranging from veterinary nurses to pharmacists to support staff. In total, the hospital employs more than 200 people who run the facility day-to-day. Additionally, more than 40 residents and interns work in the hospital as part of their advanced training in specialty fields. The Veterinary Teaching Hospital also is where the College of Veterinary Medicine's DVM and veterinary nursing students receive their hands-on clinical instruction. "The new hospital is key to our ability to serve and compete in a growing and changing industry," Alan said.
Groundbreaking for the new hospital facilities is anticipated by March, with the goal of completing construction by December 2021 and moving-in by March 2022. The images shown represent conceptual drawings.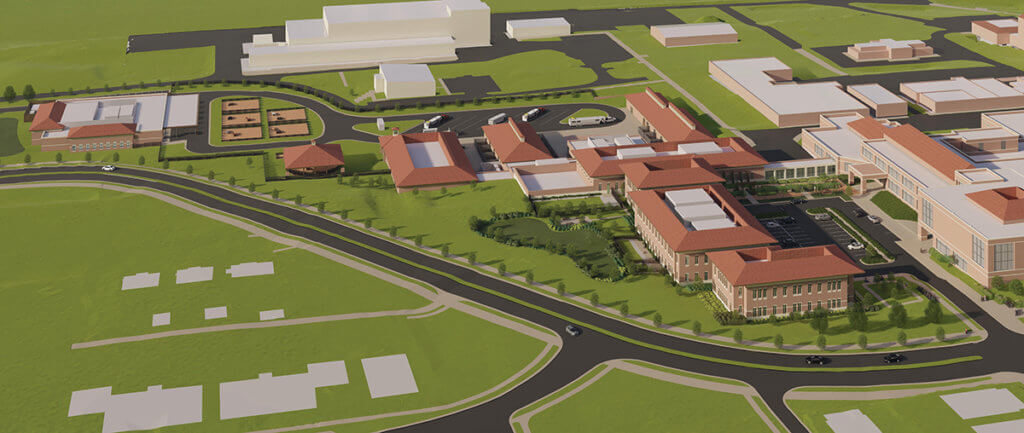 Writer(s): Lauren Bruce | pvmnews@purdue.edu