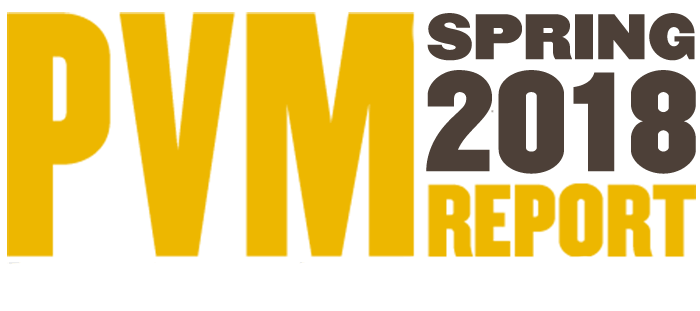 PVM Alumnus Shares Experience with the Veterinary Medicine Loan Repayment Program
Tuesday, April 24, 2018
Current PVM students delivered compelling statements to their congressional representative on Capitol Hill in conjunction with a lobbying effort organized by the Association of American Veterinary Medical Colleges (AAVMC) in an attempt to increase funding for the Veterinary Loan Repayment Program.
Dr. Brandon Miller (PU DVM 2014) was searching for a way to stay in Indiana while repaying his veterinary school student debt when he came across the USDA Veterinary Medicine Loan Repayment Program (VMLRP). Dr. Miller began applying for and researching the VMLRP program during his fourth year of veterinary school at the Purdue University College of Veterinary Medicine.
As of 2016, graduates of veterinary schools and colleges in the United States owed an average of $143,758 in student debt that they must pay off post-graduation. Based on the average salary of a veterinarian, that debt can equal up to four years' worth of income at starting pay levels. Thanks to the United States Department of Agriculture (USDA), this problem may be dwindling. The USDA administers the federally funded VMLRP, which offers loan forgiveness to veterinarians who commit to serving at least three years in underserved areas. The National Institute of Food and Agriculture (NIFA) recently reported that 187 regions in the United States currently suffer from shortages of livestock and public health veterinarians. These shortages threaten animal health, public health, and the livelihoods of farmers and ranchers.
Dr. Miller is a VMLRP award recipient who currently serves at West Central Veterinary Services in Greencastle, Ind. "The VMLRP is a significant reason why I am practicing veterinary medicine in west central Indiana today" said Dr. Miller. "The VMLRP staff have been excellent to work with throughout the application process and during my initial year of service.  The most rewarding aspect of the program has been the ability to serve an Indiana veterinary shortage area and cultivate a very successful practice close to home." Participants are given the opportunity to choose their shortage area based upon preference. The shortage areas are identified annually based on requests from state animal health officials. Dr. Miller chose Greencastle because it's where he grew up, which made the decision to apply for the program even more appealing to him. After his contract expires in December 2019, he plans to continue practicing veterinary medicine in Indiana and hopes to someday become a practice owner.
Dr. Miller strongly encourages anyone interested to research the program and the shortage areas available and apply. He noted that he applied three times before he was accepted into the program and urges all applicants to re-apply the following year if they are unsuccessful with their initial application.
Currently, the VMLRP is not receiving adequate funding to meet the demand in part because each award is subject to an expensive income withholding tax that sends the program's funding back to the government. In response, the USDA and NIFA have proposed the Veterinary Medicine Loan Repayment Program Enhancement Act. This act would eliminate this tax to free up additional funding and support more communities in need of veterinarians.
Click here to read more about the program.
Writer(s): Helen Thimlar, PVM Communications Intern | pvmnews@purdue.edu