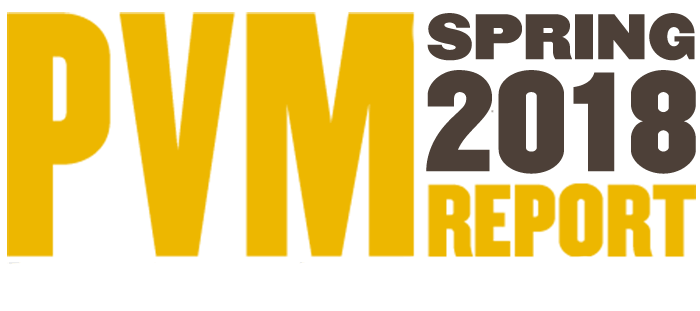 Cooper the Trooper's "Surgiversary" is Cause for Celebration
Tuesday, April 24, 2018
The small animal orthopedic surgery team in the Veterinary Teaching Hospital (VTH) at the Purdue University College of Veterinary Medicine performed a total hip replacement one year ago in March on a three-legged dog named Cooper.  One year later, on the occasion of the dog's "surgiversary," his family says Cooper the Trooper is good as new.
In March 2017, the Austgen family decided it was time to add another furry friend to their family of four. They went to a local shelter in Hobart, Ind., to meet a dog that had been posted online but instead fell in love with a three-legged, five-year-old chocolate lab mix named "Velveteen." Just days later they decided to adopt him and re-named him Cooper, or rather, Cooper the Trooper, for all that he had endured before being adopted. With no medical history other than the obvious fact that he was missing a hind leg, they took him to a local veterinarian to be checked out. The veterinarian informed them that based on the x-rays, Cooper must have been hit by a car before being brought to the shelter, which resulted in one leg being amputated and his hip being dislocated. Then the Austgen family received news that no new pet owner wants to hear, their beloved new friend would need a costly total hip replacement surgery.
When they adopted him, the Austgen's offered Cooper their home, hearts, and all the love they had, to give him a second chance at life, not knowing that would also include a major surgery and lengthy recovery time. Within a month of the adoption, the Austgen family's pet was referred to Dr. Mark Rochat, Purdue Veterinary Medicine clinical professor of small animal orthopedic surgery. The total hip replacement surgery was scheduled at the VTH for March 31, 2017.
"People should know that this type of surgical procedure is possible for a three-legged dog," said Dr. Rochat. "When you replace the hip of a three-legged dog, you have to take into consideration that during post-operative care, the dog will be putting all of its weight on that one hip, rather than both, as would be the case with a four-legged dog. Other than that, it's the same procedure. For Cooper, the surgery and post operation recovery went exceptionally well."
This year marks Cooper's one year "surgiversary," a term coined by a PVM veterinary technologist as a way of referring to the anniversary of a surgical procedure. Cooper now runs and goes up and down stairs without any problem whereas he used to be dragged down by his pain. Cooper's "mom" said, "The care and attention we received from PVM was exemplary and I would recommend it to everyone!" Congratulations to Cooper, his family and PVM's talented team of surgeons, anesthesiologists, technicians and students!
Writer(s): Helen Thimlar, PVM Communications Intern | pvmnews@purdue.edu