Living Legacy
Monday, June 15, 2020
Passing of Former Dean Hugh Lewis Coincides with Inception of New Programs Honoring Longtime PVM Colleague
People who knew Dr. Hugh Bilson Lewis when he served as Dean of the Purdue University College of Veterinary Medicine from 1986 to 1996, often heard him tell of the importance of looking at things in new ways, and thinking big – being open to non-traditional concepts and pioneering ideas, whether related to the curriculum or veterinary practice. There also was no way to get to know Dean Lewis apart from getting to know his wife, Mair. They were a team – partners in every sense of the word.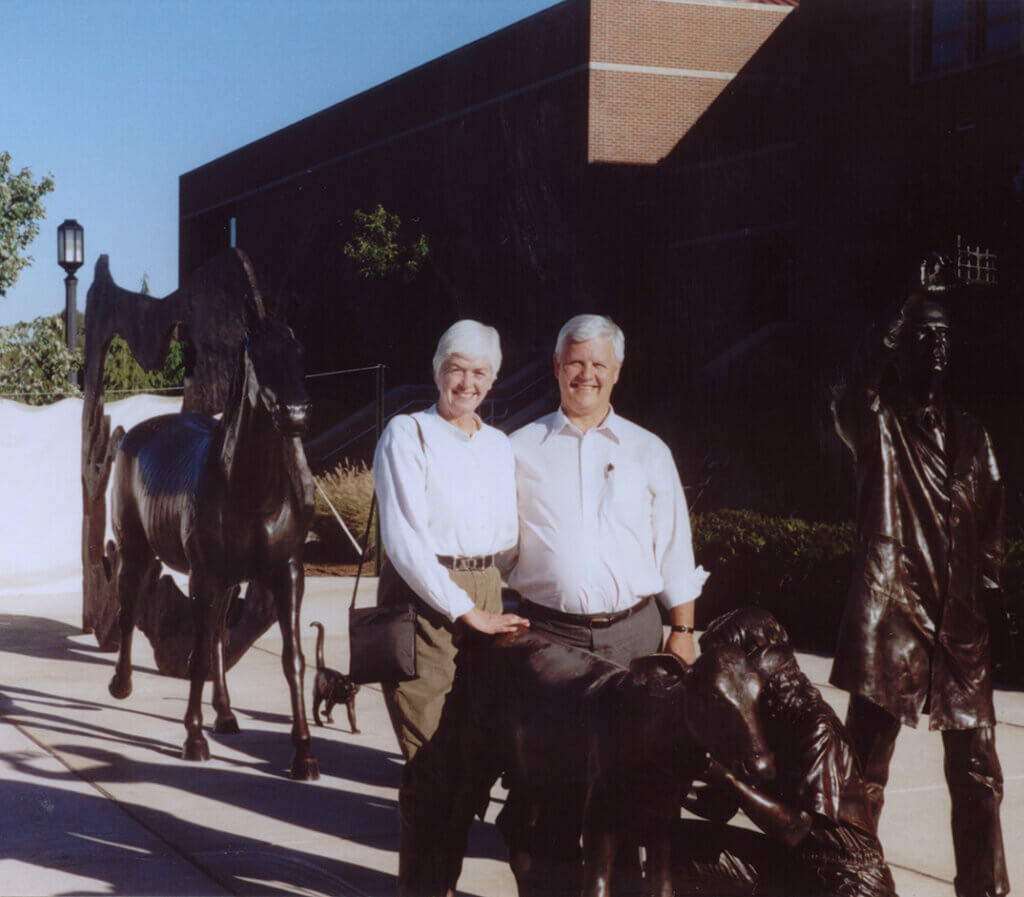 Dr. Lewis and his wife were generous – generous in spirit and generous in giving.  They especially valued people, and that focus was reflected in a variety of ways, including how they evaluated what organizations to support financially.  It was not surprising when they came up with the idea last year of making a gift to honor a beloved colleague and longtime Purdue Veterinary Medicine faculty member.
This year, details of how the gift would be utilized were finalized and everything was proceeding according to plan when tragedy struck. Dr. Lewis suffered a medical emergency and on April 25, he passed away at the age of 79.
Throughout their time at Purdue, Dr. Lewis and Mair were known as an inseparable team, warmly welcoming new students, faculty, and staff and demonstrating care and concern for international students and scholars. Even after moving from West Lafayette to the West Coast, where they settled in Vancouver, Wash., they kept in touch, returned to campus a number of times, and supported the College of Veterinary Medicine generously. In 2011, the university awarded Dr. Lewis an honorary degree. Click here to read a memorial story published May 1 about his career and influence.
In the midst of profound sadness over the loss of this thoughtful, visionary, entrepreneurial, and inspiring leader in the veterinary medical profession, came the recognition that an ending can also be a beginning. The seed that Dr. Lewis and Mair had sown through their gift to honor a professor emeritus was germinating.
When asked about how they came to decisions to support charitable programs, Mair said, "It was about supporting a person who was making a difference." In this instance, the person they wanted to honor is someone they knew had been making a difference at the college for a long time – Dr. Ronald Hullinger, professor emeritus of basic medical sciences, who had retired just a year earlier.
"Dr. Hullinger was an outstanding faculty member who Hugh wanted to support," Mair explained. "Dr. Hullinger's ideas are broader than most. He and Hugh would think 'outside the box' and support programs beneficial to students and alumni."
Mair said several discussions ensued. "Before coming to a final decision, Hugh and Ron brainstormed," Mair said. "And what they settled on grew out of their vibrant discussions." Dr. Hullinger recalled that, after Dr. Lewis shared ideas about what he didn't think would be particularly productive, he asked, "So what would you like?" With approval from Dean Reed, they proceeded to develop the "Hullinger Initiatives."
The result, finalized with the help of a steering committee and substantially funded by the Lewises' financial gift, consists of three new programs, each of which reflect the kind of thinking that Dr. Lewis promoted and for which Dr. Hullinger was known. "This purpose they had in mind to honor my contributions at Purdue is amazing," Dr. Hullinger said. "A reception on your retirement is wonderful. But to have this substantial support to make these initiatives possible is humbling. Essentially, I feel humbly grateful."
Hullinger Initiatives
Initiative #1: Book Loan Library for the PVM Wellness Center
"Stresses of the PVM curricula may be several," explains the document outlining the Hullinger Initiatives. "Reading non-textbooks may, for example, help students lower stress, expand self-awareness, and enhance empathy for others." The library will be seeded with 15-20 books reflecting the contributions of the benefactor and the honoree. Alumni, many of whom are former students of Dr. Hullinger, also will be invited to contribute favorite books (non-textbooks), that they appreciated either while a PVM student or during their subsequent career. Donors will be invited to inscribe their book(s) with a message, their signature, and their year of graduation. Readers likewise will be encouraged to sign, date, and add words about what they found meaningful in the books they borrow.
Initiative #2: PVM Web-based Collection of Normal Microscopic Images
Dr. Hullinger said pristine digital images of embryonic tissues and postnatal cells, tissues, and organs of various magnifications from the college's collection of normal microscopic instruction images will be labeled with the appropriate terminology as well as English vernacular terms and published over time to a dedicated PVM website. There, they will be available to students, teachers, and others worldwide who could benefit from this resource.
Initiative #3: Student Innovative Career Path Exploration
The most elaborate of the three initiatives, the DVM or BSVN Student Innovative Career Path Exploration, or ICaPE, when fully operational, will invite applications from DVM and veterinary nursing students for ICaPE funds to support their exploration of an innovative career pathway. Such exploration, in addition to being compatible with requirements of the curriculum, might involve internships, research laboratories, industries, institutes, centers of excellence, national laboratories, museums, or libraries, Dr. Hullinger suggested. Students will be asked to prepare a formal application, providing a rationale explaining the purpose, budget, and what they hope to accomplish with their project. ICaPE funds of up to $8,500 for each approved project will cover such costs as travel and lodging.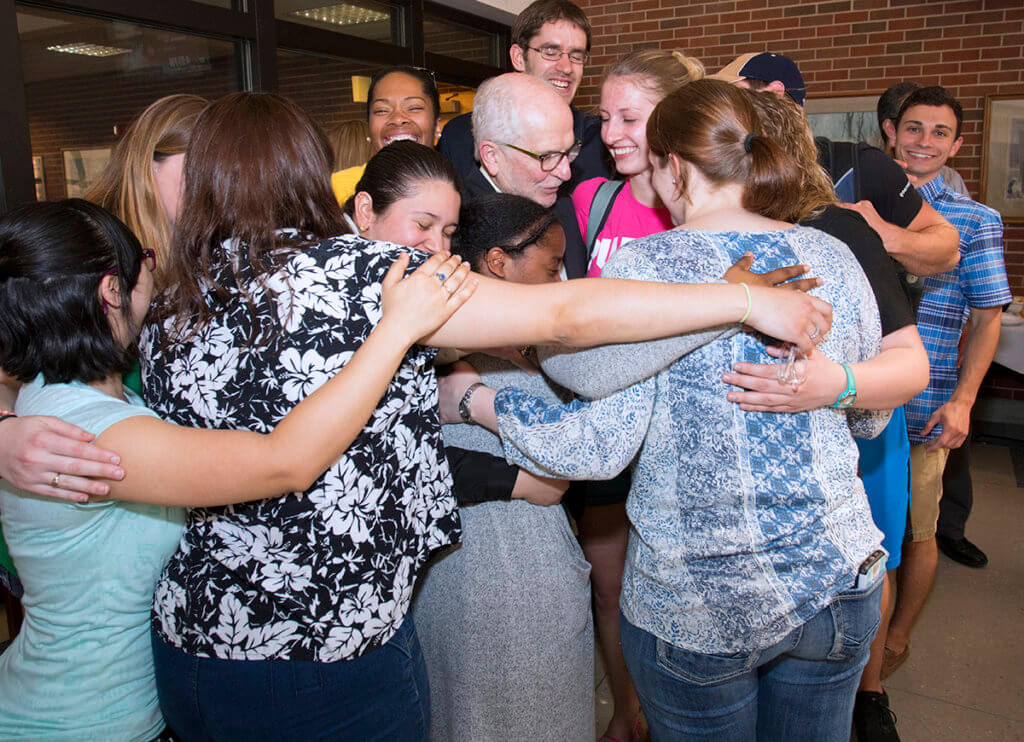 Dr. Hullinger says examples of potential imaginative and innovative DVM or BSVN career pathways might include studying computer science with a focus upon big data analytics, with the knowledge base and perspective of a veterinarian or veterinary nurse and an aim to reduce the time and expense of clinical trials and availability of pharmaceuticals in the marketplace; or becoming an astronaut and exploring the human-animal bond in prolonged space flight or human colonization of Mars, with the knowledge base and perspective of a veterinarian.
"This initiative really reflects who the Lewises are and have been," Dr. Hullinger said, noting that Dr. Lewis had a dynamic career. "They were very excited about this. I came with these three ideas to one of our meetings. Hugh said, 'Get going, these sound great!' He was particularly excited about this one, which inspired a lot of conversation with them."
"Someone may just be enriched by this experience and see what possibilities are there," Dr. Hullinger added. "They may never go that direction, but would know what it would entail." He also said the ICaPE program could enable them to make a career change at a later date. "They could say, 'I know what that involves and I could do it.' It's enrichment of their career opportunities." Dr. Hullinger emphasized that enriching the experiences of PVM students really is what all the Hullinger Initiatives are about. That indeed seems most appropriate for a gift in honor of Dr. Hullinger funded by Hugh and Mair Lewis – three kindred spirits – because, after all, giving is about people.
Writer(s): Kevin Doerr | pvmnews@purdue.edu