In Memory: Former Dean Hugh Bilson Lewis
Friday, May 1, 2020
The Purdue Veterinary Medicine family is deeply saddened by the passing of Dr. Hugh Bilson Lewis, former dean of the College, who died Saturday, April 25. He was 79.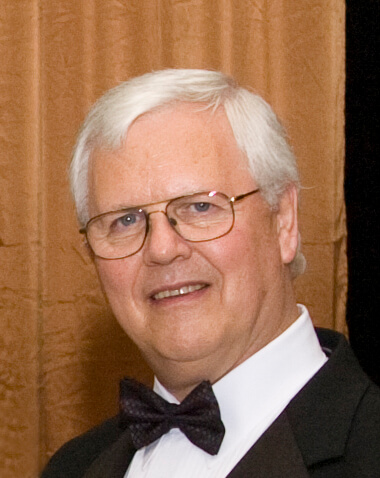 A board-certified veterinary clinical pathologist, Dr. Lewis served as dean from 1986 to 1996. During his tenure, he spearheaded the creation of a strategic plan that led to multiple developments, including a redesign of the veterinary curriculum, realignment of academic departments, a significant expansion of the faculty and a major renovation and building program highlighted by the completion of a new addition to Lynn Hall in 1995. "We are still reaping the benefits of his strong and visionary leadership," said Purdue Veterinary Medicine Dean Willie Reed.
A native of Wales, Dr. Lewis earned his veterinary medical degree at Glasgow University. He then completed a residency at the University of Pennsylvania School of Veterinary Medicine, where he continued on as an N.I.H. post-doc fellow and served on the faculty.
He first came to Purdue to teach in 1976 and 1977, before joining Smith, Kline and French Laboratories, where he served as senior director of pathology and toxicology. Throughout his academic career and also during two years in a private referral service, Dr. Lewis became widely recognized nationally and internationally as an authority in comparative hematology.
In 1996, Dr. Lewis left Purdue to join MMI/Banfield, The Pet Hospital™, as senior vice president of practice development. He also served as president of DataSavant, a sister corporation to MMI/Banfield, The Pet Hospital™, with a mission to generate new knowledge and understanding via mining of the Banfield accumulated database associated with its large caseload.
Throughout his time at Purdue, Dr. Lewis and his wife, Mair, were known as an inseparable team, warmly welcoming new students, faculty, and staff and demonstrating care and concern for international students and scholars.  Even after moving from West Lafayette to the West Coast, where they settled in Vancouver, Wash., they kept in touch, returned to campus a number of times, and supported the College of Veterinary Medicine generously.  In 2011, the University awarded Dr. Lewis an honorary degree.
"Hugh and Mair are among the most kind, caring, and warmhearted people I have ever met," Dean Reed said.  "Hugh was a mentor and dear colleague and I am forever grateful for his wise counsel over the years.  Hugh will be deeply, deeply missed, and our thoughts and heartfelt sympathy go out to Mair and their family." 
No public services are scheduled at this time.  Arrangements are being handled by Vancouver Funeral Chapel, 110 East 12th Street, Vancouver, Wash.  Memories and condolences may be left and requests to receive notifications may be submitted through the Vancouver Funeral Chapel website.
Writer(s): Purdue Veterinary Medicine News | pvmnews@purdue.edu