Virtual Awards Ceremony Confers Recognition on Outstanding Alumni and Faculty During Purdue Veterinary Conference
Tuesday, December 15, 2020
A longstanding Purdue University College of Veterinary Medicine tradition of recognizing distinguished alumni and outstanding faculty during the annual Purdue Veterinary Conference continued in a virtual format in 2020. The entire conference September 22-25 was held virtually, enabling more than 560 registered attendees including veterinarians, veterinary nurses, and Purdue Veterinary Medicine faculty, staff, and students, to join in on conference sessions and special activities from their home or office.
The annual evening Awards Celebration September 23 included the presentation of two Distinguished Alumni Awards as well as the prestigious Raymond E. Plue Outstanding Teacher Award.  This year, two DVM graduates were honored as Distinguished Alumni and a specialist in veterinary neurology with an interest in physical rehabilitation received the Plue Award.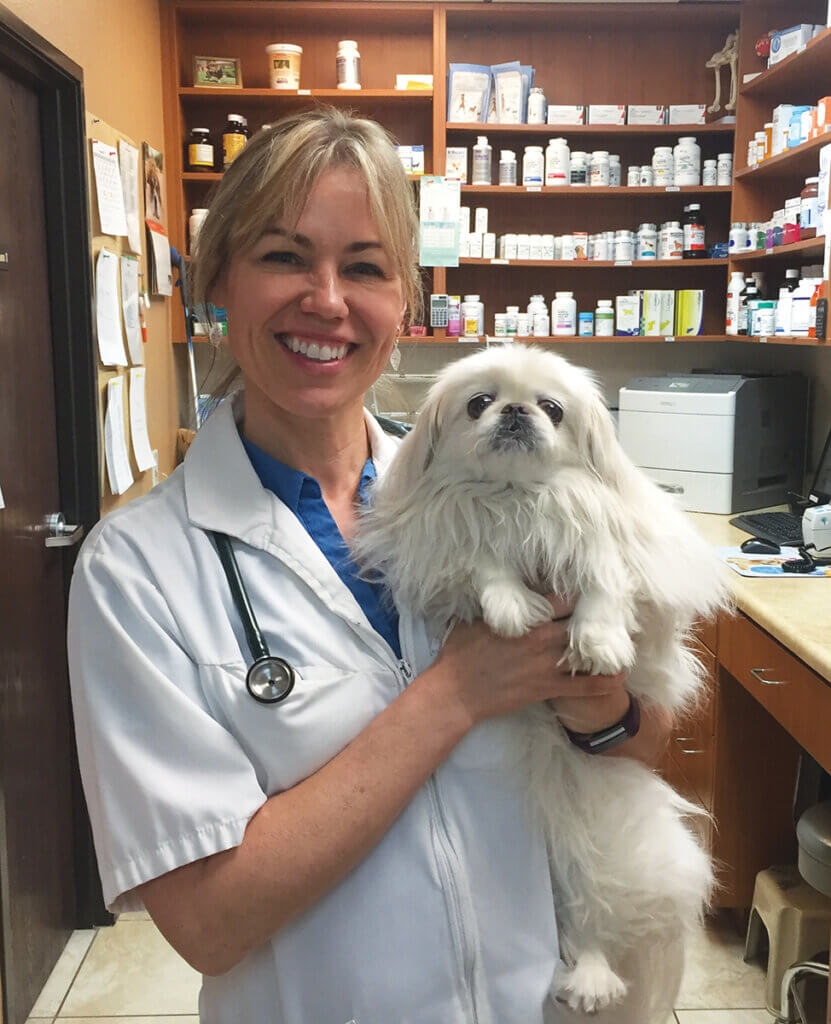 The first of the Distinguished Alumni Awards was presented to Dr. Debbie White, of the DVM Class of 1994.  After earning her degree, Dr. White followed fellow graduate Dr. Kurt Mychajlonka, of the Class of 1993, to Las Vegas, where they both sought out opportunities in private practice.  They married and together own two state-of-the-art practices.
A regular veterinary contributor on local news and national radio programming, Dr. White enjoys educating pet owners on health matters. Since 2008, she has been known as "Dr. Debbie" on the weekly nationally broadcast radio program called Animal Radio, taking questions from pet lovers. Praised by many as a natural leader, Dr. White also has served in multiple board positions with professional veterinary organizations, including as a board member and currently as the vice president for the Western Veterinary Conference, now known as Viticus Group.
In addition to her accomplishments as a veterinarian, Dr. White is very fond of her Boilermaker roots and has made multiple visits back to campus to support students. In the past 25 years, she and Kurt also have hosted many students through externships.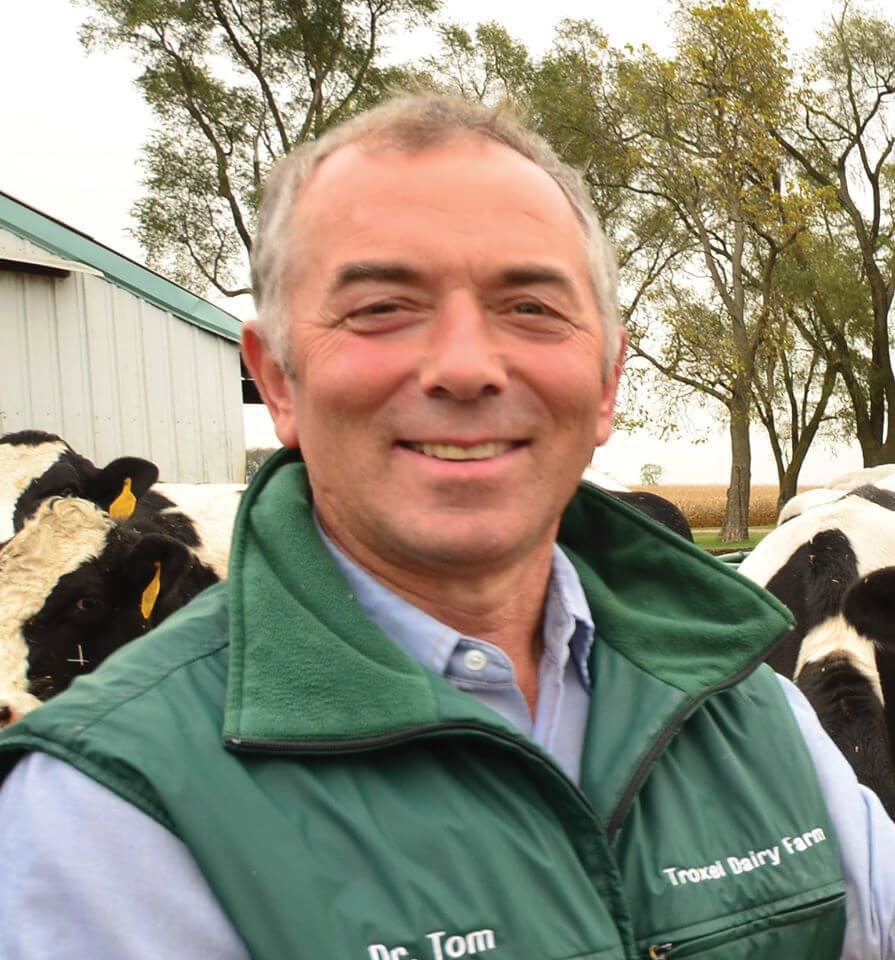 The other Distinguished Alumnus Award was presented to Dr. Tom Troxel, of the DVM Class of 1981. "Dr. Tom," as he is called by his clients in Northwestern Indiana, is highly respected for the work he has done as a veterinarian, dairy farmer, teacher, and lay minister. Beyond maintaining his own dairy farm and veterinary practice, Dr. Troxel got involved in international outreach. Through Christian Veterinary Mission, he educated students and veterinarians from Romania and the Republic of Moldova both while traveling abroad and by hosting students on his own farm. In addition, he helped to create dairy farms in Haiti as a means of establishing and maintaining healthy and productive herds there.
Dr. Troxel also helped to mentor Purdue students during their externships and summer employment opportunities, instilling in them his values of treating the herd and offering profitable advice to clients, while also demonstrating patience, vigilance, and humility. Known as a compassionate and knowledgeable clinician, Dr. Troxel perhaps has been most recognized for his genuine interest in supporting herd health as well as profitability for farmers.
Another highlight of the annual awards ceremony is the presentation of the Raymond E. Plue Outstanding Teacher Award.  Funded by an endowment established by Dr. Plue, a member of the DVM Class of 1968, the award honors faculty members for their teaching ability as well as their role in fostering interest in research.  To be considered for this honor, a faculty member must be nominated by veterinary alumni in the five most recent graduating classes.  The 2020 recipient is Dr. Stephanie Thomovsky, clinical associate professor of veterinary neurology in the Department of Veterinary Clinical Sciences and director of the Purdue University Veterinary Hospital Physical Rehabilitation Service.
Dr. Thomovsky earned her DVM degree at Iowa State University and completed a neurology/neurosurgery internship before joining Purdue Veterinary Medicine's residency program. She then served on the faculty at Washington State University before returning to Purdue to accept a faculty position in neurology and establish the Physical Rehabilitation Service in the Veterinary Hospital.
Certified in canine rehabilitation in 2012 and in veterinary medical acupuncture in 2019, Dr. Thomovsky has won numerous awards including the Zoetis Teaching Award, the Purdue University College of Veterinary Medicine Alumni Outstanding Teaching Award, and the Washington State University Jerry Newbrey Teaching Scholar Award.  Her research interests include physical therapy and the neurologic patient, novel treatments for seizures, and paroxysmal dyskinesias.  Dr. Thomovsky's nominator praised her for being an excellent and enthusiastic instructor who is able to simplify complex subject matter and integrate clinical applications while inspiring students to care about the material they are learning.
Additionally, the college honored eight other faculty members who received annual awards for teaching, research and engagement:
Dr. Nickie Baird | Alumni Faculty Award for Excellence
Professor of Large Animal Surgery, Department of Veterinary Clinical Sciences; Chief of Staff, Large Animal Hospital
Dr. Joanne Messick | Zoetis Distinguished Teacher Award
Professor of Veterinary Clinical Pathology, Department of Comparative Pathobiology
Dr. Marxa Figueiredo | Alumni Outstanding Teaching Award and Zoetis Award for Veterinary Research Excellence
Associate Professor, Department of Basic Medical Sciences
Dr. Timothy Bentley | Excellence in Research Award
Associate Professor of Veterinary Neurology and Neurosurgery, Department of Veterinary Clinical Sciences
Dr. Sarah Steinbach | Excellence in Service Award
Clinical Assistant Professor of Small Animal Internal Medicine, Department of Veterinary Clinical Sciences; Director, Purdue University Veterinary Hospital Hemodialysis Service
Dr. Sandra San Miguel (PU DVM '93, PhD '97) | Excellence in Scholarship of Engagement Award
Associate Dean for Engagement; Professor of Veterinary Clinical Sciences, Department of Veterinary Administration
Dr. Tiffany Lyle (PU PhD 2016) | Faculty Excellence in Diversity & Inclusion Award
Assistant Professor of Veterinary Anatomic Pathology, Department of Comparative Pathobiology; Director, Histology Research Laboratory
Dr. Andrew Woolcock | Resident Mentor Award
Assistant Professor of Small Animal Internal Medicine, Department of Veterinary Clinical Sciences
At the end of the awards program, Dean Willie Reed thanked everyone who joined the ceremony on the Zoom platform. "I couldn't be more proud of our deserving awardees this evening," Dean Reed said as he closed the virtual event.
The Purdue Veterinary Conference offered a full-range of events and top quality continuing education, including 94 sessions presented by 49 speakers. The virtual Exhibit Hall featured two dozen exhibitors who provided videos, chat opportunities, and prizes for attendees who could peruse the exhibits with a simple click or two. Conference participants also found ample opportunities to network through the conference app, "Whova." Attendees utilized the app to share more than 2,350 messages either privately or via community message boards.
Even in the midst of the challenges posed by the pandemic of 2020, Purdue Veterinary Medicine alumni and friends found a silver lining with the success of the first virtual Purdue Veterinary Conference and displayed the true grit of Boilermakers. The college's Office of Lifelong Learning continues to pursue innovative ways to offer safe opportunities for continuing education within the framework of the Protect Purdue Plan. Visit their webpage to learn more about upcoming events at: vet.purdue.edu/ce.
Writer(s): Susan Xioufaridou and Kevin Doerr | pvmnews@purdue.edu