Purdue Veterinary Program Attracts Federal Funding to Help Increase Diversity in Biomedical Sciences Graduate Education
Wednesday, December 16, 2020
The National Institute of General Medical Sciences (NIGMS) of the National Institutes of Health has awarded the Purdue University College of Veterinary Medicine a $1.4 million grant over five years to prepare individuals from backgrounds underrepresented in the biomedical sciences to earn a PhD, DVM/PhD, or MD/PhD degree. The grant was awarded through the NIGMS Post-baccalaureate Research Education Program (PREP). The Purdue PREP for Translational Biomedical Science will be based in the College of Veterinary Medicine, which is the first veterinary college to successfully compete for this type of grant, and will include faculty research mentors from across the Purdue campus.
Purdue PREP scholars will have the opportunity to enhance their skill set in four main areas:
Research Aptitude;
Academics;
Professional Development and Career Planning; and
Resiliency.
The program will be co-directed by Susan Mendrysa, PhD, associate professor of basic medical sciences, and Harm HogenEsch, DVM, PhD, associate dean for research and professor of immunopathology in the Department of Comparative Pathobiology.
Dr. Mendrysa said the goal of Purdue PREP is to enhance the cognitive diversity of the biomedical workforce by increasing the number of college graduates from underrepresented backgrounds that successfully enter and complete a PhD or dual-doctoral degree program in translational biomedical sciences. "The cognitive diversity of the biomedical workforce must grow to maximize scientific innovation and enhance U.S. global competitiveness in addressing human health concerns," Dr. Mendrysa emphasized. "This growth can be achieved, in part, through greater inclusion of individuals from specific racial and ethnic groups, with physical disabilities, and from challenging socioeconomic backgrounds that are currently significantly underrepresented in the biomedical sciences."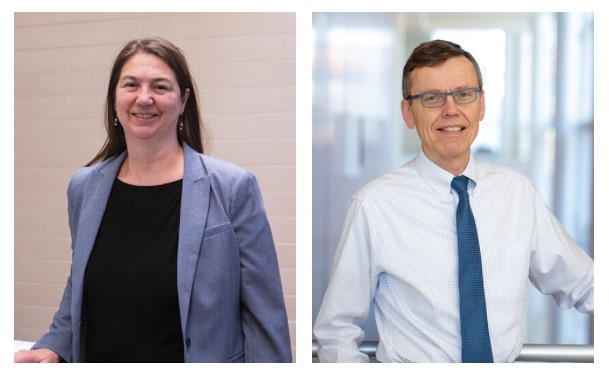 Drs. Mendrysa and HogenEsch will work with a strong PVM leadership team including Marxa Figueiredo, PhD, associate professor of basic medical sciences, and Latonia Craig, EdD, assistant dean for inclusive excellence. Program assessment will be directed by Malathi Raghavan, DVM, PhD, director of outcomes assessment and data management and clinical associate professor, and Loran Carleton Parker, PhD, associate director and senior evaluation and research associate at the Purdue Evaluation and Learning Research Center. Erin Lane, administrative assistant for PVM Research Programs/Interdisciplinary Biosciences Graduate Program, will serve as the Purdue PREP administrator. Other key individuals vital to the program's success include 55 dedicated faculty research mentors, institutional and external advisory councils, scholar recruitment contacts at partner universities, and external consultants.
A core element of the Purdue PREP is the opportunity for PREP scholars to engage in a full year of independent laboratory research, in which they will be encouraged to develop and test their own hypotheses under the mentorship of a successful faculty research mentor. Purdue faculty who will serve as research mentors have been recruited from the College of Veterinary Medicine, as well as across campus. The breadth of faculty research includes cancer biology, neuroscience, infectious disease and inflammation, metabolic disease, and others with the common theme that all mentors utilize animal models, either directly or collaboratively, as one of their scientific approaches for new discovery.
Dr. Mendrysa said that pre-clinical studies in animal models of human disease is a vital step in the translation of basic biomedical discoveries to human clinical applications such as diagnostic tools, cancer therapies, and preventative strategies. These animal models include laboratory species commonly used in biomedical research as well as animal patients receiving care through the Purdue University Veterinary Hospital for naturally occurring diseases. These client-owned companion animals, primarily dogs and cats, are brought to the hospital for specialized care and treatment, and can be enrolled by their owners in clinical trials of naturally occurring illnesses. Because of the value of these clinical trials, these cases increasingly are being appreciated for their value as comparative animal models of spontaneous human disease. With its home base in the College of Veterinary Medicine, the program is uniquely positioned to foster PREP scholars' research interests in the translation of basic biomedical discoveries from the lab bench to human patients.
Dr. Mendrysa also said that PREP scholars will have the opportunity to take upper-level undergraduate courses or a graduate level course in the fall and spring semesters. "While we want the emphasis to be on research, many of these students may not have had an opportunity to take upper-level courses and we want them to be able to challenge themselves in a more rigorous course. This will be a component of grad school — as students are now expected to do research, as well as take several upper-level courses simultaneously," said Dr. Mendrysa. "
In addition to PREP scholar research and professional development activities, the NIGMS grant will also support the development of cultural competency training focused on issues of diversity and inclusion as they relate to the academic research environment. PREP scholars, faculty research mentors, and key laboratory personnel will participate in such training with the goal to improve cross-cultural communication and enhance the experience of students from underrepresented backgrounds.
The NIH-funded Purdue PREP was developed based on a pilot program funded in 2016 by a Diversity Transformation Award from the Purdue University Office of the Provost, which was created to enhance recruitment, enrollment, and retention of students, faculty, and staff from underrepresented backgrounds, and to study factors affecting inclusiveness and success of underrepresented students and faculty. Through the expanded funding from NIH, Dr. Mendrysa hopes to see the program create a steady supply of exceptional PhD students in the field, achieve a critical mass of individuals from underrepresented backgrounds in graduate/postdoctoral positions, enhance retention through culturally-relevant mentorship, and transform Purdue's climate for diversity to one that is better aligned with Purdue's cultural values.
Writer(s): Kevin Doerr | pvmnews@purdue.edu