In Memory: Dr. Lewis J. Runnels, Professor Emeritus
Tuesday, December 15, 2020
Dr. Lewis J. Runnels, professor emeritus of comparative pathobiology, who served many years on the College of Veterinary Medicine faculty and was highly respected and influential as a swine specialist, passed away November 8 at Westminster Village Health Care in West Lafayette, Ind. He was 95.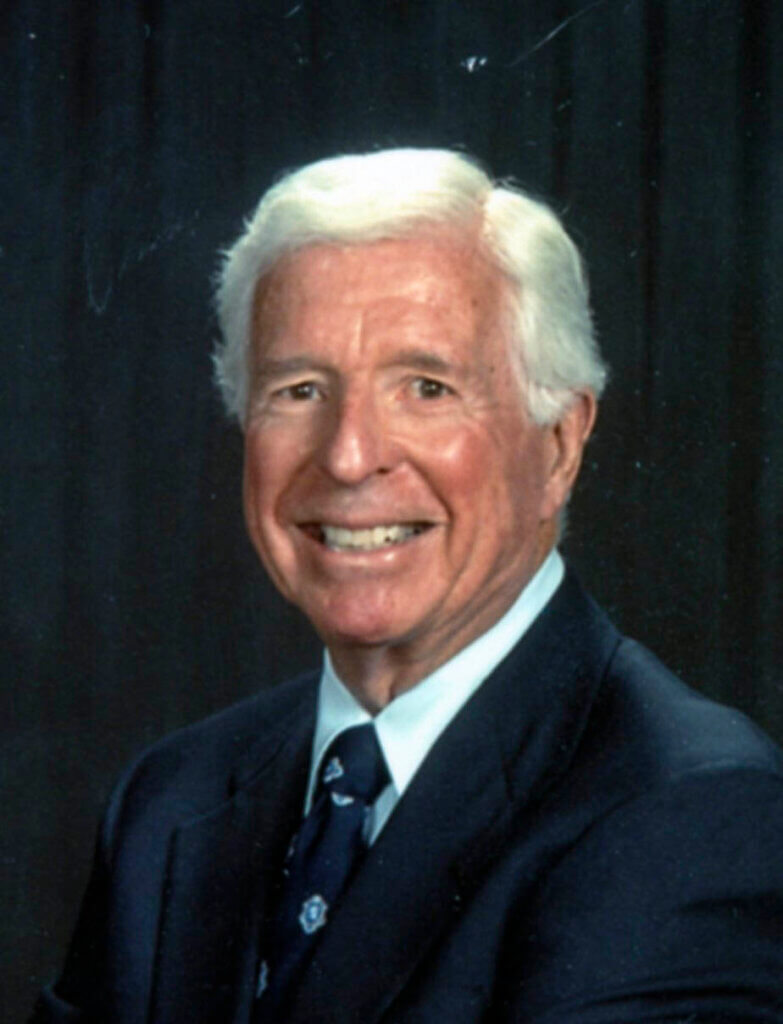 After earning his DVM degree at Kansas State University in 1946 at the age of 20, Dr. Runnels joined a private practice in Garrett, Ind. He worked there for six years, and then opened a general veterinary practice with a fellow classmate as a partner in Danville, Ind., but soon after, in 1953, Dr. Runnels was called up to serve in the U.S. Army Veterinary Corps as a captain and the partnership was dissolved. Following two years of military service, Dr. Runnels relocated to Darlington, Ind., where he joined a predominantly farm animal practice, and he and his wife, Nancy, raised their two sons, Bruce and Paul.
In 1969, they moved again, this time arriving in West Lafayette where Dr. Runnels joined the faculty of the College of Veterinary Medicine as a visiting professor in what was then the Department of Large Animal Clinics. He was promoted to associate professor of large animal medicine and surgery in 1970 and professor in 1975. In those roles, he influenced a cadre of veterinarians who have been leaders among swine veterinarians. His expertise in swine herd health was widely recognized as he was a frequent speaker at professional and producer meetings in the United States and Asia.
A life member of the American Association of Swine Veterinarians (AASV), Dr. Runnels received the organization's Howard Dunne Memorial Award in 1984. The annual award is for an AASV member who has made a significant contribution and rendered outstanding service to the AASV and the swine industry. In accepting the award, Dr. Runnels said, "I must give great credit to this organization, of which I'm a charter member, and for the fact that it has grown and developed and provides so much information and help to this profession, and keeps the veterinary profession as a part of the swine industry."
Dr. Runnels passionately advocated for the essential role of veterinary medicine in the health and success of the swine industry as he shared his vast expertise in swine herd health. He was awarded the Producer Service Award by the Indiana Swine Specific Pathogen Free Association in 1975 and 1987. In 1984, he joined the faculty of Purdue's Animal Disease Diagnostic Laboratory as professor of diagnostic medicine and consulted statewide on diagnostic problems in farm animals. Dr. Runnels remained on the College of Veterinary Medicine faculty until his retirement in 1990.
Actively involved in organized veterinary medicine, Dr. Runnels' memberships included the American Veterinary Medical Association, the American Association of Veterinary Laboratory Diagnosticians, the Indiana Veterinary Medical Association, the Indiana Academy of Veterinary Medicine, and the Indiana State Board of Veterinary Medical Examiners, for which he served a term as chairman in the 1960's. In 1992, he was recognized for his career of service to the veterinary profession and the swine industry with the establishment of the Lew Runnels Lecture, given annually as part of the Purdue Veterinary Conference each September.
Dr. Runnels also gave generously to support the college. Together with his son, Paul, a 1978 Purdue DVM graduate, Dr. Runnels established the Runnels Family Scholarship Endowment in 2016 to support annual scholarships for Purdue DVM students who are third- and/or fourth-year students studying food animals. He is also honored with an Endowment for Swine Production Medicine that bears his name, the income from which is used to provide funding for preliminary investigation of applied research projects in swine production medicine to enable faculty and graduate students to explore ideas or initiate investigations of current research issues before preparing formal research proposals.
In 2012, Dr. Runnels received a letter of appreciation from one of his son's childhood friends, who they knew during their years in Darlington. Not surprisingly, Dr. Runnels took time to write a personal reply in which he acknowledged that he and Nancy loved their time in Darlington and had intended to spend the rest of their lives there. He went on to explain that when he received the College of Veterinary Medicine's offer to join the faculty, it was a difficult decision to leave, but he and Nancy agreed to do so and start a new chapter in their lives. Looking back, Dr. Runnels wrote, "Eventually things began to come together and we found satisfaction in the move. One of the most satisfying [aspects] now is [when] former students, who have succeeded, see me and they thank me for teaching them and guiding them." In honor of Dr. Runnels, memorial gifts may be made to the Runnels Family Scholarship Endowment at giving.purdue.edu/runnelsscholarship.
Writer(s): Kevin Doerr | pvmnews@purdue.edu