Record Purdue Giving Fuels PVM's Fundraising Totals
Wednesday, December 5, 2018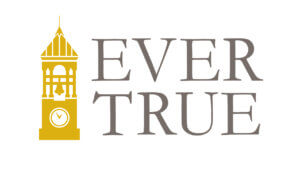 Another record year of giving helped the College of Veterinary Medicine achieve key priorities as part of Ever True – the Campaign for Purdue University. The generosity of Purdue Veterinary Medicine donors propelled the College past its total Ever True campaign goal of $40 million in support of the overall campaign priorities of placing students first, building on our strengths, and championing research and innovation.
Giving totals show that for fiscal year 2017-2018, which ended June 30, the College raised $8.77 million in private gifts, exceeding its fiscal year goal of $7 million. That amount brought total giving to the College as part of the Ever True campaign to $48.1 million.
The College's campaign priorities include five categories. Giving exceeded the specific goals in four of those, with $15.8 million raised for faculty support; $12.5 million for programs; $9.2 million for student support; and $5.3 million for areas of greatest need (unrestricted). The area in which giving is still short of the goal is facilities, and efforts are ongoing to raise the additional funds needed in support of new hospital plans. As of the close of the most recent fiscal year, $5.3 million had been raised toward the $18 million facilities goal.
The Purdue University Ever True campaign concludes in 2019, the University's 150th Anniversary year and the College's 60th Anniversary year. As a whole, the University recorded its strongest fundraising year ever in the 2017-2018 fiscal year, with $451.5 million raised, up from the previous record of $351.9 million. Those funds brought the total contributed as part of the Ever True campaign to $1.964 billion toward the University's goal of $2.019 billion.
The College of Veterinary Medicine deeply appreciates the generosity of all of its contributors. If you would like to know more about supporting the College of Veterinary Medicine, or wish to make a gift, please contact the Office of Advancement at (765) 494-6304 or PVMGiving@prf.org.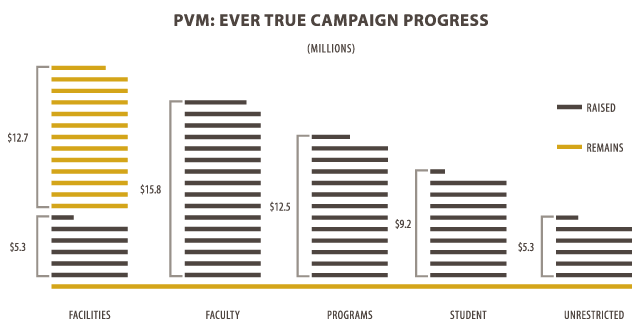 Writer(s): Tanya Finkbiner | pvmnews@purdue.edu