First-of-its-kind Vector-borne Disease Panel Screens for 22 Different Pathogens in a Single Test
Tuesday, December 6, 2022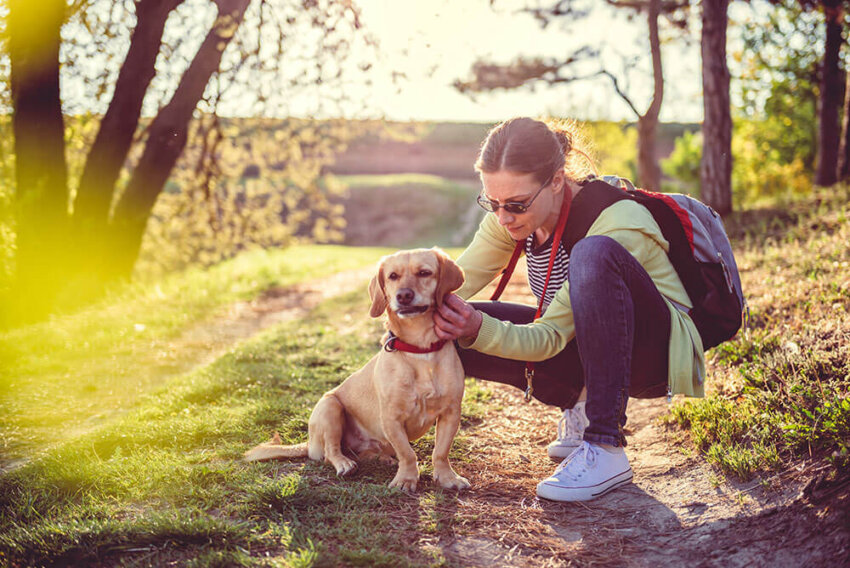 A diagnostic panel developed by researchers in the Purdue University College of Veterinary Medicine will enable its Animal Disease Diagnostic Laboratory (ADDL) to screen for 22 different vector-borne pathogens in a single test. The panel, designed to be used on cats and dogs, is the only test of its kind and now is available to clients of the ADDL.
Dr. Becky Wilkes, associate professor of molecular diagnostics in the college's Department of Comparative Pathobiology, and head of the ADDL's Molecular and Virology sections, developed the methodology using next generation sequencing (NGS), a process that can sequence large amounts of DNA more economically than other techniques. First commercially available in the mid-2000s, NGS technology has been used to sequence the human genome and track foodborne outbreaks and infectious disease transmission.
Dr. Wilkes' novel approach of incorporating NGS as an everyday diagnostic tool will facilitate more accurate identification of a wider range of pathogens in a single test through rapid sequencing of the pathogens' DNA. Polymerase chain reaction testing (PCR), the current industry standard, can only test for three or four pathogens at a time in a single test and it only gives a fluorescent signal that pathogens are detected; it cannot sequence their DNA.
"We're using a targeted NGS method to specifically identify vector-borne pathogens such as those transmitted through the bite of a mosquito, flea or tick," Dr. Wilkes said. "Multiple pathogens can be found within the same tick and sometimes co-infections go undiagnosed because we're not looking for all the organisms that could be there."
Diagnosing vector-borne diseases in dogs can be difficult because there are many different disease-causing agents that can be transmitted from an insect bite and the clinical signs caused by these agents often overlap. Patients can also initially present with non-specific signs, such as fever and lethargy.
For the NGS panel, Dr. Wilkes developed specific primers — short single-stranded DNA fragments — for each organism of interest, ensuring the primers would be specific for each pathogen. She then collaborated with Thermo Fisher Scientific to finalize the assay design, ensuring the primers wouldn't interact with each other or amplify genetic material from the dog or cat.
The primers target specific DNA segments in the pathogens of interest. This results in amplification of these pathogen-specific sequences if present in the sample. When pathogens are present, they make up less than 1% of the sample. The majority of the sample is made up of host genetic materials. NGS provides sequences for everything in the sample, including pathogens and the host genetic materials. The targeted NGS approach enhances the sequences of the pathogens of interest to make them easier to detect. Once the targeted DNA is sequenced, it can be compared to information in the GenBank database, an annotated collection of all publicly available DNA sequences, to confirm its identification as a pathogen.
"As I researched NGS, I was amazed by the amount of data it generates," Dr. Wilkes said. "In the past, you could only sequence one piece of DNA at a time, which could be 1,000 base pairs. That's the process originally used to sequence the human genome. It took 13 years and $3 billion. With NGS, you can generate the same information in a matter of days. Its use as a diagnostic tool for pathogen detection was untested when I started working with targeted NGS. That motivated me to conduct this research to see if NGS could be used to create a targeted diagnostic panel that would be affordable for the veterinary community."
In a canine necropsy case at the Purdue Small Animal Hospital, Dr. Viju Pillai, a resident in anatomic pathology, suspected the dog had been infected with Rocky Mountain spotted fever, a relatively rare tick-borne zoonotic disease caused by the bacterium Rickettsia ricketsii. The ADDL doesn't have a standalone PCR for that organism and previously would not have been able to conduct a test onsite. A sample would have been sent out for PCR testing at another lab.
The NGS panel developed by Dr. Wilkes confirmed Dr. Pillai's suspicion that the case was Rocky Mountain spotted fever. As the panel becomes more widely used, faster diagnosis of less common diseases will aid veterinarians in developing appropriate treatment plans for their patients.
"Most tick-borne diseases are bacterial and can be treated with doxycycline," Dr. Wilkes said. "But there are a few vector-borne diseases that are caused by parasites, and in those cases doxycycline wouldn't work. These organisms are less commonly tested for, and if they are missed it can delay proper treatment."
Earlier diagnosis and treatment is especially critical when the animal is infected with a zoonotic disease — one that can spread to humans such as West Nile virus, Lyme disease, Rocky Mountain spotted fever or malaria. Although the initial panel targets vector-borne pathogens in cats and dogs, NGS technology can be applied to panels for a range of illnesses affecting a variety of species.
"The method we're launching is going to change the way we do diagnostics," said Dr. Kenitra Hendrix, director of the ADDL and clinical associate professor of veterinary diagnostic microbiology. "We will no longer be limited to picking and choosing a few pathogens to determine whether or not they are present in the sample. We'll be able to select these panels based on the syndrome the animal has which will give us a better understanding of all the potential causes of the disease."
In 2021, the ADDL conducted 107,332 tests. Implementation of the NGS testing platform, which requires state-of-the-art equipment and specific lab expertise, expands the ADDL's ability to fulfill its mission of providing accurate and reliable animal diagnostic services and consultations to its clients, which include veterinarians, animal health officials, livestock producers and animal owners. Future panels might be developed for diseases that spread through livestock, such as pigs and poultry.
"It's a lengthy and expensive process to validate the panels," Dr. Hendrix said. "So we need to be strategic about implementing tests that will be most useful to our clients, but the opportunities are limitless. Dr. Wilkes is a leading expert in molecular diagnostics for infectious diseases for animals. We are very fortunate to have her here at Purdue developing these diagnostic panels."
The research was funded by the American Kennel Club (AKC) Canine Health Foundation, which awarded Dr. Wilkes a $103,000 grant to develop the comprehensive vector-borne targeted NGS panel. Dr. Jobin Kattoor, postdoctoral research associate in the Department of Comparative Pathobiology, assisted Dr. Wilkes in validating the vector-borne panel. Through parallel sequencing, the panel will incorporate testing for additional infectious diseases that may cause gastrointestinal, respiratory, reproductive, dermatologic, or neurological signs in dogs and cats.
At a meeting of the Flat-Coated Retriever Society of America, where Dr. Wilkes was invited to present her research, members were amazed at the number of organisms that can be detected with a single test.
"The vector-borne testing is only part of this panel," Dr. Wilkes said. "The panel is validated for 22 vector-borne pathogens, but it contains many more. It is capable of detecting basically all known pathogens in dogs and cats. That is what we are working toward."
Click here for more information about the comprehensive vector-borne targeted NGS panel.
Writer(s): Kat Braz | pvmnews@purdue.edu