Senior DVM Student Pursues Passion for Animals Around the World
Friday, June 24, 2022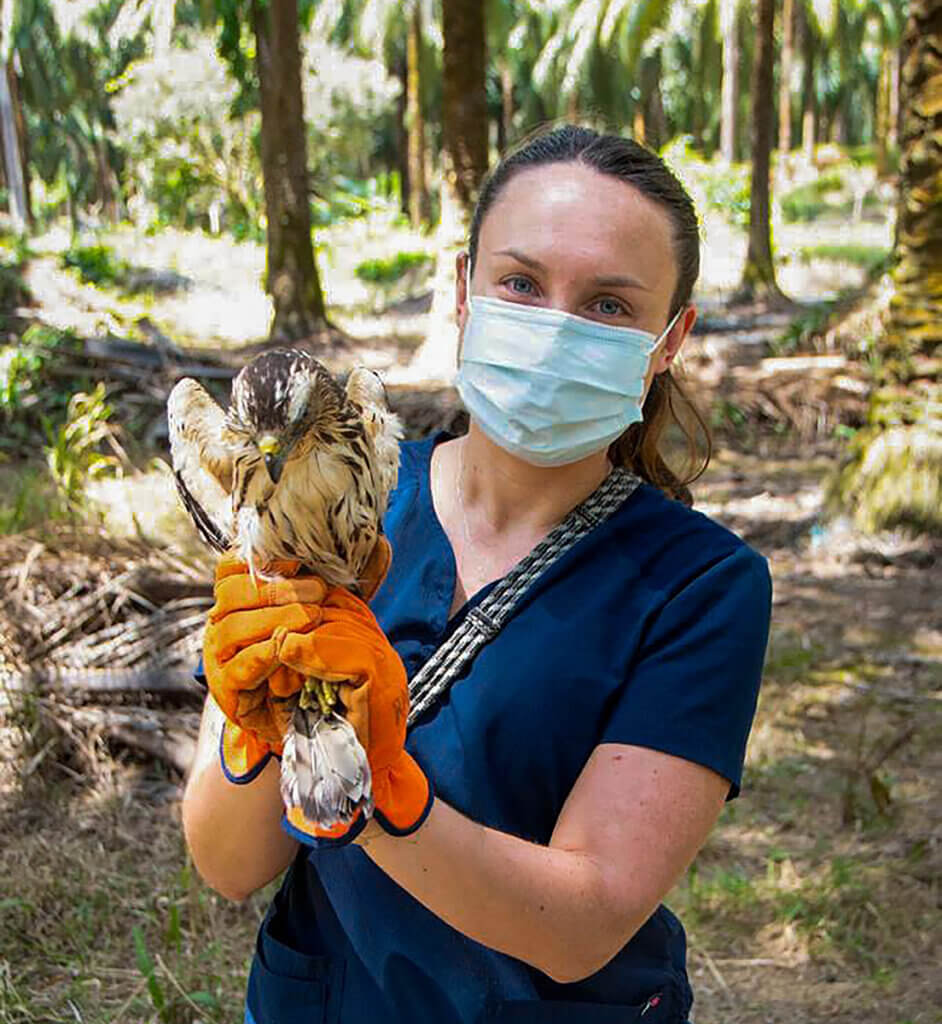 "If it doesn't scare you, your dreams aren't big enough." This is the affirmation that has guided senior Purdue veterinary student Bre Wilson's life and her incredible journey around the world for the past few years. Bre most recently completed a study abroad trip to Costa Rica, where she learned invaluable lessons on the importance of appreciating differences in culture and perspective – but her collection of small steps and giant leaps toward a career in veterinary medicine did not begin there.
Raised in Bend, Oregon, a mountain town in the Pacific Northwest, Bre loves to run, play soccer, hike with her dogs, paddle board, and participate in any other outdoor activity. Her life revolved around soccer growing up, so much so that her devotion to the sport led her to play division one soccer at the University of Idaho on an athletic scholarship from 2010-2014. Bre had dreamed of becoming a veterinarian from a young age, but upon entering college, she was drawn to the social sciences and decided to pursue another passion.
Global Aspirations
After four years at the University of Idaho, Bre received her Bachelor of Science in anthropology and a minor in psychology. Her desire to understand human behavior and differing cultures led her to solo travel internationally. Immediately following graduation in 2014, Bre spent a month in Cusco, Peru working in a children's hospital with physically and mentally disabled children. When she wasn't working, she immersed herself in the local culture. In 2015, she solo traveled for six months through Australia and Southeast Asia. Upon her return, she enrolled in an Oregon State University satellite campus in her hometown to complete her veterinary school pre-requisites. There, she coached high school soccer and worked as a veterinary assistant before finally taking the next step towards her dream: applying for admission to the Purdue University College of Veterinary Medicine.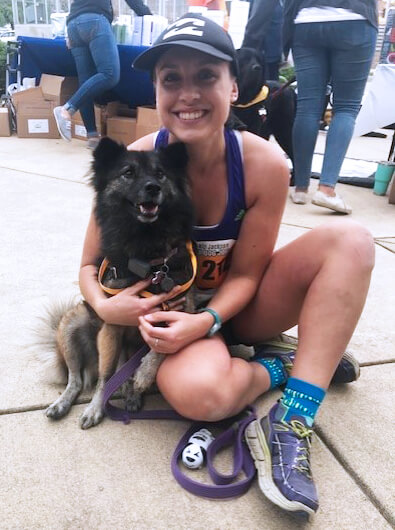 "If I'm being honest, the main reason I didn't go pre-vet originally in college is because I was terrified," Bre reflects. "I was terrified that I wasn't smart enough and terrified that it would be too hard. While I don't regret the path I took for a second, I'm also thankful that my dream of being a veterinarian never stopped."
Sure enough, Bre's passions held true even as she crossed the globe. In Southeast Asia, Bre found herself with just a backpack, a heart full of curiosity, and what she realized was a once-in-a-lifetime opportunity. The Elephant Sanctuary in Northern Thailand was looking for volunteers, and soon Bre was spending her time with hundreds of rescued dogs within the park. "I went to bed every night in the heart of the park falling asleep to howling dogs and started each morning by running through fields of water buffalo and elephants, trying to catch the dogs that somehow had slipped out of their enclosures," Bre said. But while her nights were filled with magical moments, her days were filled with heartbreak. Bre worked as a veterinarian's assistant, treating rescued dogs diagnosed with parvovirus. The majority of the dogs had not been previously vaccinated, so the park declared a state of emergency. Bre spent twelve hours each day dedicated to their care. But where there was hardship, there was also hope. Every single dog fought and survived. "Never had I seen such resilience and strength," Bre recalled. "This was my moment. I knew I was there for a reason, and I knew that I wanted to dedicate my life to fighting for animals." Bre ended up adopting a dog named Mia rescued from the Elephant Nature Park – a pet that is now a daily reminder to Bre of why she wants to become a voice for the voiceless.
Gaining New Perspectives
After her first year at Purdue, Bre studied abroad in South Africa, learning about wildlife capture, relocation, and conservation. Then, this spring, she returned from a trip to Costa Rica, where she worked at Kids Saving the Rainforest (KSTR). This experience spoke deeply to her as she continued to refine her knowledge on treatments and conservation efforts while also learning more regarding wildlife rehabilitation, handling, and advocation. Her favorite experience studying abroad came through a companionship with a broad-winged hawk named Bartolome. Bartolome was an inpatient for several months at KSTR while he was being treated for chlamydiosis and suspected head trauma. After some time working with Bartolome in his large enclosure, Bre learned to capture, restrain, give intramuscular injections, administer subcutaneous fluids and oral medications, and feed him all by herself. Before her departure from KSTR, Bartolome healed, and Bre received the honor of releasing him back into the wild.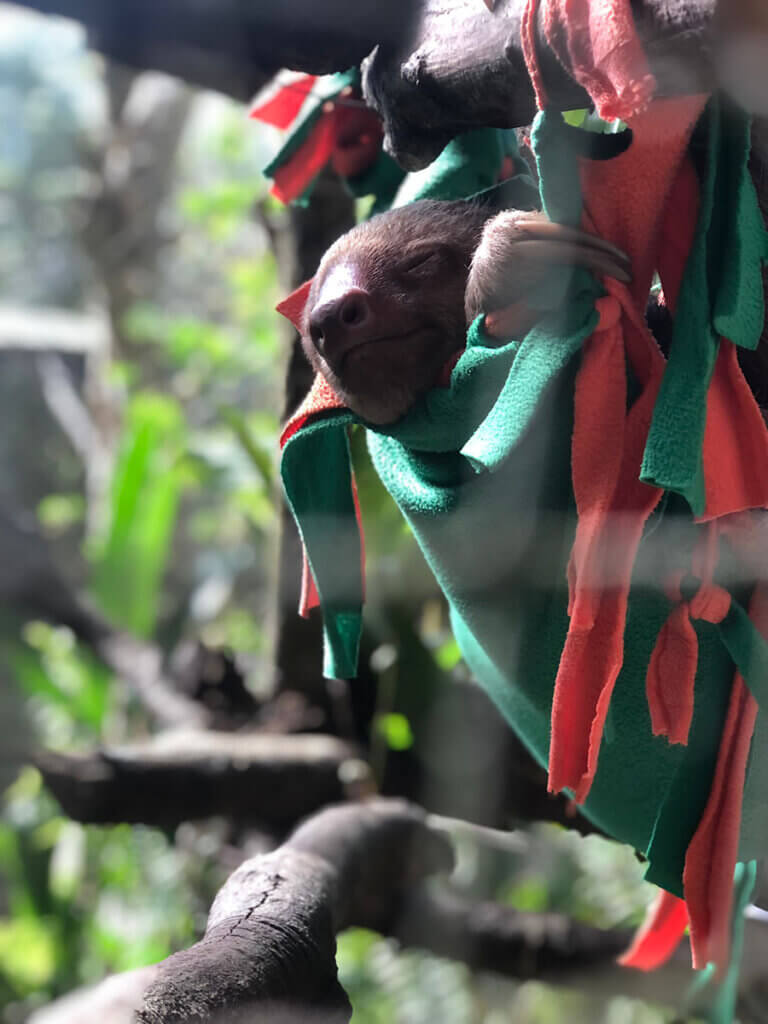 One of the things Bre loved about studying abroad was the ever-present opportunity to explore diverse cultural backgrounds and gain new perspectives on the world around her. During a two-day excursion through the Bokeo jungle in Laos, Bre was shown what is believed to be the largest tree in the forest. While she called it "crazy," her guide called it "beautiful." "His respect and love for all things was both eye opening and inspiring," said Bre. "To him, he wasn't more important than the biggest tree in the Bokeo canopy or even the dirt below him. If that's not perspective, I don't know what is." Bre added that working in Costa Rica allowed her to realize how truly lucky we are to work and live in a country with exceptional resources and high quality animal health care. KSTR relies mostly on donations for supplies and medications. It can be virtually impossible to have sufficient funds to buy medicine.
Bre is also grateful for the experience she gained in communicating with those who have a different language, culture, and background. When engaging in work experiences in Costa Rica, Bre often interacted with coworkers using translation apps on their phones. "I have a medical brain, but the people working in the clinic taught me so much about enrichment, animal behavior, interspecies interactions, and the consequences of human interactions with wildlife," Bre said. These valuable insights sparked a flame of passion in her to raise awareness about such issues. Many fatal parasites present in Costa Rica are due to the blurred lines between wild and human life. Monkeys often become dependent upon humans as a food source as a result of being fed on trails. Other leading causes of primate death include electrocution and car accidents. "Working there taught me how to handle the cases that came through, but also how to educate others on how to prevent these devastating events from occurring," Bre said.
As she looks forward to the future, Bre appreciates how she's grown with age and experience. As a little girl, Bre dreamed of being a wildlife veterinarian, though her fantasies looked much different than her present reality. "My vision entailed a cabin in the middle of the woods where sick bears would come to visit me so I could treat them," remembers Bre. "While the 'how' of this dream makes me shake my head and smile at the thought, the dream of working with wildlife has always been there," Bre explains. Her post-graduation plans include moving to Northern Colorado to work in a general practice treating small animals and exotic species, while educating about and advocating for her patients. Further into the future, Bre hopes to own her own general practice and work as a veterinarian in the wildlife rehabilitation sector, participate in annual international veterinary volunteer jobs, and work directly with animal shelters and disaster relief.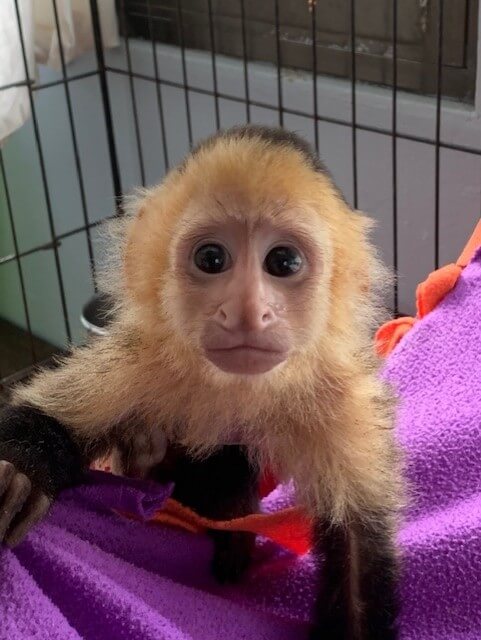 Bre provides valuable advice to anyone currently pursuing their own goals. "If it's your dream, it will be worth it. It will be hard and there are times you will want to give up, but when you think of the lives you will help and save, it will be everything. Just remember not to sacrifice your well-being in the process. I've never looked back, and I couldn't be more excited to enter this field."
Writer(s): Madeline Brod, PVM Communications Intern | pvmnews@purdue.edu