Love of Animals, Purdue Online Program Enables "Retiree's" Veterinary Nursing Career
Friday, June 24, 2022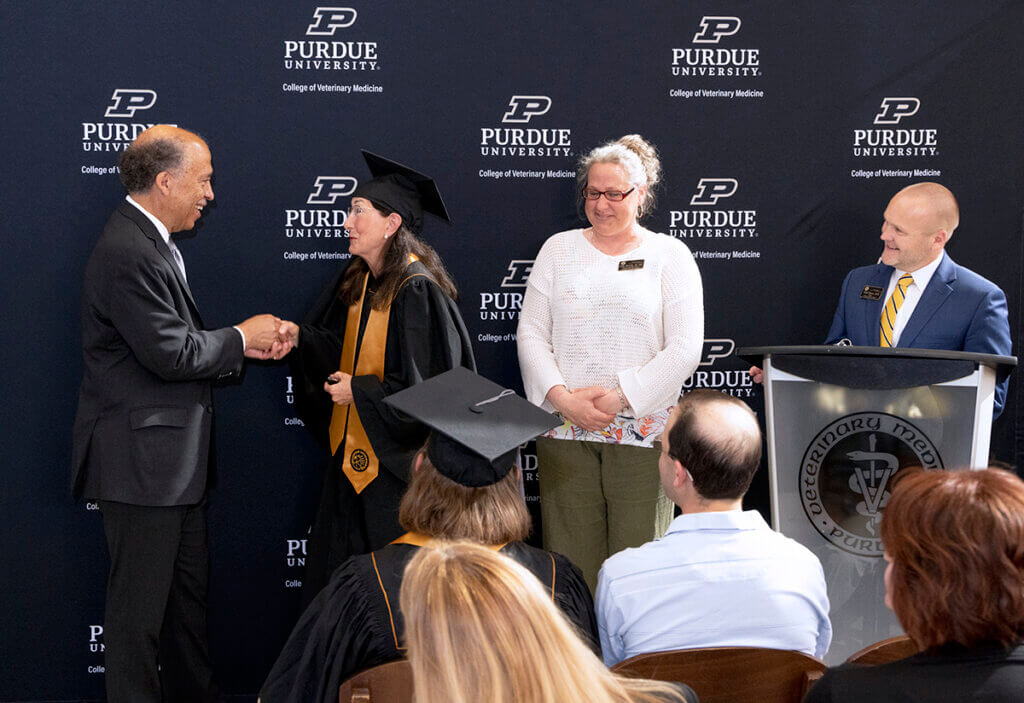 Brenda Green may have taken 17 years to complete Purdue University's online Veterinary Nursing Distance Learning program and bolster her "retirement" career in a Florida veterinary practice, but that's understandable.
She was busy. Really busy.
She earned her law degree and practiced law. She earned her MBA and Chartered Financial Analyst designation and worked in finance and executive positions, including overseas assignments managing the operations for U.S. law firms with offices in Beijing (where she met her husband John), Hong Kong, Shanghai, and Singapore. She joined the Peace Corps and taught small business development in Russia. She and her husband traveled to the Mt. Everest base camp and to North (yes, North) Korea.
Wherever she was, however, animals were always part of her life.
"I grew up on a farm in Michigan and we had the usual farm animals," Green said. "I loved them all, especially my horse. No matter where I was or what I was doing, I managed to have some kind of affiliation with animals."
She and her husband are avid equestrians and have done riding holidays around the world. (A trip to the Azores Islands is next.) Among other things, she also partnered with a fellow miniature pig fan to develop a miniature pig registry.
Along the way she began looking at the end of her business career, loosely called retiring in her case, as an opportunity to do more with animals.
"I have always been interested in veterinary medicine so it was only natural that I would pursue this interest through a veterinary technician program," Green said. "The Purdue Veterinary Nursing Distance Learning program suited my needs perfectly. I could take classes at my own pace wherever I happened to live, while still pursuing a 50-plus hour a week executive career. The Purdue program still suited me well when we moved back to the U.S. and became involved in helping our respective parents."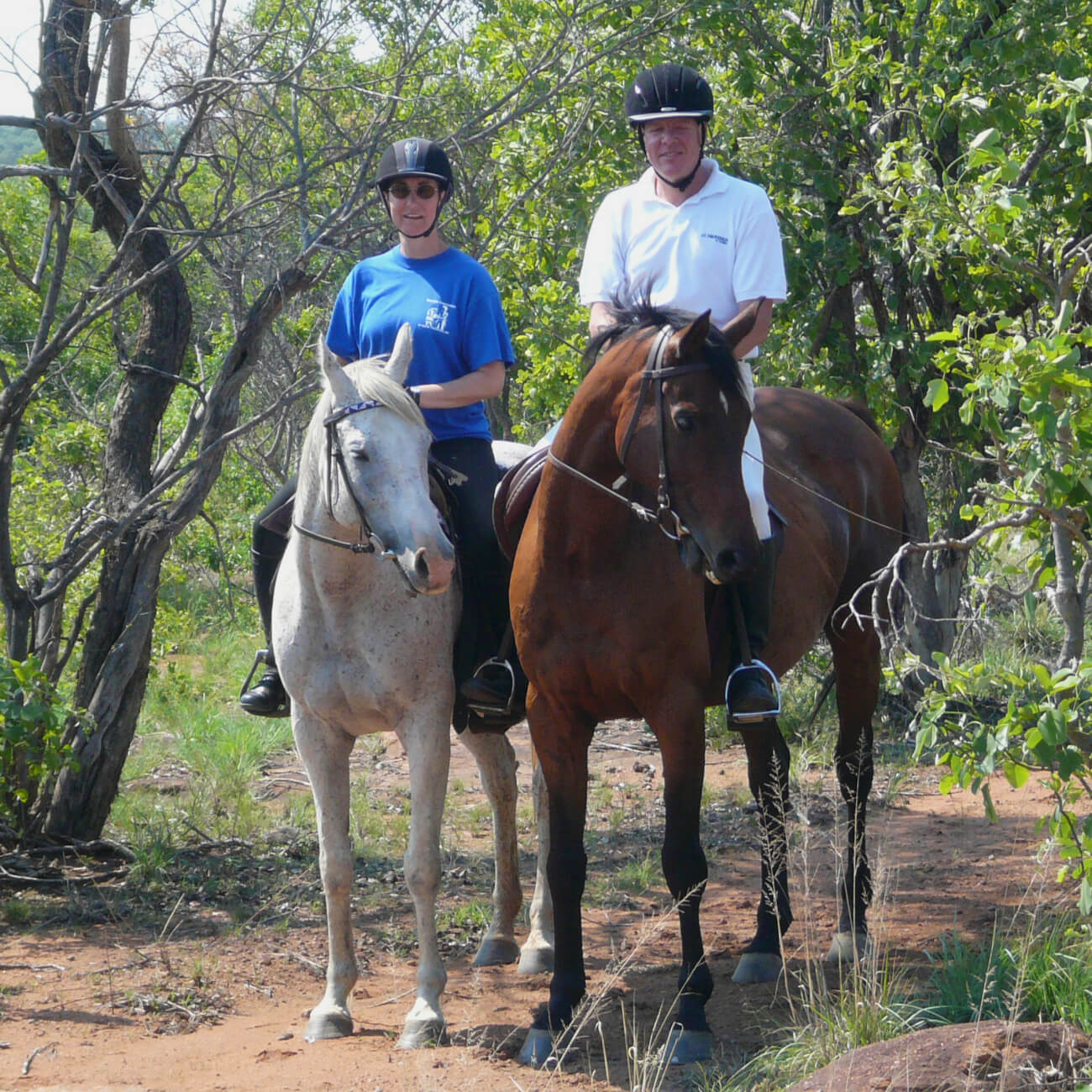 Green has been interning at a small animal hospital in Venice, Florida, where she found her rescue dog, for nearly four years. She plans to continue while she prepares for the Veterinary Technician National Examination. After that, more animals are in her future.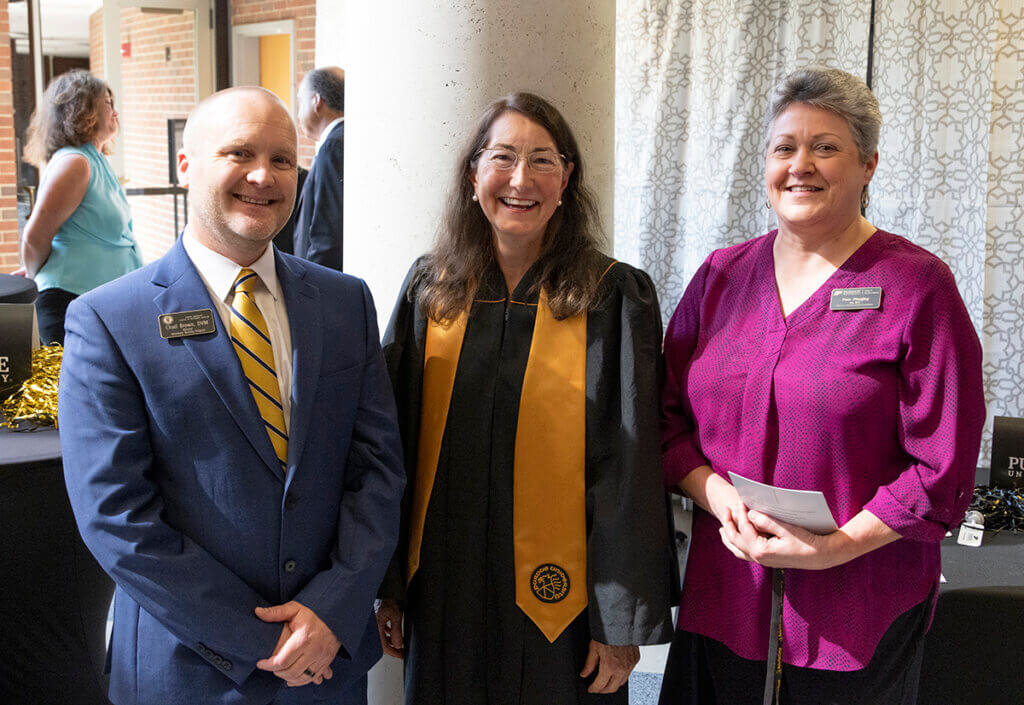 "In the long run, I intend to increase my animal-related volunteer activities through projects with international veterinary organizations such as World Vets," Green said.
Although she completed her coursework online, Green did make it to Purdue's flagship campus in West Lafayette, Indiana, recently for the Purdue Veterinary Nursing Pinning and Oath Ceremony, which marks students' completion of their program, and commencement.
Graduation indeed was a time of celebration for Green and her family, who joined her at the ceremony, because Green not only finished the Veterinary Nursing Distance Learning program, she excelled in it. Green graduated with highest distinction, earning a GPA of 3.98, all at the age of 68. Green says, while her mom calls her a "perpetual student," she thinks of herself as a lifelong learner, and she is happy to share her story with the hope that it inspires others.
The same versatility that made Purdue's Veterinary Nursing Distance Learning program a good fit for Green makes it a good fit for nontraditional students in general. They make up the majority of those completing the program, said Dr. Chad Brown, director of Veterinary Nursing Programs for the Purdue University College of Veterinary Medicine
For more information about the Purdue University Veterinary Nursing Distance Learning program, visit the program website.
Writer(s): Greg Kline, 765-494-8167, gkline@purdue.edu
Source: Chad Brown, brow1997@purdue.edu Brenda Green, bgreen@purdue.edu