Virtual Learning Necessitated by Pandemic Provides Access to Lifelong Learning
Thursday, June 24, 2021
Even though in-person continuing education conferences and symposia went by the wayside during the past year due to the pandemic, Purdue Veterinary Medicine's Office of Lifelong Learning found itself plenty busy serving sizeable virtual crowds. Combining technology and creativity, PVM faculty and staff worked with Lifelong Learning Director Ben Shepard to host several virtual programs that proved popular with registrants who seized the opportunity to gain knowledge, insight, and continuing education (CE) credits without having to leave home or office.
"We found that the inability to host in-person programs did not prevent us from engaging with veterinarians, veterinary nurses, and animal owners who wanted to continue learning despite the lack of traditional continuing education conferences," Shepard said. "The availability of good virtual platforms like Zoom enabled us to connect our content experts with veterinary professionals, clients, and scholars still looking for educational opportunities."
As a result, the college hosted three successful continuing education programs during the spring semester, utilizing the Zoom platform.
EQUINE WELLNESS FORUM SERVES NEEDS OF EQUINE ENTHUSIASTS
The college annually has hosted an in-person Equine Wellness Forum in February to inform horse owners and equine industry professionals about horse health issues. This year, the program galloped into new territory by going virtual, replacing the traditional one-day, in-person approach with a schedule that spanned several days and featured presentations given over the Zoom platform on topics ranging from basic preventative healthcare to the latest medical advancements.
The first session was held on February 6 and began with a virtual walkthrough of the new Purdue University Veterinary Hospital facilities now under construction. Participants were able to watch drone footage of the construction site as Purdue Veterinary Medicine Dean Willie Reed provided narration. The rest of the program that day featured four speakers beginning with a faculty member who has achieved legendary status as a long-time clinician in the Large Animal Hospital, Professor of Large Animal Surgery Stephen Adams.
Dr. Adams' lecture, entitled "40 years of Equine Surgery," was extra special because he will be retiring this summer after a long history of helping clients with their horses at Purdue, providing life-saving treatments to patients, and improving the overall well-being of both horses and riders. In his talk, Dr. Adams spoke about how horses are living much longer today, many even living more than 35 years. Their increased life-span is due to a myriad of factors, including geriatric diets and better nutrition as well as improved surgical therapies. Additionally, newer technologies have made it possible for horses to remain standing while undergoing diagnostic procedures such as ultrasonography and endoscopy.
Another lecture featured Dr. Erin Wilson of Nutrena, who spoke about her findings related to customizing horse diets and shared information about healthy types of grains and grass to feed horses, and the proper mixture for each. Forum attendees also were treated to presentations by Dr. Amanda Farr, clinical assistant professor, and Dr. Sarah Waxman, visiting assistant professor, both with the Purdue University Veterinary Hospital Equine Field Service, who spoke on the topics of "Horse-proofing the Barn" and "Neck and Back Pain in the Horse," respectively.
Because the program was conducted virtually, additional lectures were presented during subsequent weeks, including talks on "Laminitis: What's New?" by Dr. Tim Lescun, associate professor of large animal surgery; "Sinus and Guttural Pouch Disease," by Dr. Jan Hawkins, professor/section head of large animal surgery; "Muscle Disease," by Dr. Stacy Tinkler, clinical associate professor of large animal internal medicine; and "When the Filters Fail: Kidney and Liver Disease," by Dr. Sandra Taylor, associate professor of large animal internal medicine.
Veterinary medical professionals were able to earn continuing education credits for their participation, but most of the attendees were horse owners looking to expand their knowledge. A total of about 120 people registered to participate in the virtual Equine Wellness Forum. "Given that it was not possible to safely hold the event in person this year, we were excited to have the opportunity to still provide this valuable information and education for the equine industry virtually," Shepard explained. "The presenters did a fantastic job and the sessions went off without a hitch. We are thankful for everyone who registered to participate, thereby making this first virtual Equine Wellness Forum a success."
The College of Veterinary Medicine attracted strong attendance for its first virtual Veterinary Nursing Symposium the weekend of March 20-21. A total of 206 people registered for the program, a number that was on par with the best attendance figures from previous years when the event was held in-person.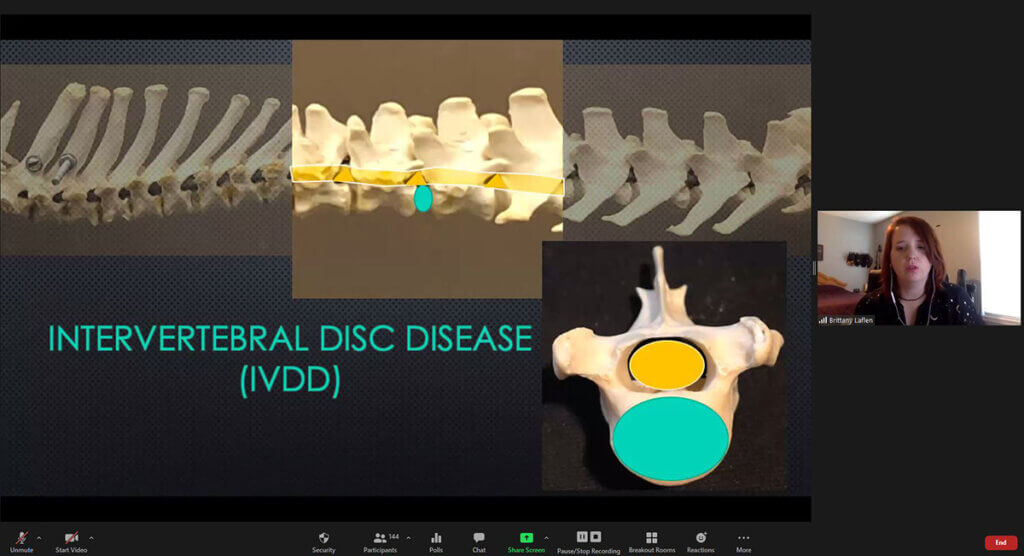 Each attendee received a unique sign-in for each session they attended to enable tracking of their attendance. And in another first, the symposium was Registry of Approved Continuing Education (RACE) approved this year, which assured the attendees that the American Association of Veterinary State Boards (AAVSB) recognized the symposium as meeting appropriate standards of quality for jurisdictions that accept RACE credits for their continuing education requirements. Sixty one jurisdictions and provinces accept RACE credits. The AAVSB approved 11 hours of continuing education credits through the symposium for all RACE jurisdictions and provinces.
The 2021 Veterinary Nursing Symposium was sponsored by Hills, Vetamac, and Noah's Animal Hospital, which each received recognition in the form of promotional videos that could be viewed by guests during both days of the virtual event.
The Saturday sessions on March 20 featured lectures on large animal care provided by four speakers:
Dr. Teresa Buchheit (PU DVM 2005), continuing lecturer in the Purdue Veterinary Medicine Administration Department who is board certified by the American College of Veterinary Internal Medicine with special areas of interest that include neonatology, neurology, and endocrine diseases of horses;
Kyle Clever, RVT, who has served as a veterinary nurse in the Purdue University Veterinary Hospital Equine Field Service since 1995;
Molly Cripe Birt, RVT, VTS-EVN (PU BS-VT 2007), large animal surgery veterinary nurse in the Veterinary Hospital and certified Veterinary Technician Specialist (Equine) by the Academy of Equine Veterinary Nursing Technicians; and,
Kara Burns, MS, Med, LVT, VTS (Nutrition), founder and past president of the Academy of Veterinary Nutrition Technicians.
On Sunday, March 21, the focus shifted to small animal care, with seven lectures given by:
Heidi Lescun, BS, RVT, senior service technician/sales associate of Vetamac serving Northwest and Central Indiana;
Megan Brashear, BS, RVT, VTS (ECC), small animal veterinary nursing manager in the Purdue University Small Animal Hospital;
Lindsey Fourez, BS, RVT (PU BS-VT 2005), oncology veterinary nurse in the Purdue Comparative Oncology Program;
Brittany Laflen, RVT, VTS (Neurology) (PU AS-VT 2010), small animal surgery/neurology veterinary nurse and instructor of neurology and neurologic diseases for Purdue Veterinary Nursing students;
Saralyn Sharp, BS, RVT, VTS (CP-SA, Canine/Feline), small animal primary care veterinary nurse who has been with the Veterinary Hospital's Small Animal Primary Care Service for 19 years;
Liane Shaw, RVT (PU BS-VT 2003), diagnostic imaging instructional veterinary nurse in the hospital; and,
Courtney Waxman, MS, CVT, RVT, VTS (ECC), distance learning instructional technologist in the Purdue Veterinary Nursing Program and the hospital's ICU.
Each of the lectures concluded with time for attendees' questions. Symposium participants, who came from 11 different states, each received continuing education certificates recognizing their virtual attendance.
CAWS SYMPOSIUM EXAMINES PANDEMIC'S INFLUENCE ON THE HUMAN-ANIMAL BOND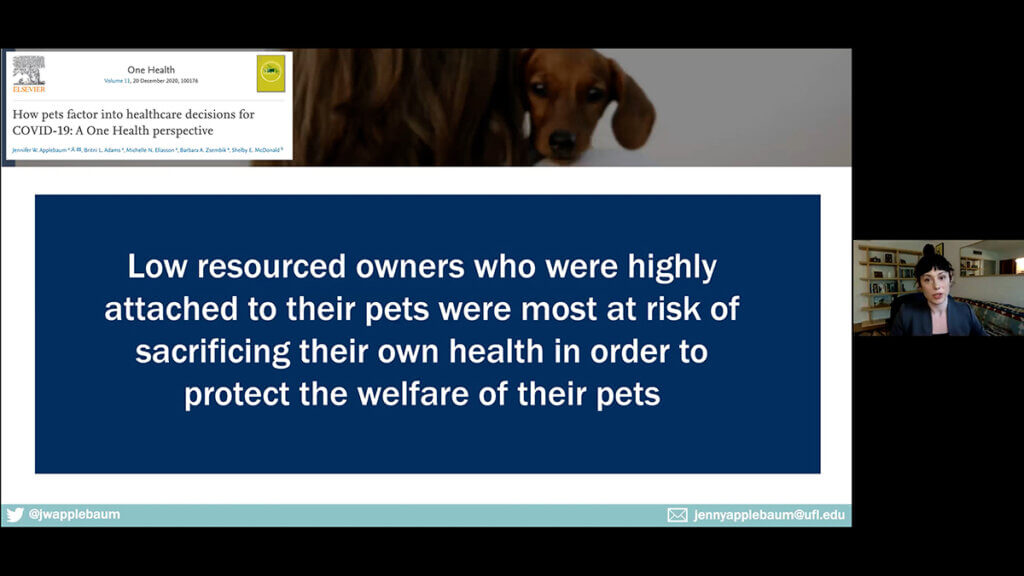 The 2021 Center for Animal Welfare Science (CAWS) Symposium captured a virtual crowd with its two-day online program focused on understanding how the COVID-19 pandemic has influenced perceptions about the human-animal bond. Held May 19-20 on the Zoom platform, the symposium proved to be a hit, with 153 registrants participating from 30 states and nine countries.
In describing the importance of the symposium, Dr. Candace Croney, the director of the Center for Animal Welfare Science, explained, "The issue of how to address the welfare of animals while also taking care of the diverse range of people and environmental impacts that interact with and are dependent on them is significant and requires collaborative, multi-disciplinary problem-solving." She added that CAWS was excited to host students and others new to animal welfare science and welcome back those well established in the discipline to connect with the topics and speakers.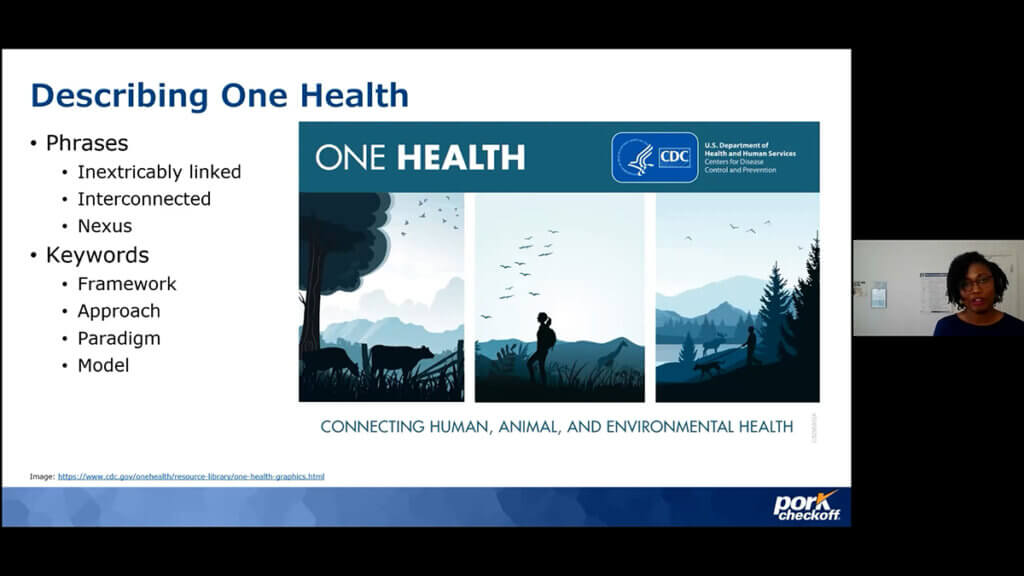 Throughout the symposium, participants were able to engage with nine highly respected speakers from a variety of disciplines. Time was provided at the end of each lecture to ask questions and dig deeper into the issues presented. Lecture topics evoked new ways of looking at how human health and animal health are intertwined and how they impact each other. Dr. Croney ended each day with closing remarks during which she highlighted key takeaways from each of the sessions. CAWS extends special thanks to Cargill for sponsoring the symposium and to the Colleges of Veterinary Medicine and Agriculture for their support, as well as to all of the symposium speakers, some of whom kindly donated their honoraria back to the program to help advance the center's goal of greater inclusion and access to animal welfare science.
Writer(s): Purdue Veterinary Medicine News | pvmnews@purdue.edu