MIAO-MIAO
Dr. Elena Contreras
Assistant Professor, Animal Welfare and Behavior, Long Island University College of Veterinary Medicine | DVM 2013, Ross University | MS 2006, Colorado State University | PhD 2019, Colorado State University | Fear Free Veterinary Certification
VetaHumanz Live! Podcast
Dr. Contreras was featured in Episode 22 of the VetaHumanz Live! Podcast. Listen now.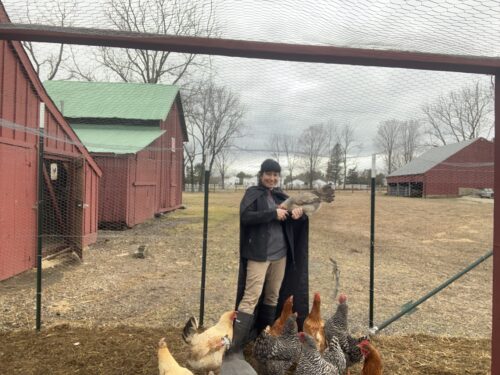 My Story
Although I took a very circuitous route to finally pursue veterinary medicine, it's what I always wanted to do. Quite honestly, the thought and goal of becoming a veterinarian was the one and only constant throughout my life.
My Struggles
I always earned stellar grades and was a model student, at the top of my class; after all, our Chinese-New Yorker mother instilled an irrevocable work ethic and study habits within my brother and me; failure was not an option. But… mental health disorders, pathological shyness, and other interests derailed me from considering a veterinary career while I was in college, and so I pursued the psychology and art fields instead. After receiving my bachelor's degree, I continued to love and excel in school and learning, and I continued to take a variety of university and graduate courses in art, psychology, ecology, statistics, and wildlife biology and even earned a Masters in Ecology along the way. But I eventually finally left a great job and career and decided to go to vet school…. at long last. It wasn't easy. But… "You are never too old to set another goal or to dream a new dream." CS Lewis.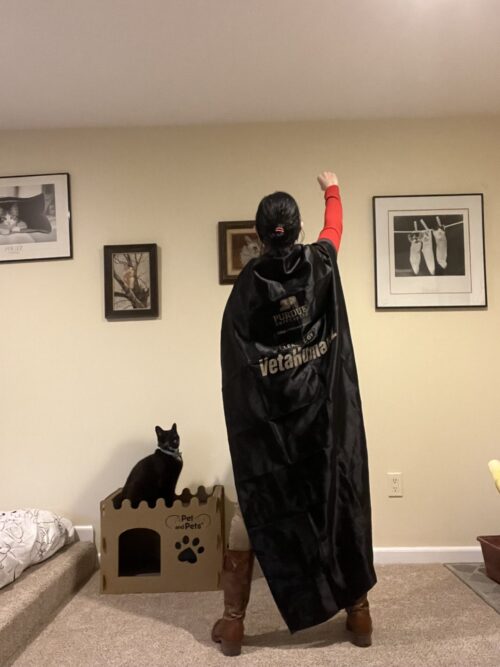 My Heroes
Don Quixote de La Mancha
And my mother, my father, and my dearly departed stepmother. It is because of them, that I am the person I am today, with all my faults and fears and more importantly, my successes and fortitude… I owe it all to them.
My Typical Day
I start every day by preparing and feeding breakfast along with a potpourri of medications and supplements to my 6 cats and 3 dogs. I spend most of my time at work behind a computer screen, reading, learning, designing, creating, grading, strategizing, preparing, calculating, and writing – either for classes I teach, research, diversity initiatives, or other endeavors. The most important part of my day is when I'm able to share information and teach vet students about animal welfare and behavior in cats, dogs, cows, pigs, horses, chickens, goats, sheep, or rats. And whenever I'm able, I try to sneak away to our university farm to hang out with the chickens who are some of my best friends.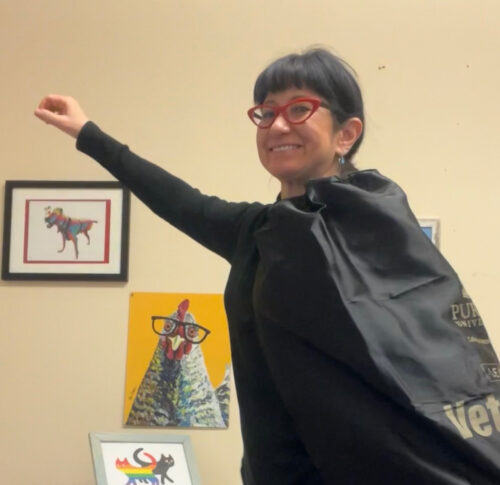 My Stressors
Managing many different obligations and many different "hats" while trying to keep my own head above water. But I do enjoy and thrive on being too busy. I also have very high expectations for everyone, and I get stressed if anything falls below my expectations. I'd say that friends and my partner help me with stressors the most; they help me by being supportive and letting me know I'm not alone, and they let me vent… and oh my – do I vent! My non-human animal family at home and my feathered family at our university farm also help me cope. That – and… dance-exercising, music, and the beach/water/swimming – are always sure to give me a new bright perspective!
My Why
First – I must say that I absolutely 100% love teaching vet students about animal welfare and behavior. That is my favorite part of what I do. In terms of being a veterinarian… There are so many possibilities and opportunities as a veterinarian. There are tons of different career paths you can take, and there are so many ways that you can have an impact and help whatever animal community(ies) you want to help. I am so happy I finally did what I was meant to do. I wouldn't trade this career for anything else. "You are never too old to set another goal or to dream a new dream." – CS Lewis.