Save Your Spot at the Purdue Veterinary Conference
Friday, June 8, 2018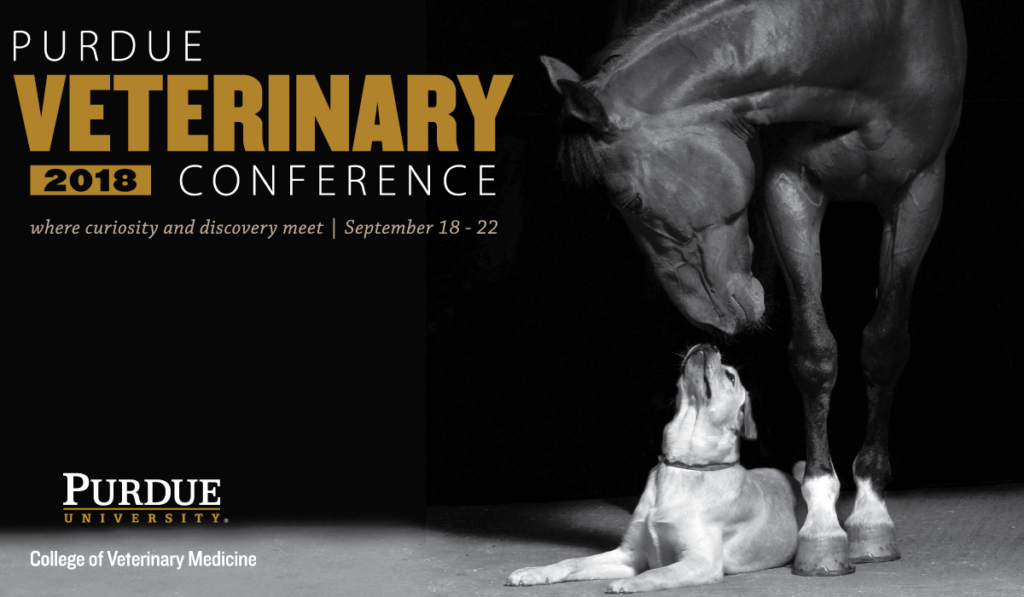 The 2018 Purdue Veterinary Conference is just around the corner with online registration now open!  Purdue Veterinary Medicine's annual event provides continuing education (CE) opportunities for the entire veterinary team while also serving as homecoming for the College.  The conference will be held September 18 – 22 on Purdue's West Lafayette campus. Attendees can earn up to 26 continuing education (CE) credits with tracks including emergency preparedness, equine, exotics, practice management and communications, ruminant, shelter medicine, small animal, swine, veterinary nursing general practice and specialty practice, and also once again offering USDA APHIS modules. Attendees can also dive into the world of necropsy with Dr. Craig Bowen in a workshop titled, "Field Necropsy Tips and Tricks," and take a page from Dr. Seuss in the Communications Workshop titled, "You are You. Now Isn't that Pleasant? Communications Team Building Tips from Dr. Seuss." Click here to view these sessions and more in the preliminary program.
The conference will also include a variety of special lectures and events throughout the week. The Indiana Animal Health Foundation and PVM Golf Outing will kick-off the festivities at the Purdue Ackerman-Allen course. The Elanco Human-Animal Bond Lecture, which is free and open to the public, will be held Tuesday, September 18 at 5:30 p.m. The lecture will be presented by Sally Irvin, PhD, titled, "What Prisoner's Dogs and People with Disabilities Tell Us About the Healing Role of Assistance Dogs!" Attendees can also register for special events including the Awards Celebration honoring the College's outstanding faculty and alumni, and Meet Me @ the Mixer networking event and alumni reunion celebration with special recognition for this year's Golden Anniversary Class – the Class of 1968, and Silver Anniversary Class – the Class of 1993. Relax and enjoy refreshments at the newly offered Exhibit Hall Social after general education sessions on Wednesday afternoon. PVM is also teaming up with the Indiana Veterinary Medical Association for the first Hire a Boilermaker Career Fair on Friday during the conference. Click here to learn more about the special events offered during the conference.
Special thanks to the conference sponsors: Banfield Pet Hospital, Coyne Veterinary Services, Ltd., Elanco, Hill's Pet Nutrition, Indiana State Department of Health and the Indiana State Board of Animal Health, Nutrena, and Zoetis.
View and sort conference activities and more on the Purdue Veterinary Conference website. View the preliminary schedule, look over information for attendees, learn more about conference speakers, and stay up-to-date on special events.
Click here to register today!
Writer(s): Allison Carey | pvmnews@purdue.edu