PVM Alumnus and Disney Conservation Veterinarian to Headline Purdue Veterinary Conference
Friday, July 16, 2021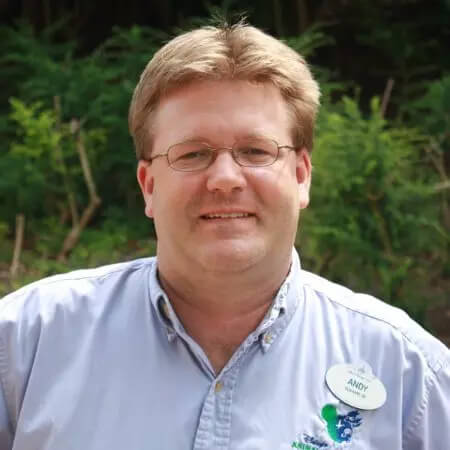 Since earning his Purdue University DVM degree in 1993, Dr. Andrew (Andy) Stamper has experienced something of a dream career for a person with a love for marine life and conservation. And he will be sharing his expertise and insights during the virtual 2021 Purdue University Veterinary Conference in September as the speaker for the Class of 1971 / Dr. Jack and Naomi Stockton Lecture.
Dr. Stamper is the conservation science manager and veterinarian for Disney Conservation (yes that Disney!). Raised in the Midwest, Dr. Stamper spent his summers in high school traveling to Maine and working on offshore islands where he enhanced his passion for, and knowledge of marine life and participated in the National Audubon Society's Seabird Restoration Program called Project Puffin. As he continued pursuing his interests, Dr. Stamper went on to earn his bachelor's degree in marine sciences at the University of California Santa Cruz, and then returned to the Midwest to enroll in the Purdue University College of Veterinary Medicine.
After graduation, Dr. Stamper spent time working at the National Aquarium in Baltimore, and completed a residency in zoological medicine at North Carolina State University, before becoming the head veterinarian at the New England Aquarium. For the past 20 years, he has been with Disney's Animal, Science and Environment team, focusing on marine animal and ecosystem health.
Entitled "Marine Ecosystem Health: One Vet's Adventures To Save Coral Reefs," Dr. Stamper's lecture will be held Wednesday, September 8, at 4:00 p.m. The focus will be on ocean acidification and warming and what Disney is doing to help mitigate and adapt to climate-related issues. The talk will be given virtually, using the Whova conference app. Only those registered for the Purdue Veterinary Conference will be able to attend. Conference registrants can earn up to 24 continuing education credits over the course of the four-day virtual continuing education program September 7-10. With tracks on small animal, equine, food animal, practice management and exotics, the conference will offer content for the entire veterinary team.
Learn more and register by visiting https://vet.purdue.edu/conference/.
Writer(s): Ben Shepard | pvmnews@purdue.edu