New Director Joins Engagement Team to "Shepherd" PVM Lifelong Learning
Friday, November 20, 2020
The College of Veterinary Medicine is proud to welcome Ben Shepard, MS as the new director of lifelong learning.  Though his last name is spelled slightly different, Ben is excited to have the opportunity to "shepherd" the college's continuing education programs.  He started in the position November 9, after working for the past 15 years at multiple universities in various student affairs positions focused on residential life and university housing, as well as student leadership and other opportunities for students who live in residence halls.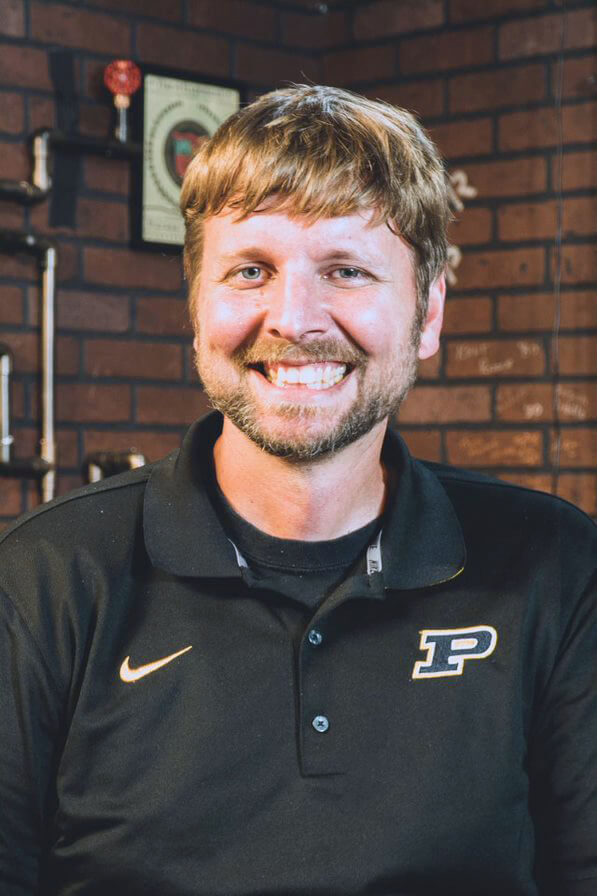 Ben grew up on a farm in central Illinois and then attended Bradley University in Peoria where he earned his bachelor's degree in elementary and special education and worked as a residence hall director.  He then entered graduate school at Saint Louis University, earning his master's in higher education administration in 2008 and accepting a position there as a residence hall coordinator. Three years later he left for Virginia to work at the College of William and Mary as an area director providing campus-wide programming, and then accepted a position as assistant director of residence education at Morehead State University in Kentucky.
Ben began his Purdue career in 2015 as assistant director of residential life, helping to educate residential students and making Purdue feel like a home for them. Ben recalls, "My father-in-law, a Purdue graduate, was more excited than I was when I accepted my new job at Purdue. He knew what being a Boilermaker was all about."
When asked about what inspired him to pursue his new position of director of lifelong learning in the College of Veterinary Medicine, Ben said he was attracted by the opportunity to still perform many tasks similar to those he did in his former positions like event planning and offering educational opportunities, but with the added bonus of new challenges and much more interaction with faculty. He adds that one of his favorite aspects of his new position is working for a department that values excellence and the education of the whole person.
By virtue of joining the PVM staff this fall, Ben acknowledges that Covid-19 has made his new job a little more challenging in that it is not always as easy to meet up with his coworkers. But he also feels there's a bright side.  "One positive to the university's new regulations is that many staff members in the College of Veterinary Medicine have become much more experienced with technology and have acquired new skills in things like teaching remotely and working with videos," Ben commented while working on a video recapturing the recent virtual Purdue Veterinary Conference. Ben also enjoys the creative element of his job and the opportunity to become more skilled in software such as Adobe Premiere and Photoshop.
Ben lives in West Lafayette with his wife, Erin, and their three children, Brady, Bethany, and Lucy.  He also shares his home with a Maine Coon cat named Cammi, two Mongolian Gerbils named Gus Gus and Basil and numerous fish.  In his spare time he enjoys exploring state parks and land trusts and playing board games with family and friends.
Ben can be reached at shepardb@purdue.edu or extension 42391.  Please feel free to reach out to Ben and extend a warm PVM welcome!
Writer(s): Jonathan Martz, PVM Communications Intern, and Kevin Doerr | pvmnews@purdue.edu