Events
CAWS Past Seminar Series 2018
September 26th, 2018 – Human Contact and Animal Welfare
Dr. Paul Hemsworth, University of Melbourne, Australia
Location/time – CRTN 1042, 4-5:30pm
October 3rd, 2018 – The Why and How of Assessing Pain and Suffering in Animals 
Dr. Dan Weary, University of British Columbia, Canada
Location/time – CRTN 1042, 4-5:30pm
November 7th, 2018 – Engineering Approaches to Solving Animal Welfare Issues
Dr. Angela Green-Miller, University of Illinois at Urbana-Champaign, IL

Location/time – CRTN 1042, 4-5:30pm
December 5th, 2018 – Advancements in Swine Welfare
Dr. Monique Pairis-Garcia, The Ohio State University, Columbus, OH
Location/time – CRTN 1042, 4-5:30pm
2017 CAWS Symposium and Canine Welfare Science Forum
Presentations from the 2017 CAWS Symposium and Canine Welfare Science Forum
The CAWS Symposium was held May 17-18, 2017 in Stewart Center and was attended by 140 people. Day 1 featured two workshops: "Integrating Animal Welfare into the Animal Science and Veterinary Curriculum," moderated by Dr. Janice Kritchevsky and "Food Safety, Economics, and the Humane Food Movement," moderated by Dr. Marisa Erasmus. On Day 2, the Symposium "Advancing Animal Welfare Science: Overcoming Obstacles to Implementation" featured experts in animal welfare from academia, industry and public health.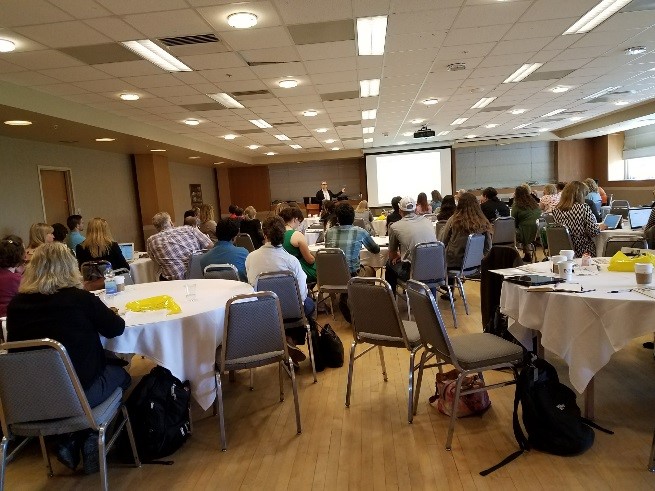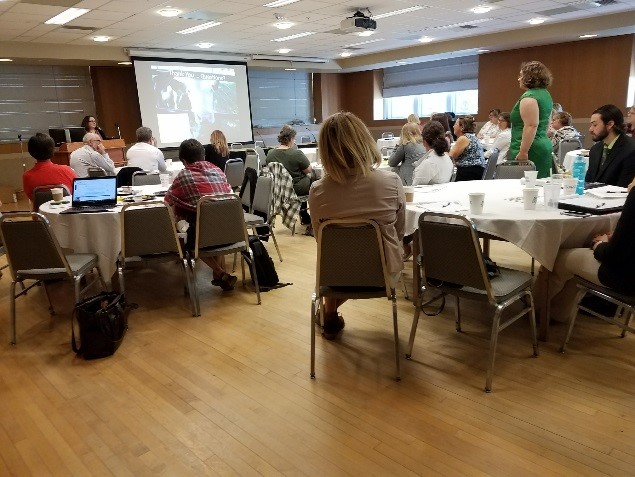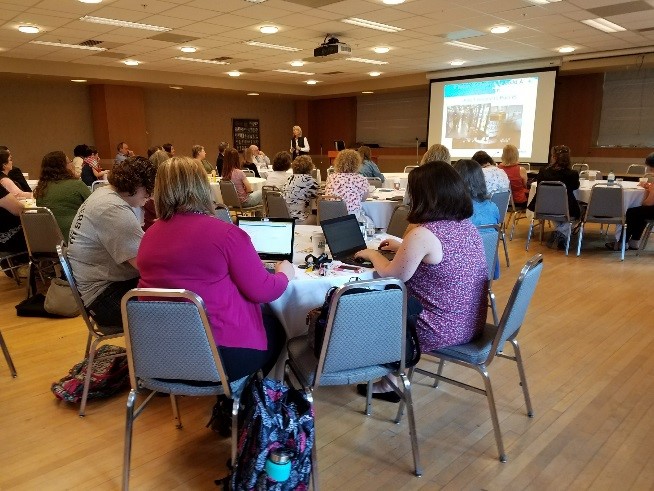 2nd Annual CAWS Symposium
The second annual CAWS Symposium was held May 19, 2016, and focused on current welfare challenges and strategies to address them in pets, food animals and laboratory animals.  Speakers from academia and industry were featured, including talks by Dr. Ed Pajor, University of Calgary, who gave the keynote address on improving animal welfare and Dr. Andrew Luescher, Purdue Professor Emeritus, who spoke on the psychological suffering of dogs in a human environment.
There were 135 in attendance for the day long symposium which included, in addition to the talks, graduate student poster presentations and a Q and A session by an Animal Welfare panel comprised of specialists from Cargill, AbbVie Research and Development, and the Humane Society of the United States.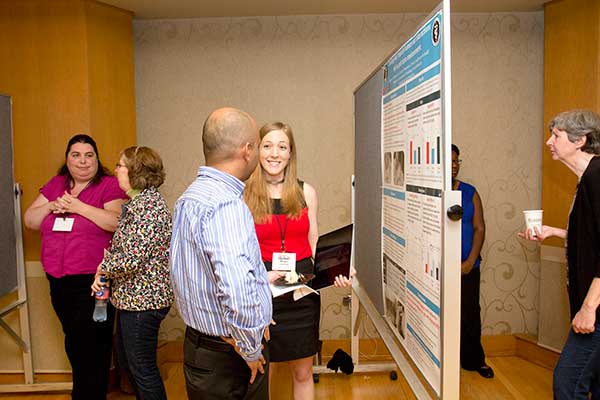 Graduate students and CAWS members Megan LaFollette (center) and Amy Robinson-Junker (left) discuss their posters with Symposium attendees.
CPB Graduate student Shankar (left) with Symposium attendees during poster session.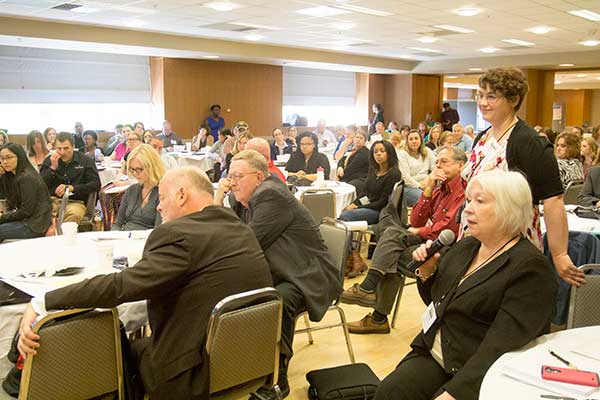 Symposium attendees during the Q and A session with the panel of representatives from Cargill, AbbVie Research and Development, and the Humane Society of the United States.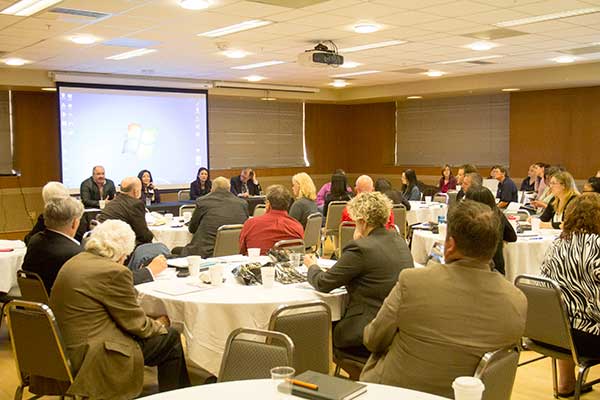 Symposium attendees during the Q and A session with the panel of representatives from Cargill, AbbVie Research and Development, and the Humane Society of the United States.
Andrew Rowan, President and CEO of Humane Society International, speaks at the Symposium.
Fall 2017 Member Updates 
Dr. Alan Beck addressed the 2nd Annual National Employee Well-Being Conference and Exhibition in Alexandria, VA, June 2017. His presentation was titled "Boost Wellness with the Human-Animal Bond: Exploring the Value of Developing a Pet-Friendly Workplace." Dr. Beck is the Dorothy N. Mccallister Professor of Animal Ecology and Director of the Center of the Human-Animal Bond.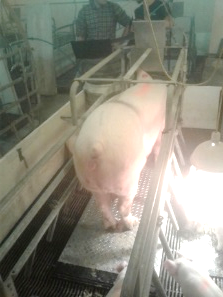 Dr. Alan Schinckel, Animal Science, and Dr. Robert Stwalley, Agricultural and Biological Engineering, are continuing their work, along with animal scientists, graduate students, undergrads and ag. engineers, on sow cooling pads. These pads remove excess heat from sows which improves their well-being and productivity. Extensive work was also done by graduate students Francisco Cabezon. The team has applied for a patent.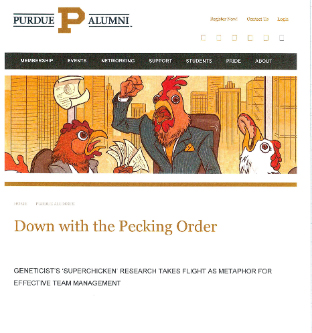 Dr. Bill Muir was featured in the Summer 2017 issue of Purdue Alumnus (pgs. 48-53) for his research entitled "Down with the Pecking Order--Geneticist's 'Superchicken' Research Takes Flight as Metaphor for Effective Team Management." Click here to view the entire article. 
Fall 2016 Member Updates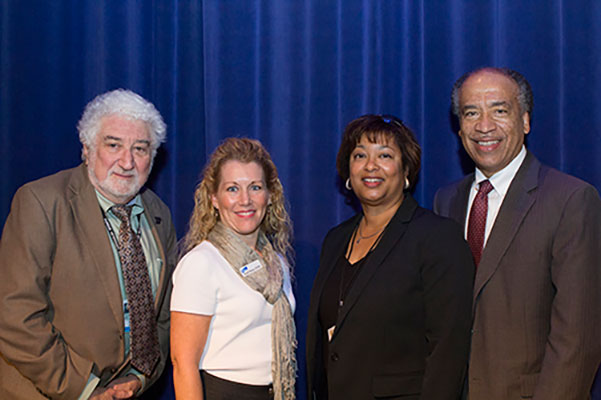 The annual Purdue Veterinary Conference, held September 30-October 1, once again featured a special lecture by CAWS Director, Dr. Candace Croney. Her talk, "Friends, Family, or Food? Factors Shaping Perceptions of Animals and their Welfare Implications" was the Elanco Human Animal Bond Lecture, held September 27.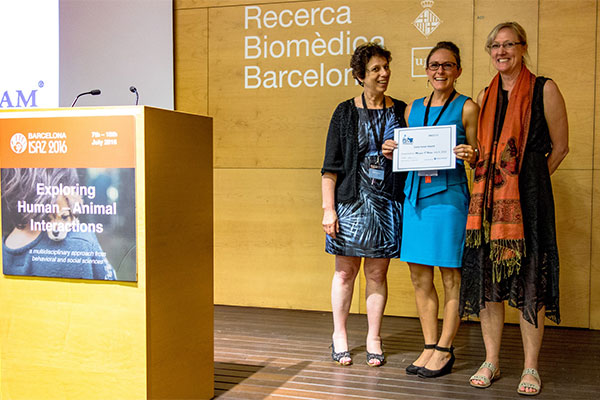 Dr. Maggie O'Haire received the first Early Career Scholar Award from the International Society for Anthrozoology at their conference in Barcelona. The award is for outstanding scholarly achievement in the field of human-animal interaction.
Dr. Bill Muir was quoted in a variety of news outlets, including NBC news, NBC Today Show, BBC news, and the New York Times for his comments on the implications of the FDA's controversial decision to approve AquaBounty's genetically modified salmon for human consumption.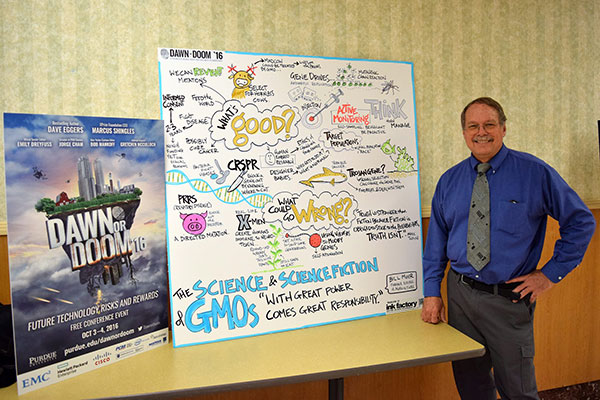 Purdue University will host the Centers for the Human Animal Bond conference on November 3-4, 2016. The conference features both public and invited sessions and included presentations on horses, dogs and autism spectrum disorder, behavior coding, and animal assisted interventions. Director of the Center is Dr. Alan Beck.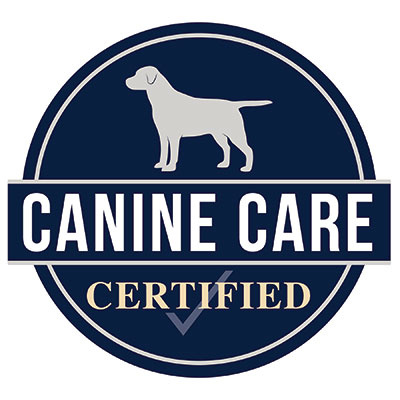 CAWS Director Candace Croney announced the launch of the Canine Care Certification program at the World Pet Association's SuperZoo trade show on August 2, 2016, in Las Vegas. This voluntary national certification program for the care and dogs and puppies by professional breeders, was the result of the collaboration between animal welfare experts, animal scientists, veterinary medicine, animal welfare organizations and the pet industry and is being pilot tested by Purdue University animal scientists. According to Dr. Croney "This is a program with expansive reach, deep substance, and pilot testing to ensure it works. For professional breeders, there should be no more important business practice than ensuring the health and well-being of their dogs. We took a hard, thorough look at public expectations, the relationship of breeders with their dogs and what those mean for dogs' long-term physical and behavioral health. Then we framed that relationship in the context of a comprehensive and truly unprecedented program that can be continuously improved and strengthened. The fact that participation is voluntary indicates the level to which participating breeders are committed to doing right by their dogs and the public."
CAWS Members To Give Lectures at 2015 Purdue Veterinary Conference
Purdue Veterinary Conference (previously known as Fall Conference) will again host a variety of lectures on veterinary topics from September 8th to 11th, 2015. This year, two of the special lectures will be given by CAWS Members. On Tuesday, September 8th, Dr. Maggie O'Haire will give the Elanco Human-Animal Bond Lecture titled The Science Behind the Human-Animal Bond. On Thursday, September 10th, Dr. Candace Croney will give the Dr. Jack and Naomi Stockton Lecture titled Food Fight! Factors Shaping Public Debates and Policy on Farm Animal Welfare. Visit the conference website for more information about these talks and lectures by other CAWS members!
Conference Site: Purdue Veterinary Conference
CAWS inaugural symposium
On May 21, CAWS welcomed 140 attendees from seven different universities, as well as industry personnel affiliated with the companion, laboratory and food animal industries, along with private practice veterinarians, legislative aides, and media representatives. Topics included public perceptions of agricultural animal welfare, ethics, the role of animal welfare in biomedical research, and current issues in companion animal welfare science.  A major highlight of the program was the corporate panel on animal welfare which included representatives from McDonald's, Cargill and Merck.  Academic speakers included Bernie Rollin, Colorado State University, Joe Garner, Stanford University, James Serpell, University of Pennsylvania, Chris Wolf and Janice Swanson, Michigan State University, Alan Beck and Bill Muir.  The program was sponsored by AgSeed, Merck, Elanco and Dean Foods.  Winners of the CAWS poster competition judged by representatives from MARS Petcare and Cargill included Elizabeth Byrd, Agricultural Economics, Carissa McCray, Agricultural Economics and Shankar Yadav, Comparative Pathobiology.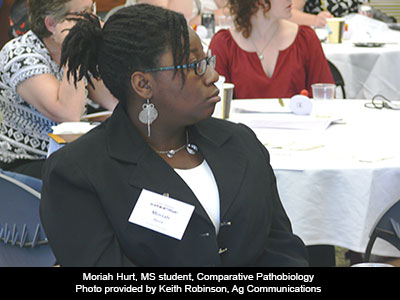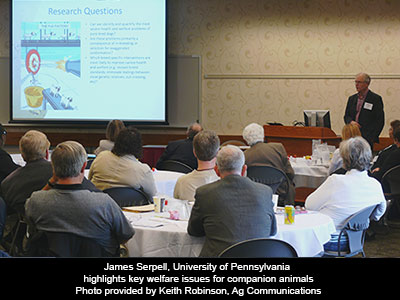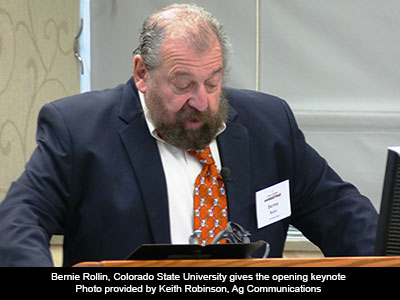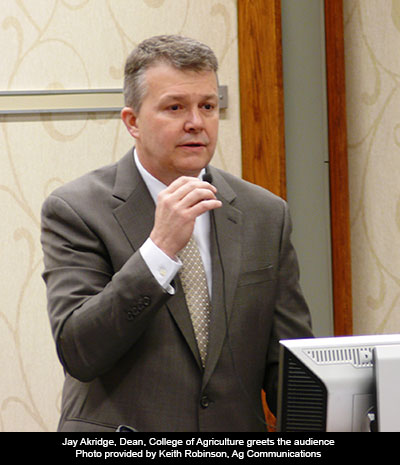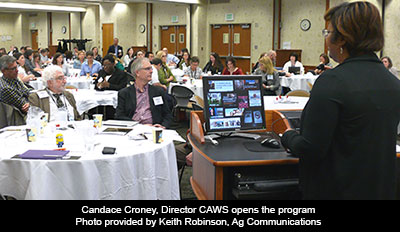 In the News
Caws members find that animals such as guinea pigs can help children with autism. Read more through the following sources: