White Coat Ceremony Combines Tradition with Virtual Reality
Friday, June 12, 2020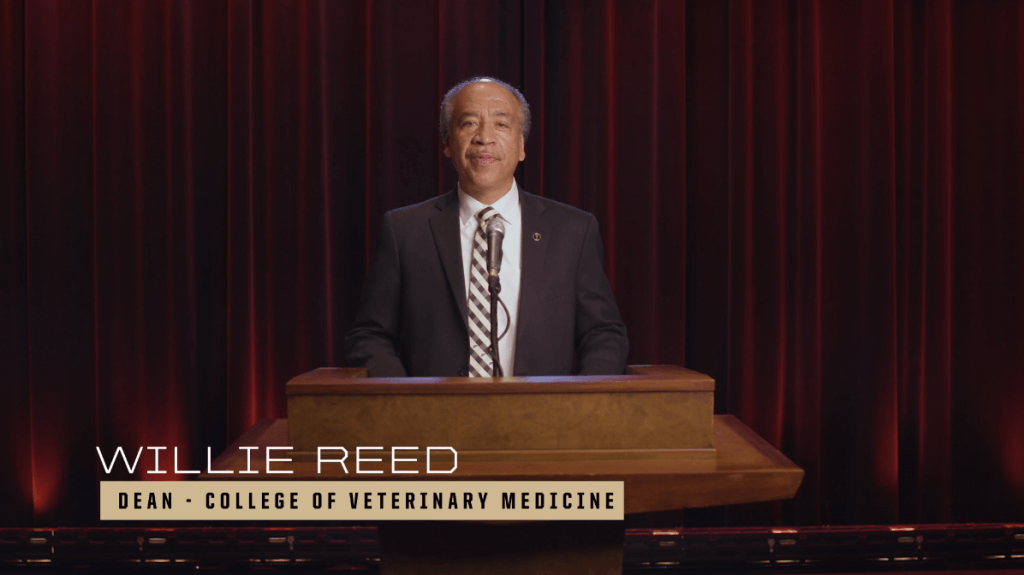 After students braved the "new normal" brought on during the spring semester by the COVID-19 pandemic, the Purdue University College of Veterinary Medicine sought to ensure their memorable achievements were recognized. So a beloved tradition known as the White Coat Ceremony became all the more important this year to mark the third-year students' transition into their clinical experiences. After Purdue University and the College of Veterinary Medicine recognized that there was no way to safely conduct in-person events, teams set about planning a White Coat Ceremony in the realm of virtual reality.
At 3:00 p.m. on Saturday, June 8, Purdue Veterinary Medicine's DVM Class of 2021, along with their family and friends, logged into their computers to participate in the event which was streamed via Facebook Live. Now in its 19th year, the annual White Coat Ceremony honored the third-year veterinary students as they embark on their final year in the DVM program. Numerous alumni donors sponsored the afternoon ceremony. Hours of behind-the-scenes work and recording sessions in the Elliott Hall of Music were transformed into an elegant digital ceremony that began with PVM Dean Willie Reed thanking the many families, friends, and loved ones who attended the special occasion.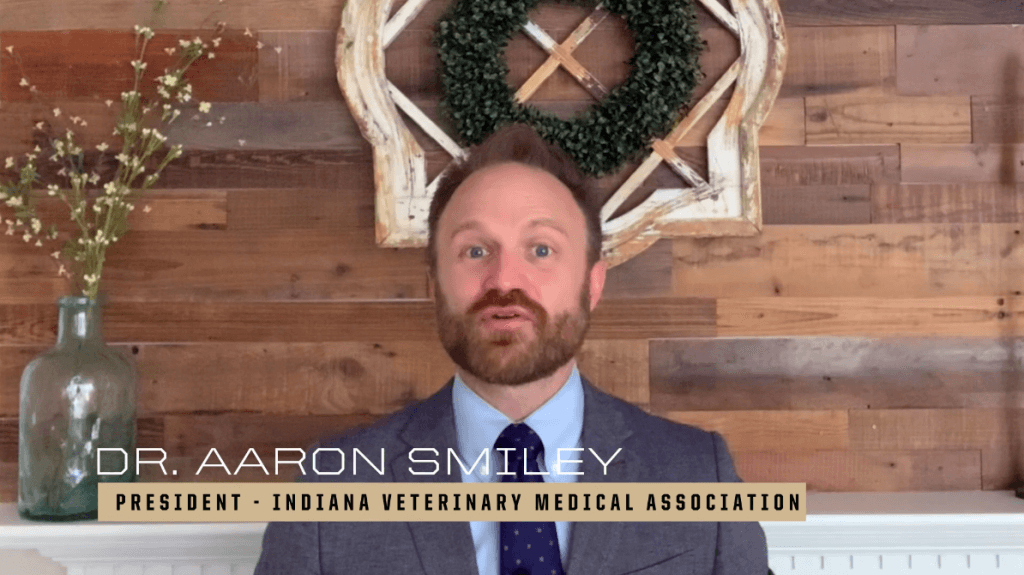 "It is now time to celebrate the rite of passage for our third-year veterinary students," Dean Reed said, explaining that the ceremony marks the students' passage from the classroom into the clinic. "The white coat indicates your acceptance of your great responsibility toward your patients and clients, your commitment to show compassion and empathy, and to make a positive difference in the life of every animal and person with whom you come into contact."
The program continued with words of commendation in the form of a recorded message from the president of the Indiana Veterinary Medical Association (IVMA), Dr. Aaron Smiley, chief of staff at the Devonshire Veterinary Clinic in Anderson, Ind. and the Geist Station Animal Hospital in Indianapolis. Dr. Smiley encouraged students to stay confident and humble and not be overwhelmed in their clinical year, reminding them that they are receiving an excellent education at a Big Ten institution. He went on to challenge the students to find opportunities to give back through volunteerism. While he acknowledged that students had already given up a lot due to the COVID-19 pandemic, he noted, "Life becomes so much more rich when you find ways to volunteer."
Dr. Nickie Baird, professor of large animal surgery and chief of staff for the Large Animal Hospital, also addressed the students, offering a clinician's insights about their journey ahead. Dr. Baird was selected to speak at the ceremony by a vote of the third-year class members. Dr. Baird taught the large animal surgery courses for the class and will teach the class members during the coming year in the large animal surgery rotation. "Thank you for honoring me with the responsibility to share a few words on this exciting occasion. I do truly consider this an honor and without a doubt a highlight of my recent professional life. You are my 36th graduating class, nearly 4,000 veterinarians from four different universities." Dr. Baird then alluded to his daughter who is part of the DVM Class of 2021, "I have told you before in lecture, the Class of 2021 will always be my most special for several reasons." And he added in jest, "Don't worry, I will not show wedding pictures today."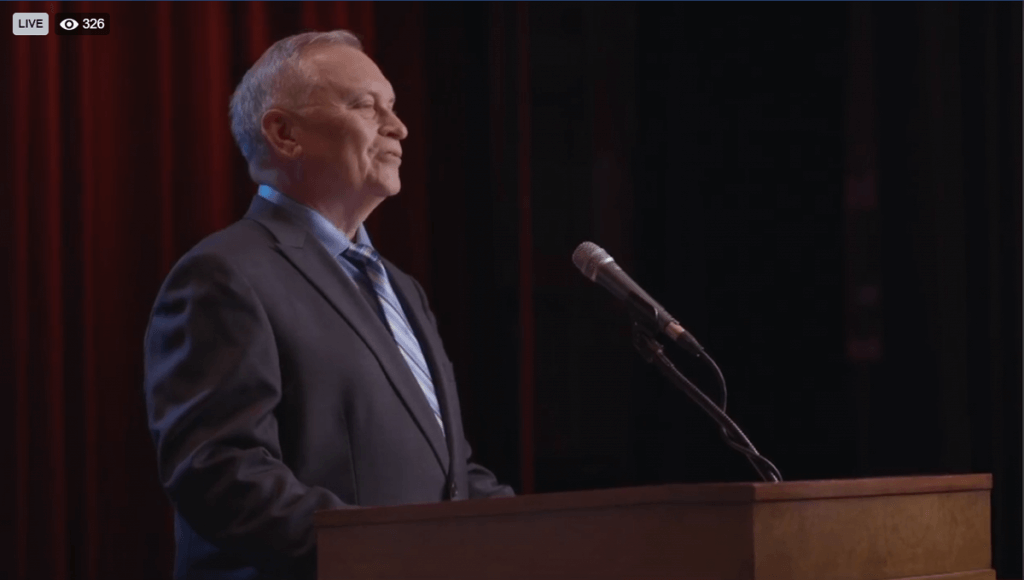 Dr. Baird continued his address with practical tips, advising the students, "Between today and starting clinics: get lots of sleep, hydrate, put on a few pounds to cover losses during the next year, stock up the pantry and tell your loved ones you will see them next May."
He also told them that they would enjoy their clinical year and learn a lot while surrounded by faculty and clinicians concerned for their physical and mental health, as well as their education. He concluded, "We are all so excited to watch you all grow during this clinical year."
Dean Reed then led the virtual presentation of white coats that were mailed to students with a program in advance of the event. Students were encouraged to have loved ones in their homes safely (following social distancing) present their white coats while a slide show displayed each of their photos and Associate Dean for Academic Affairs Kathy Salisbury announced their names.
The ceremony also included the presentation of awards recognizing individual members of the class for special accomplishments. The following students were honored:
Lydia Hall – Dr. William W. Carlton Award for Aptitude in Veterinary Pathology
This award recognizes a third-year student who has shown aptitude in the study of pathology.
Christa Cheatham and Grecia Carrero – Open House Co-chairs
While the annual Open House, which is a third-year student-run event, had to be cancelled only one month before it was scheduled to take place due to COVID-19 social distancing measures, the tremendous efforts in leading a team planning the event were appreciated.
Lydia Hall – Holly Watts Memorial Award
This award honors a student with exceptional interest and proficiency in non-domestic animal medicine.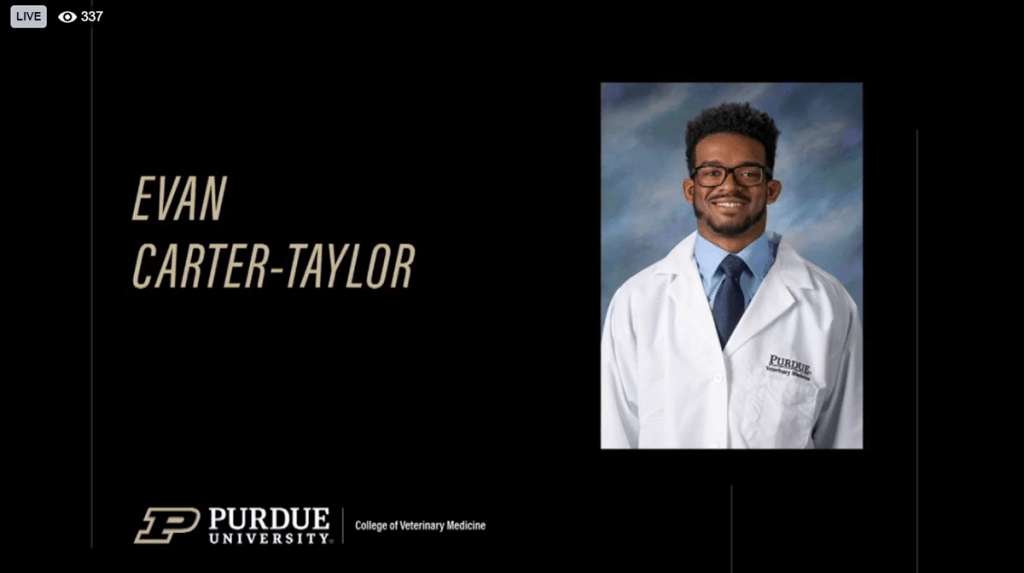 Dean Reed concluded the program by congratulating the members of the Class of 2021 on reaching this pivotal point in their training. "The coming year will be a phenomenal learning experience," Dean Reed said. "Immerse yourself in it so you can become the best veterinarian you can be. And at the same time, have fun."
Before concluding the ceremony, Dean Reed drew attention to notes that were provided to students with their white coats. Alumni and friends who sponsored the white coats wrote encouraging messages that were included in the packages mailed to students in advance of the event. A special thank you to the generous alumni and friends who supported this year's White Coat Ceremony and made it possible for each student to receive a note of congratulations and encouragement. Below is a list of sponsors as of May 9:
Dr. Lauren M. Adduci (PU DVM 2016)
Drs. Marianne Yeager Ash (PU DVM '77) and Stephen R. Ash
Dr. Susan E. Bunch (PU DVM '76)
Dr. Elizabeth A. Clark (PU DVM '84)
Dr. Roy A. Coolman (PU DVM '65)
Dr. Lisa L. Dellacqua (PU DVM '97)
Dr. S. Dawn Dinger (PU DVM '97)
Drs. Tom Goodwin (PU DVM '69) and Margaret Landi
Dr. Robert E. (PU DVM '72) and Mrs. Susan M. Graybill
Dr. Daniel A. Hendrickson (PU DVM 2014)
Dr. Angela M. (PU DVM '89) and Mr. Michael W. Lennox (PU BA '82)
Dr. David C. (PU DVM '79) and Ms. Emily M. Liggett, MBA (PU BS '77)
Dr. Maria E. Littles (PU DVM 2009)
Dr. Allen R. (PU DVM '66) and Mrs. Shirley A. Lueking (PU MS '68)
Dr. Daniel J. (PU DVM '91) and Mrs. Angela G. Markwalder (PU BS '91)
Dr. Jeffry H. Morrison (PU DVM '72)
Dr. Raymond E. (PU DVM '68) and Mrs. Vickie L. Plue
Drs. Willie M. (PU PhD '82) and Dorothy A. Reed (PU MS '81)
Dr. Robert W. Rich (PU DVM '80)
Dr. Daniel G. (PU PhD '97, PU DVM '92) and Mrs. Cathryn L. Rudmann (PU MS '92)
Dr. Paul L. (PU DVM '78) and Mrs. Janice J. Runnels
Drs. Christine M. Runnels (PU DVM '78) and Billy L. Whitaker
Mr. Paul Schiltz
Dr. Melissa P. Swan (PU DVM 2018)
Dr. Carl E. Watters (PU DVM '89)
Dr. James L. Weisman (PU DVM '97)
Dr. Alexander N. Wolf (PU DVM '98)
Dr. Kyle A. Yarde (PU DVM 2014)
Dr. David H. Younts (PU DVM '68)
Congratulations to the DVM Class of 2021! Click here to view a recording of the ceremony.
Writer(s): Susan Xioufaridou | pvmnews@purdue.edu