Virtual Format Proves a Winning Formula for Veterinary Nursing Symposium
Friday, April 16, 2021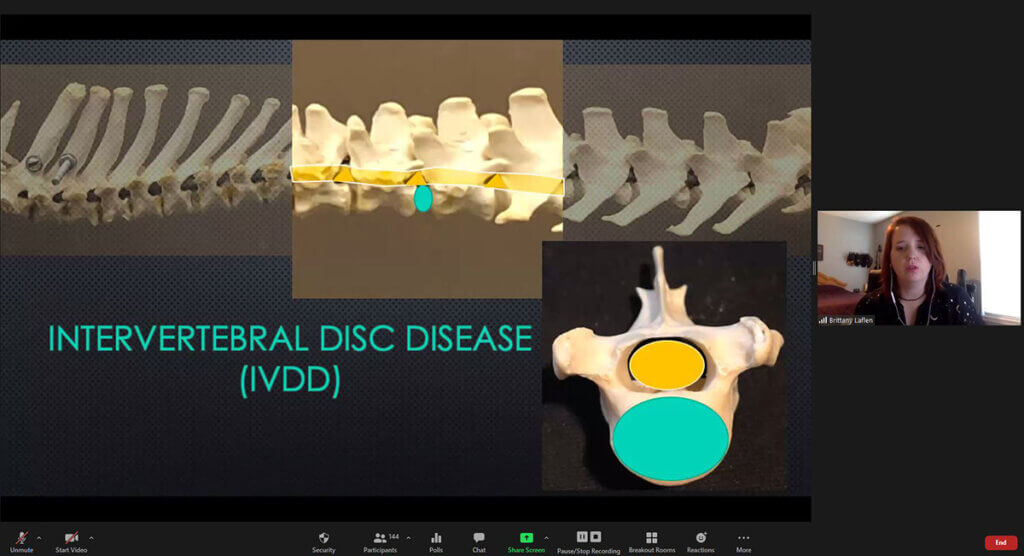 The Purdue University College of Veterinary Medicine attracted strong attendance for its first virtual Veterinary Nursing Symposium the weekend of March 20-21.  A total of 206 people registered for the program, a number that was on par with the best attendance figures from previous years when the event was held in person.
Each attendee received a unique sign-in for each session they attended to enable tracking of their attendance. And in another first, the symposium was RACE (Registry of Approved Continuing Education) approved this year, which assured the attendees that the American Association of Veterinary State Boards (AAVSB) recognized the symposium as meeting appropriate standards of quality for jurisdictions that accept RACE credits for their continuing education requirements. Sixty one jurisdictions and provinces accept RACE credits. The AAVSB approved 11 hours of continuing education credits through the symposium for all RACE jurisdictions and provinces.
The 2021 Veterinary Nursing Symposium was sponsored by Hills, Vetamac, and Noah's Animal Hospital, which each received recognition in the form of promotional videos that could be viewed by guests during both days of the virtual event.
The Saturday sessions on March 20 featured lectures on large animal care provided by four speakers:
Dr. Teresa Buchheit (PU DVM 2005), continuing lecturer in the Purdue Veterinary Medicine Administration Department. Dr. Buchheit is board certified by the American College of Veterinary Internal Medicine, and her special interests include neonatology, neurology, and endocrine diseases of horses;
Kyle Clever, RVT, who has served as a veterinary nurse in the Purdue University Veterinary Hospital Equine Field Service since 1995;
Molly Cripe Birt (PU BS-VT 2007), RVT, VTS-EVN, large animal surgery veterinary nurse in the Veterinary Hospital and certified Veterinary Technician Specialist (Equine) by the Academy of Equine Veterinary Nursing Technicians; and,
Kara Burns, MS, Med, LVT, VTS (Nutrition), founder and past president of the Academy of Veterinary Nutrition Technicians.
On Sunday, March 21, the focus shifted to small animal care, with seven lectures given by the following speakers:
Heidi Lescun, BS, RVT, senior service technician/sales associate of Vetamac serving Northwest and Central Indiana;
Megan Brashear, BS, RVT, VTS (ECC), small animal veterinary nursing manager in the Purdue University Small Animal Hospital;
Lindsey Fourez (PU BS-VT 2005), BS, RVT, oncology veterinary nurse in the Purdue Comparative Oncology Program;
Brittany Laflen (PU AS-VT 2010), RVT, VTS (Neurology), small animal surgery/neurology veterinary nurse and instructor of neurology and neurologic diseases for Purdue Veterinary Nursing students;
Saralyn Sharp, BS, RVT, VTS (CP-SA, Canine/Feline) small animal primary care veterinary nurse who has been with the Veterinary Hospital's Small Animal Primary Care Service for 19 years;
Liane Shaw (PU BS-VT 2003), RVT, diagnostic imaging instructional veterinary nurse in the hospital; and,
Courtney Waxman, MS, CVT, RVT, VTS (ECC) distance learning instructional technologist in the Purdue Veterinary Nursing Program and the hospital's ICU.
Each of the lectures concluded with time for attendees' questions.  Symposium participants, who came from 11 different states, each received continuing education certificates recognizing their virtual attendance.
Writer(s): Jonathan Martz, PVM Communications Intern | pvmnews@purdue.edu