Veterinary Nursing Symposium to Feature PVM Alumna Alicea Howell
Friday, March 8, 2019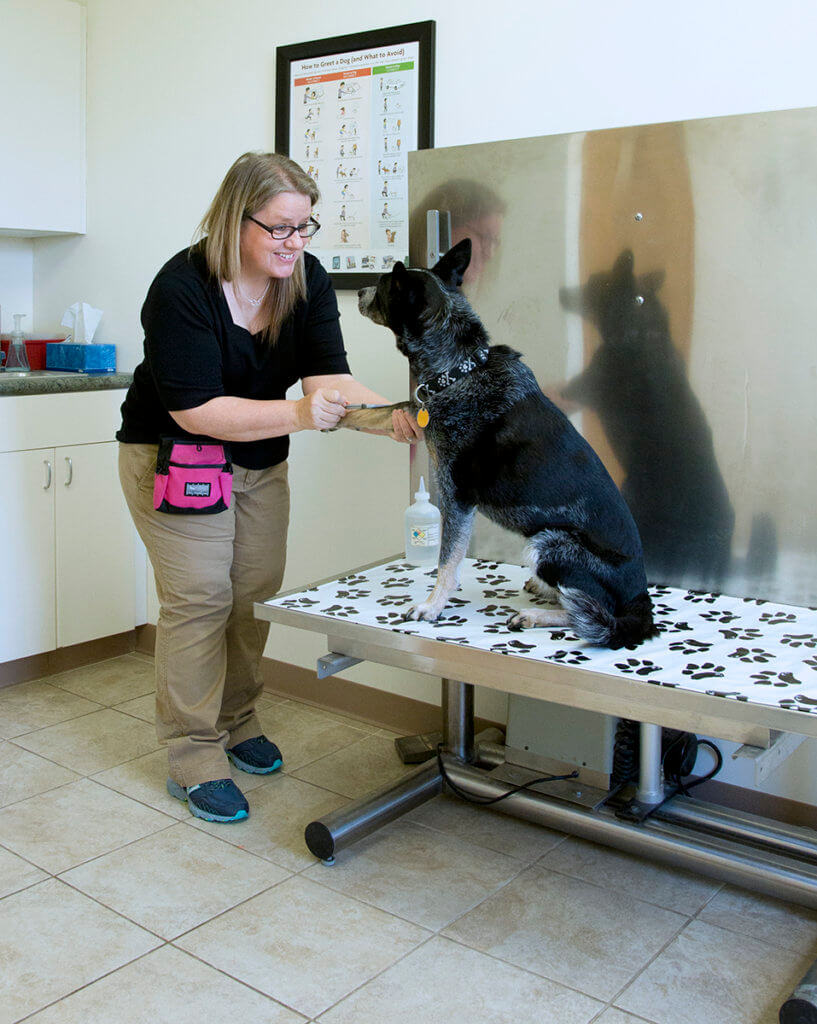 Fear Free Handling will be among the topics addressed at the fifth annual Purdue Veterinary Nursing Symposium, to be held in Lynn Hall on Sunday, March 24. The symposium provides an opportunity for veterinary assistants, veterinary nursing (technology) students, and veterinary nurses (technicians and technologists) to obtain up to 7.5 continuing education (CE) credits. Both small and large animal topics will be offered, and attendees will learn practical information to use in clinical practice.
Purdue Veterinary Medicine alumna Alicea Howell, RVT, VTS (Behavior), KPA CTP, will present the keynote lecture for symposium attendees, entitled, "Fear Free Handling – Veterinary Care for Every Patient." Alicea is the owner/director of Barks and Rec., a Fear Free training center in Traverse City, Mich. Previously she worked as a behavior technician in a small animal and exotic practice in Franklin, Ind., where she taught puppy classes, clicker-training classes, behavior modification, and cooperative care. Alicea earned her Bachelor of Science degree in veterinary technology at Purdue in 2003. She received her animal training certification through the Karen Pryor Academy for Animal Training & Behavior in 2008. In addition to being a nationally recognized speaker, she is a past president of the Society of Veterinary Behavior Technicians and the Academy of Veterinary Behavior Technicians. She was honored as a recipient of Purdue Veterinary Medicine's Distinguished Veterinary Technology Alumna Award in 2016.
Symposium attendees also will be able to hear presentations on such small animal topics as hospice, dentistry, emergency and critical care, anesthesiology, and cardiology. Large animal topics to be covered include theriogenology, anesthesiology, equine asthma, and internal medicine. The symposium also includes an optional afternoon Communications Workshop presented by Dr. Bianca Zenor, director of Purdue Veterinary Nursing Programs.
The Vet Shoppe will be open from 11:30 a.m. – 1:00 p.m. during the symposium, and will be accepting pre-orders for pick-up at the event. Pre-orders need to be placed by noon on March 22 in order to be available for pick-up at the symposium.
Click here for more information about the Veterinary Nursing Symposium. Click here to register. This symposium is sponsored by Hill's Pet Nutrition, Elanco, and Vetamac.
Writer(s): Andrea Brown | pvmnews@purdue.edu