Veterinary Nursing Symposium Attracts Capacity Crowd
Friday, April 1, 2022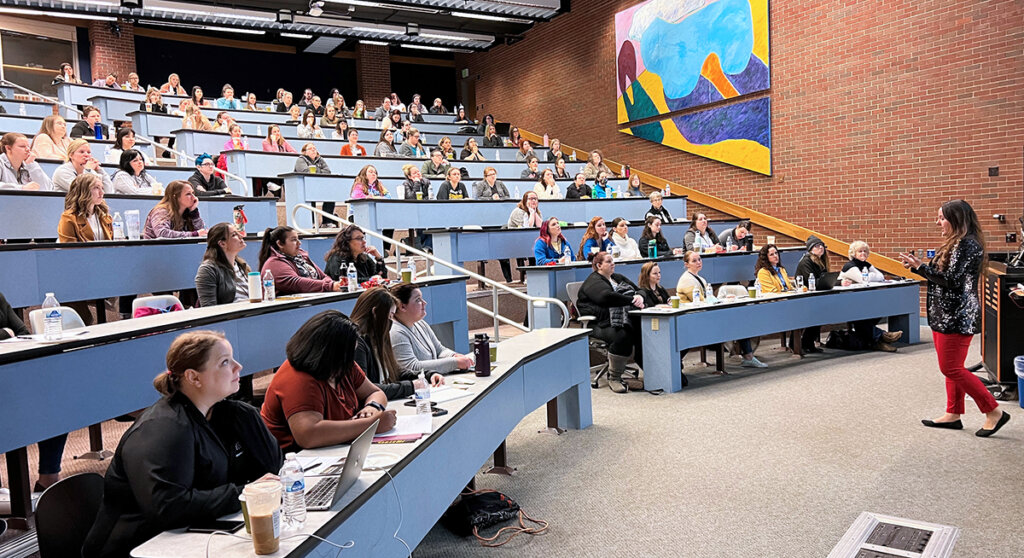 Returning as an in-person event at the Purdue University College of Veterinary Medicine after last year's virtual program, the eighth annual Veterinary Nursing Symposium attracted 200 attendees from Indiana and several other states, including Illinois, Iowa, Kentucky, Ohio, and Wisconsin. The one-day program in Lynn Hall on Sunday, March 27, covered a broad range of topics that were appealing to veterinary nurses working with both large and small animals.
The annual symposium is designed to provide veterinary nurses, as well as veterinary assistants and veterinary nursing students, with practical information they can use in clinical practice. Participants were eligible for up to seven hours of continuing education (CE) units.
After a welcome and opening remarks by Dr. Chad Brown (PU DVM 2001), Purdue Veterinary Nursing Program director, the symposium offered attendees a choice between large and small animal tracks.  Speakers included Purdue Veterinary Medicine faculty and staff as well as veterinary professionals from corporate sponsors Hills, Vetamac, and Elanco Animal Health. Small animal presentations covered such topics as hypothermia, urology, rehabilitation, and anesthesia. Topics addressed in the large animal sessions included ruminant and bovine medicine, equine dentistry, and diagnostic imaging.
The lunchtime presentation, given by Christie Siminski, RVT, of Hill's Pet Nutrition, Inc., focused on recommendations for improved teamwork and communication in practice.  Earlier in the day, Vetamac's Heidi Lescun, RVT, gave a talk on the form and function of the anesthetic machine. The closing session about "Pets, Parks, and Parasites" was presented by Dr. Sarah Peton, of Elanco.
In the afternoon, attendees heard talks on transfusion, cardiology, and pain management. In addition, the event gave participants the opportunity to develop their professional networks while interacting with one another and the vendors attending the symposium.
Besides Dr. Brown, eight other Purdue Veterinary Medicine staff and faculty gave talks, including:
Tami Lind, BS, RVT, VTS (ECC), emergency and critical care veterinary technician supervisor – "Fever vs. Hyperthermia"
Julie Commons, RVT, VTS (SAIM), small animal nephrology/urology technologist – "Subcutaneous Ureteral Bypass (SUB) System in the Feline Patient"
Jessica Bowditch, RVT, CCRP, VTS (Physical Rehabilitation), neurology and physical rehabilitation technician – "Stifle Your Excitement: Rehabilitation for the Orthopedic Patient"
Kyle Clever, RVT, CVT, CF, AAS, Equine Field Service technician – "Equine Dentistry"
Christy DeYoung, BS, RVT, VTS-DI, diagnostic imaging technologist – "Diagnostic Imaging"
Katie Mowery, BS, RVT, VTS (ECC), emergency and critical care technologist – "Transfusion Perfusion:  An Overview of Blood Products"
Kimberly Sederquist, BS, RVT, VTS (Cardiology), cardiology technologist – "Bradyarrhythmias Give Me Tachycardia"
Dr. Emily Curry, clinical assistant professor of mobile surgery and shelter medicine – "Taking the Sting Out of Neutering: Purdue Priority 4 Paws Anesthetic and Pain Management Protocols"
The event was made possible by symposium sponsors Elanco, Hill's, Noah's Animal Hospital, Vetamac, and Woodland Veterinary Center. Special thanks to the event planning committee chaired by Clinical Skills Laboratory Manager Danielle Buchanan, RVT, and including Distance Learning Instructional Technologist Courtney Waxman, RVT, and Dr. Stephanie Inoue, lecturer in the Department of Veterinary Administration.
Writer(s): Susan Xioufaridou | pvmnews@purdue.edu