Veterinary Nursing Program Staff Honored with Purdue Student Impact Award
Friday, October 1, 2021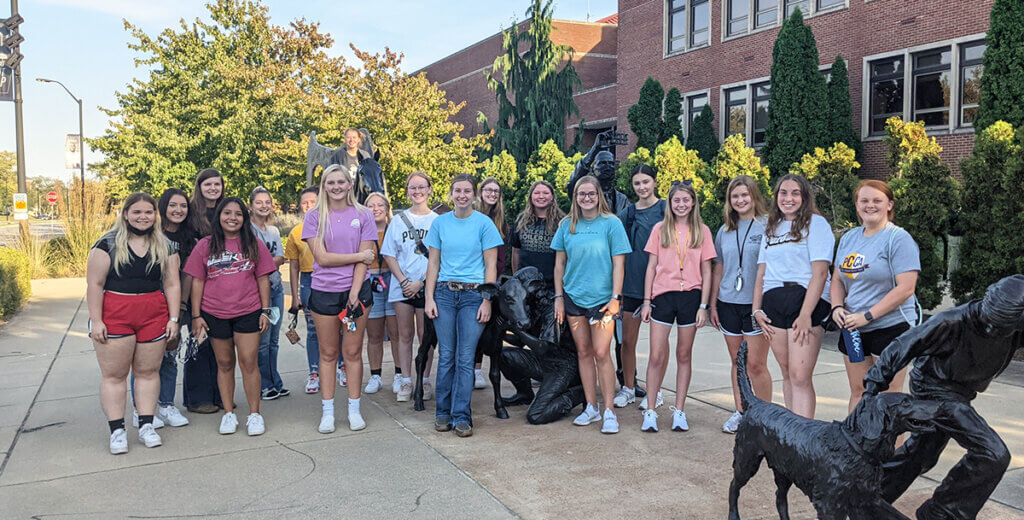 Congratulations are in order for Veterinary Nursing Program staff members Paige Allen, MS, RVT and Shelly Opperman, who received Purdue University's Student Impact Award for their work as instructors for the All Creatures Great and Small Learning Community.  Paige is assistant director of academic advising and recruiting and Shelly is academic advisor and recruiter. The award was presented at the college Wednesday, September 29, by Bryan Austin, PhD, Purdue's associate director of residential academic initiatives.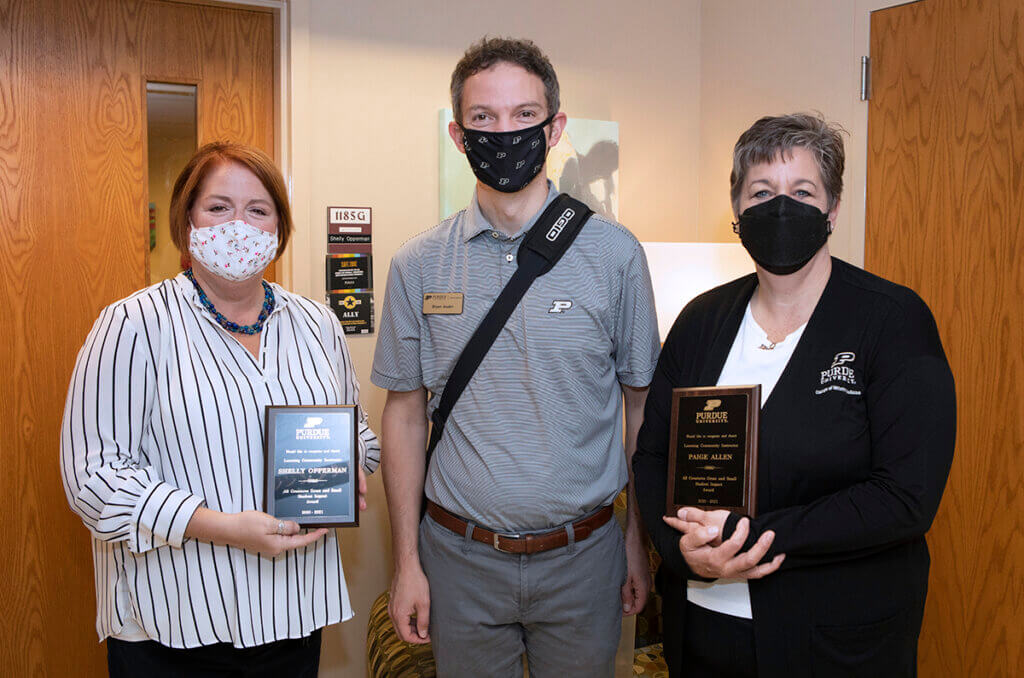 The Student Impact Award recognizes learning community instructors who have demonstrated exceptional success in connecting students to peers, faculty and professional staff, campus resources, and the communities-at-large. Paige and Shelly created the All Creatures Great and Small Learning Community for veterinary nursing students and offered it for the first time in fall 2019. "It started out of the desire to connect with our first-year students who are on the main campus completing their general education requirements," explained Paige. "It offers them the opportunity to get to know the college and PVM family."
As part of the learning community, students participate in classroom and outside activities, including sessions on How to Communicate, Time Management, Diversity and Inclusion, and Wellness, as well as College of Veterinary Medicine tours and get togethers with the Veterinary Nursing Program team and Veterinary Nursing Student Ambassadors. "In 2020, when most of the freshman classes were online, our learning community class was one of the only times our first-year students (who now are in the second-year class) met in a classroom," Paige noted. "We modified the outside activities, but still got them together."
University-wide, more than 3,000 freshman and 1,000 current students participate in learning communities every year. Through the learning communities, students are able to connect with other students who share their interests and get to know faculty. Participation in learning communities is correlated with earning higher grades and having increased exposure to university resources and the Greater Lafayette community.
Writer(s): Kevin Doerr | pvmnews@purdue.edu