Turning a Reading Day into a Research Day
Friday, April 9, 2021

The spring semester on Purdue University's campus has felt a little different this year with Protect Purdue efforts taking center stage. The modified academic calendar included the cancellation of spring break in order to minimize mass travel to and from campus, and in its place, the university added three reading days throughout the semester to provide a break from instruction with the last reading day taking place Tuesday, April 13. Purdue Veterinary Medicine students will take advantage of the day as the College of Veterinary Medicine celebrates the 59th anniversary of the Omicron Chapter of Phi Zeta by hosting the 2021 PVM Research Day.
Taking place virtually this year, the research event continues a longstanding PVM tradition affiliated with the College of Veterinary Medicine's Omicron Chapter of the Society of Phi Zeta, which is the honor society of veterinary medicine in the U.S. The purpose of the Research Day is to showcase scientific discovery in the college that enhances the well-being of animals and people.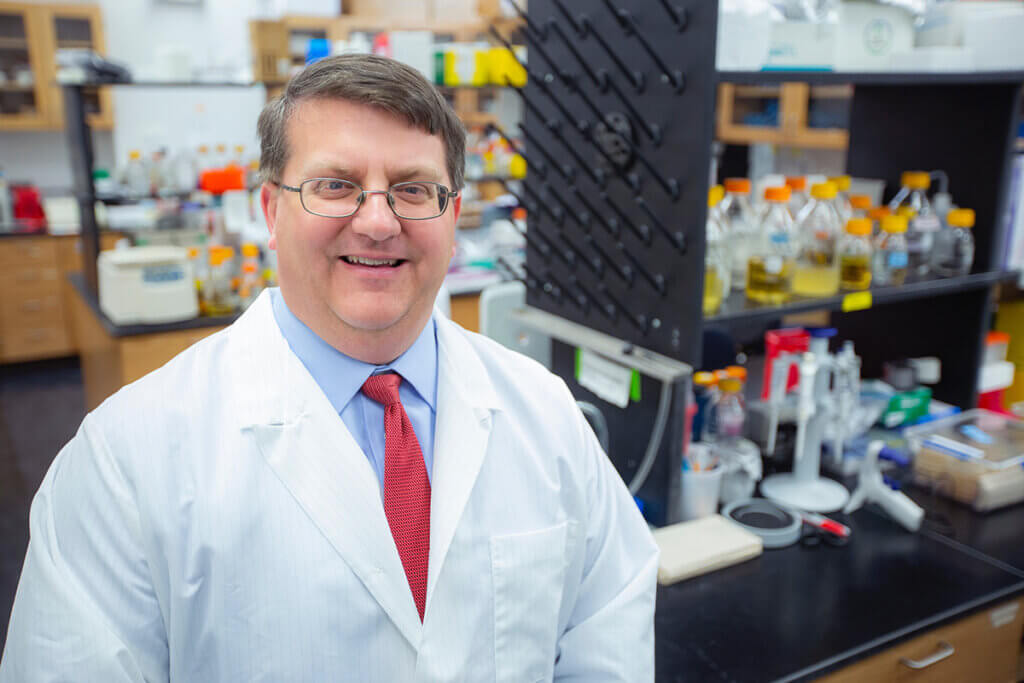 The day will begin with introductory remarks from Dean Willie Reed followed by a keynote lecture presented by Dr. Paul Plummer, professor and Anderson Endowed Chair of Veterinary Sciences at Iowa State University and the executive director of the National Institute of Microbial Resistance Research and Education. Additionally, Dr. Plummer is a member of the Presidential Advisory Council for Combating Antimicrobial Resistant Bacteria (PAC-CARB), which is responsible for providing advice, information, and recommendations to the federal government regarding programs and policies intended to support and evaluate the implementation of U.S. government activities related to combating antibiotic-resistant bacteria. Dr. Plummer's presentation will focus on "Lessons from the One Health Interface."
Following Dr. Plummer's lecture will be a series of 15-20 minute pre-recorded lectures on three separate tracks consisting of Animal Welfare, Microbial Tools, and Microbiomes. Each moderated track will include four sessions presented by PVM faculty, residents, interns, or graduate students and will close with a live discussion panel.
During the afternoon, Osborne Award Competition finalists will present on a variety of topics, beginning with Dr. Ana Aghili's presentation, "The First Case Report of Pleural Sporotrichosis in a Cat in the United States." Dr. Aghili is an Emergency and Critical Care resident in the Department of Veterinary Clinical Sciences.
The second nominee for the Osborne Award Competition is Dr. Garrett Oetelaar, resident of Diagnostic Imaging in the Department of Veterinary Clinical Sciences. Dr. Oetelaar's presentation is entitled, "Magnetic Resonance Imaging Features of Bromethalin Toxicosis in a Cat."
The third nominee for the Osborne Award Competition is Dr. Beatriz Belda-Lopez, Small Animal Surgery resident in the Department of Veterinary Clinical Sciences, who will give a presentation entitled, "Massive Gastrointestinal Stromal Tumor in the Absence of Clinical Signs in a Dog."
Following the Osborne Award finalists, Associate Professor of Basic Medical Sciences Marxa Figueiredo will present as the recipient of the 2020 Zoetis Award for Veterinary Research Excellence. Dr. Figueiredo's presentation is entitled, "Osteo-Immune Therapeutics for Metastatic Prostate Tumors and Bone."
The program also will feature acknowledgement of sponsors, including Zoetis, and an induction ceremony for new members of Phi Zeta. The Research Day will then conclude with award presentations and closing remarks. Congratulations to the following award winners:
2021 Phi Zeta Omicron Chapter Graduate Student Research Award
"Effects of Low-Dust Forages on Racehorses' Dust Exposure, Airway Cytology, and Plasma Omega-3 Concentrations: A Randomized Clinical Trial"
Presented by: Dr. Carla Olave, resident of large animal medicine, Department of Veterinary Clinical Sciences
2021 PVM Graduate Student Research Award
"Enhanced Vaccine Efficacy Following Intradermal Immunization with a Novel Dinucleotide/Nanoparticle Combination Adjuvant"
Presented by: Juan Hernandez, graduate research assistant in CPB Immunology, Department of Comparative Pathobiology
Phi Zeta Manuscript Award – Clinical/Applied Research
"MicroRNA Biomarkers in Canine Diffuse Large B-Cell Lymphoma"
Presented by: Dr. Nelly Elshafie, graduate student, Department of Comparative Pathobiology
Phi Zeta Manuscript Award – Basic Science
"Assessment of Physical Compatibility of Injectable Enrofloxacin with Commonly Used Intravenous Fluids and Drugs During Simulated Y-Port Administration"
Presented by: Dr. Ana Aghili, resident of emergency and critical care, Department of Veterinary Clinical Sciences
Writer(s): Jonathan Martz, PVM Communications Intern | pvmnews@purdue.edu