Sustainability Achievement Recognized in Design of New Purdue University Veterinary Hospital Facilities
Friday, March 24, 2023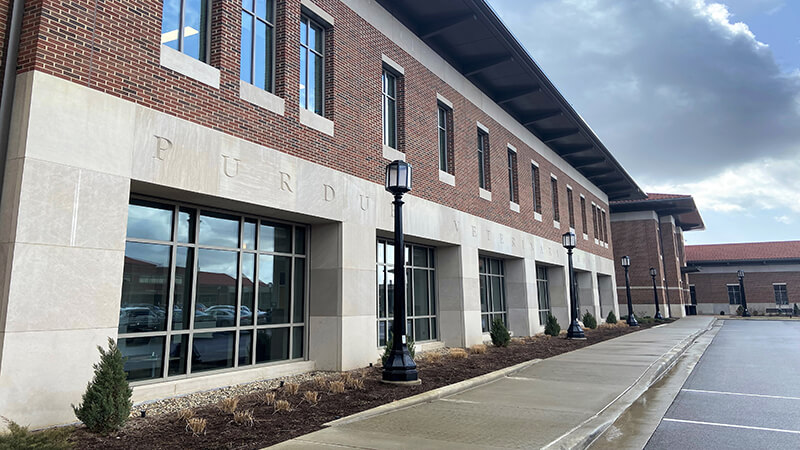 Two hospitals within the new David and Bonnie Brunner Purdue Veterinary Medical Hospital Complex – Equine and Small Animal – have received Leadership in Energy and Environmental Design Silver certification. Developed by the U.S. Green Building Council, LEED is the most widely used green building rating system in the world. It provides a framework for healthy, highly efficient, and cost-saving buildings.
The David and Bonnie Brunner Equine and Small Animal Hospitals were designed and constructed to include sustainable building features in alignment with LEED standards. The features include integration of building systems to improve overall performance, preferred parking for green vehicles, outdoor light fixtures designed to help reduce light pollution, low-flow fixtures to reduce water consumption, LED light fixtures and occupancy-based controls to help increase energy savings, clearly marked containers to help increase recycling efforts, and finishes that are engineered from repurposed materials.
"It was important for us to incorporate these features early in the design process," said Tony Gillund, director of sustainability. "We saw this project as an opportunity to showcase best practices in sustainability, and we are thrilled with the outcome. After all, it was a complex project with complex programming needs, and it is truly a big win to receive certification at the silver level."
Gillund says success takes strategic coordination with other campus partners. "Our project managers, architects, and construction managers played a critical role in making sure these sustainable features are incorporated throughout the process. They were heavily involved with the planning, communicating, and execution," Gillund said. "We are fortunate to work with such a forward-thinking team that helps us meet the LEED certification standards."
Receiving LEED certification for newly constructed campus buildings contributes directly to the Physical Facilities Sustainability Master Plan. Sustainability is one of the three groups that make up the Campus Planning, Architecture, and Sustainability department within the Administrative Operations organization. Administrative Operations supports the university through safe, reliable, and transformative services. Ensuring new major construction projects meet LEED certification standards and thereby contribute to university sustainability efforts is just one of many ways the organization powers Purdue.
More details on the features incorporated in the David and Bonnie Brunner Purdue Veterinary Medical Hospital Complex are included on the Sustainability website.
Writer(s): Purdue Veterinary Medicine News
Source: Purdue Administrative Services