PVM's Paige Allen Concludes Two-Year Term as NAVC President with Focus on Future
Friday, January 28, 2022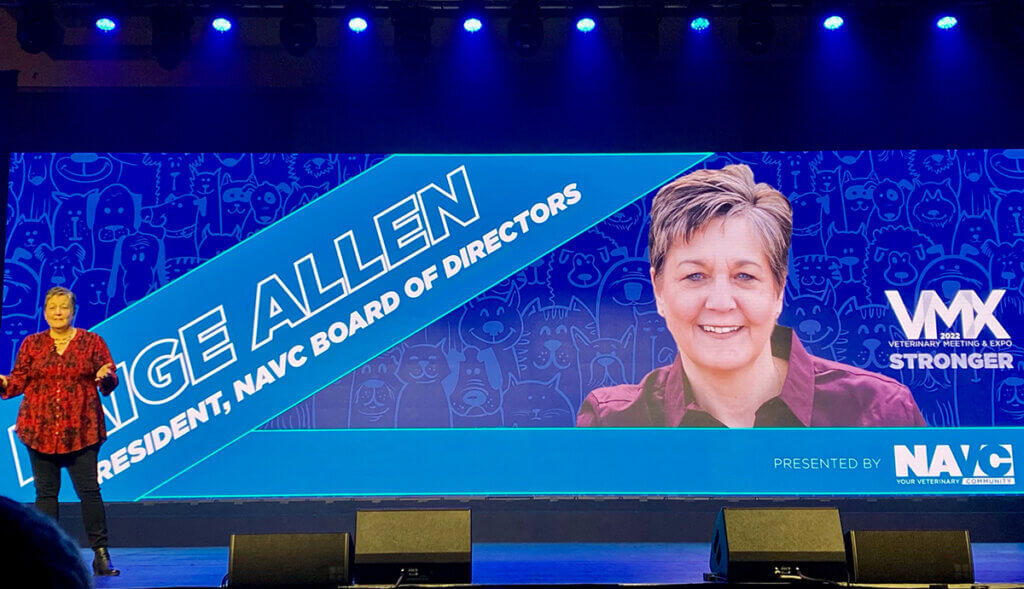 VMX 2022, billed as the world's largest veterinary education conference, provided the stage last week for Paige Allen, MS, RVT, Veterinary Nursing Program assistant director of academic advising and recruitment, to wrap-up a two-year term as president of the North American Veterinary Community (NAVC). Paige is just the second veterinary technician to serve as president of NAVC, which hosts the annual VMX conference in Orlando, Florida.
As part of her presidential duties during VMX this year, Paige participated in a news conference announcing the NAVC's "Veterinary Nurse/Technician Empowerment Initiative," which is a bold new program to elevate and advance veterinary nurses and credentialed technicians who are vital members of veterinary practices, but whose skills are often underutilized. The goals of the initiative are to achieve improved access to care, better patient outcomes and client satisfaction, improved overall well-being of the veterinary nurse/technician, and to encourage more people to go into veterinary careers.
The news conference on January 17 included the presentation of a new video which includes several PVM staff members talking about the importance of veterinary technicians. Click here to view the video.
Paige said key components of the new initiative include:
Launching a national consumer veterinary nurse/technician awareness and education campaign sponsored by VCA Animal Hospitals, with support from the National Association of Veterinary Technicians in America (NAVTA).
Fostering greater consumer awareness and understanding of the important role and significant educational requirements of veterinary nurses/technicians.
Providing new programs with a wide range of resources and support for veterinary nurses/credentialed technicians, such as: career development and growth; scholarships for continued learning; new intensive hands-on courses specifically designed for nurses/technicians at the NAVC Institute to further advance their expertise; and a new webinar series that brings together industry leaders to address key issues facing the veterinary nurse/credentialed technician profession.
The launch by Today's Veterinary Nurse of the new "Clinic Champions" series to recognize the positive impact veterinary nurses/technicians make, and a mentorship program that will help the next generation of veterinary nurses and technicians succeed.
Click here to view the complete press release from the news conference. "I am so proud to be a part of NAVC and am excited to see the opportunities for future technicians/nurses and I know that you will be a part of this change," Paige said in comments after VMX directed at today's veterinary nursing students.
The NAVC also released a collection of interview excerpts from VMX, which includes comments from PVM's Courtney Waxman, MS, CVT, RVT, VTS (ECC), talking about clinic readiness and emergency medical response. Her comments begin at the 8:50 mark in the video, which can be viewed by clicking here – let the video begin and then you can advance to her segment.
Looking back on her two-year tenure as NAVC president, Paige said the experience was unlike any responsibility she had held before. "I think that's what made it so rewarding," Paige said. "It's the kind of position that demands your best effort every day, in a supportive environment where you can utilize your existing skills while benefitting from amazing mentors and teamwork that ultimately makes possible such an incredible event as VMX.  It stretches you, humbles you, and yet builds you up through the empowering influence of teamwork, and leaves you with new perspectives, treasured memories, and a very thankful heart."
Writer(s): Kevin Doerr | pvmnews@purdue.edu