PVM Welcomes New Staff to the Office for Diversity and Inclusion
Friday, May 3, 2019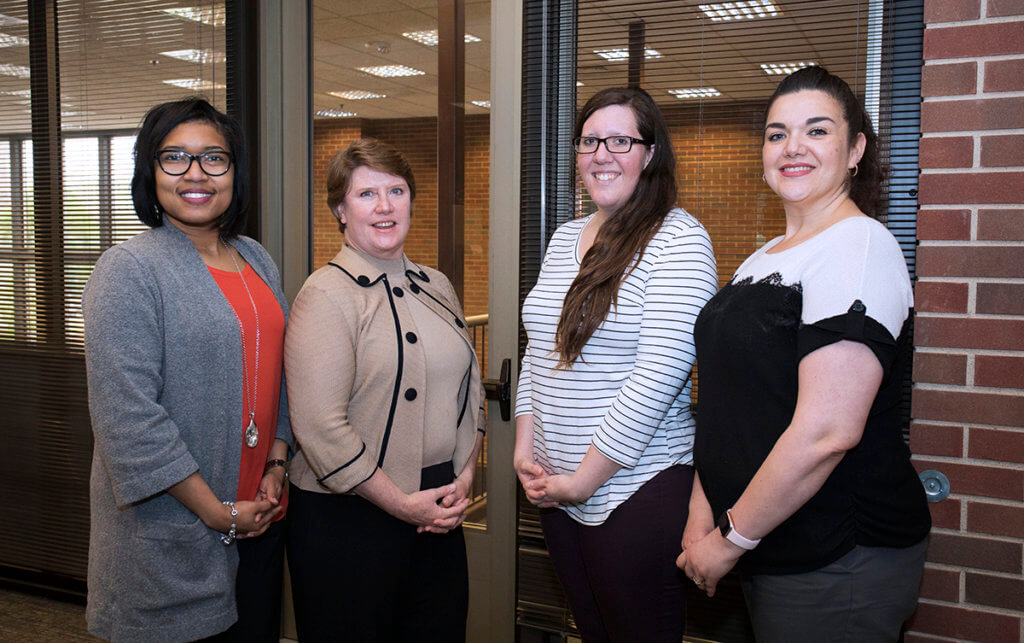 Two new staff members have joined Purdue Veterinary Medicine's Office for Diversity and Inclusion, as the Office expands its programming. One of the new staff members is Courtenay Murakowski, who supports Vet Up! The National Health Careers Opportunity Program (HCOP) Academy for Veterinary Medicine. Courtenay began working in her new position as outreach coordinator for Vet Up! April 14. Established last fall, the federally funded National HCOP Academy for Veterinary Medicine enables the College to expand access to the veterinary profession for talented individuals from disadvantaged backgrounds.
Courtenay is a retired Naval Officer who started working at Purdue University in 2016. Prior to joining the PVM staff, she worked in the Purdue Alumni Association and the Purdue Department of Human Resources. Courtenay said she is excited about her new position as outreach coordinator because she loves working with youth and young adults.
The other new staff member is Katharine Zehr, who started as the senior administrative assistant for the Office for Diversity and Inclusion April 29. Katharine comes to PVM from Purdue's College of Engineering. Her new responsibilities include coordinating meetings and programming for the assistant dean for diversity and inclusion.
That role had been filled by Marisol Uribe, who has accepted the new position of program manager for the Office for Diversity and Inclusion. In her new role, Marisol handles logistics related to the $3.18 million Vet Up! grant from the Health Resources and Services Administration, which is an agency of the U.S. Department of Health and Human Services. Marisol's responsibilities include interacting with students, reviewing summer program applications, program development, and assisting with the internal growth of the Office for Diversity and Inclusion. "Marisol is a valuable member of the office and I'm so excited to see her grow in this new role," said Dr. Latonia Craig, PVM assistant dean for diversity and inclusion.
"We are equally excited about Katharine and Courtenay joining our team and we look forward to the great work we all will be doing together," said Dr. Craig. "These positions are vital to our office's goal of being even more available and responsive to faculty, staff, and student needs."
Please take a few moments to extend a warm PVM greeting to Katharine and Courtenay. Katharine is located in Lynn 2133. Her email address is kzehr88@purdue.edu and her office extension is 61908. Courtenay, who works part-time, can be found in Lynn 1191. Her email is cmurakow@purdue.edu and her phone extension is 66852.
Writer(s): Amanda McCormick, PVM Communications Intern, and Kevin Doerr | pvmnews@purdue.edu