PVM Open House Returns Following Pandemic Hiatus
Friday, April 15, 2022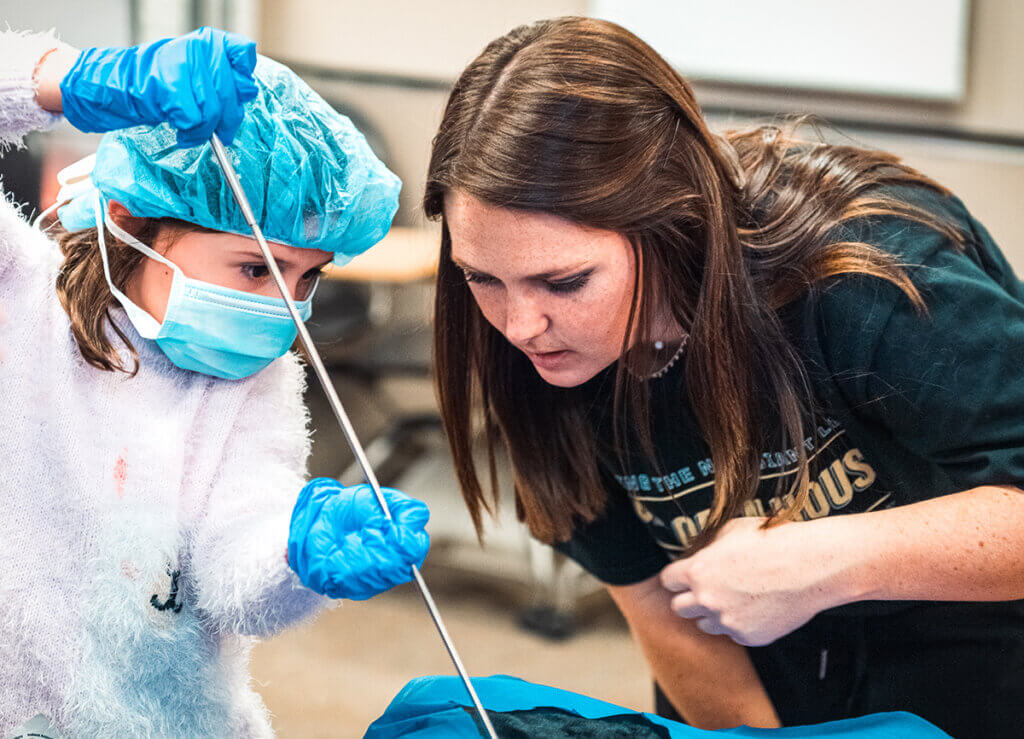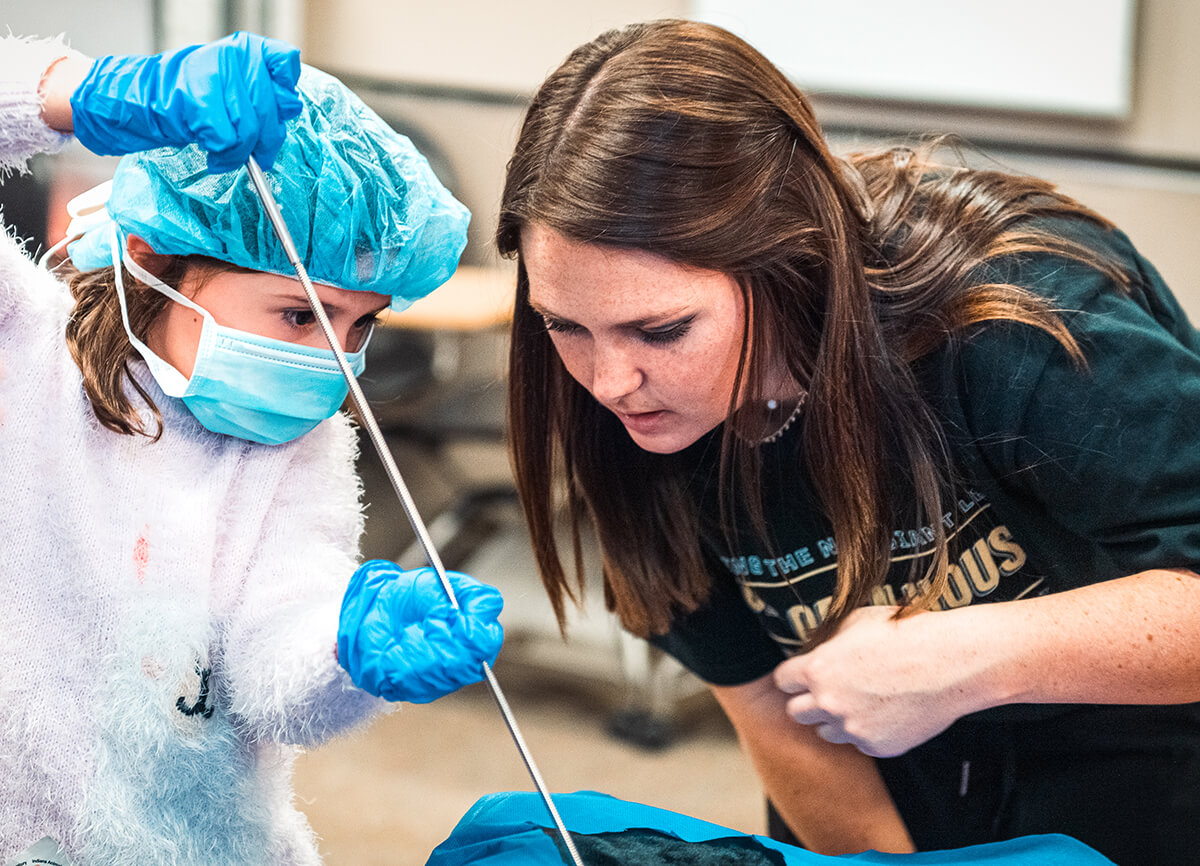 Both young and old alike enjoyed coming to Lynn Hall on Saturday, April 9 for the return of the Purdue University College of Veterinary Medicine Open House. The annual event coincided with Purdue's Spring Fest to promote education about all the different aspects of veterinary medicine. This year's Open House was extra special as it offered visitors a chance to tour the new David and Bonnie Brunner Purdue Veterinary Medical Hospital Complex, which was officially dedicated the day before (Friday, April 8).
PVM Open House attendees were able to learn about the many roles veterinarians and veterinary nurses play in the veterinary medical profession by participating in hands-on exhibits and activities. They also got a glimpse of what it's like to be a student in veterinary school by practicing their ultrasound skills, learning about creepy crawly critters that can affect pets, "scrubbing in" for surgery to save a furry teddy bear friend that appeared to have consumed something it shouldn't have, and practicing bandaging skills with veterinary nursing students. Participants also enjoyed a visit with special guests from the Indianapolis Zoo who brought a collection of bones and radiographs, and had the chance to meet some exotic animals courtesy of the PVM Exotics Club and learn about the animals' favorite treats.
An ever-popular special demonstration involved Leila the horse running on the high speed equine treadmill at the newly named Donald J. McCrosky Equine Sports Medicine Center. The Open House also featured outdoor fun that included visiting farm animals in the petting zoo, an anatomy lesson with a painted horse, and visiting with the college's Canine Educators. Open House guests also had a chance to refuel at the food tent in support of the Food Animal and Equine Clubs, and lend a hand with the Cat and Shelter Medicine Clubs' philanthropic project by creating fleece tie blankets for local animal shelters.
Thank you to the many student and staff volunteers who helped make this great event a success!
Click here to view a collection of photos highlighting the Open House and other Spring Fest events.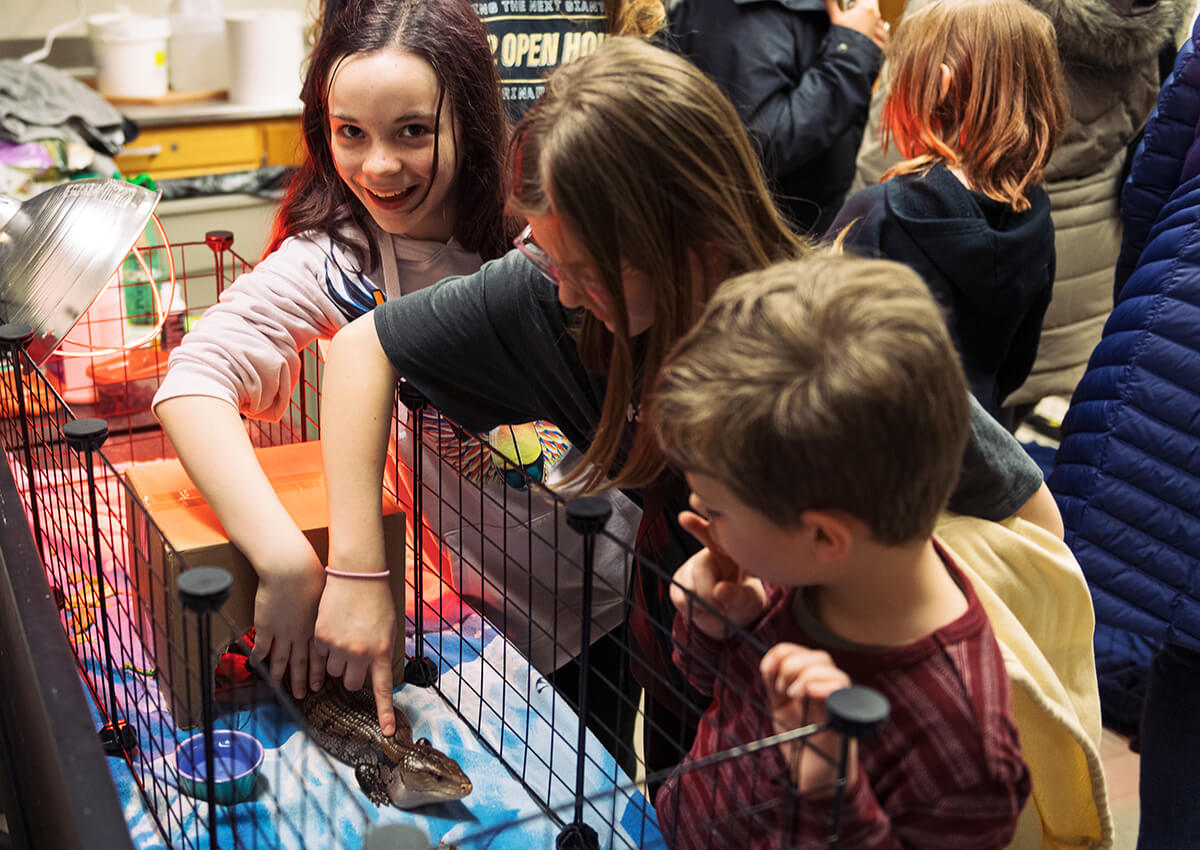 Writer(s): Allison Gardner | pvmnews@purdue.edu