PVM Faculty Member Candace Croney Receives Prestigious 2023 AVMA Humane Award
Friday, May 12, 2023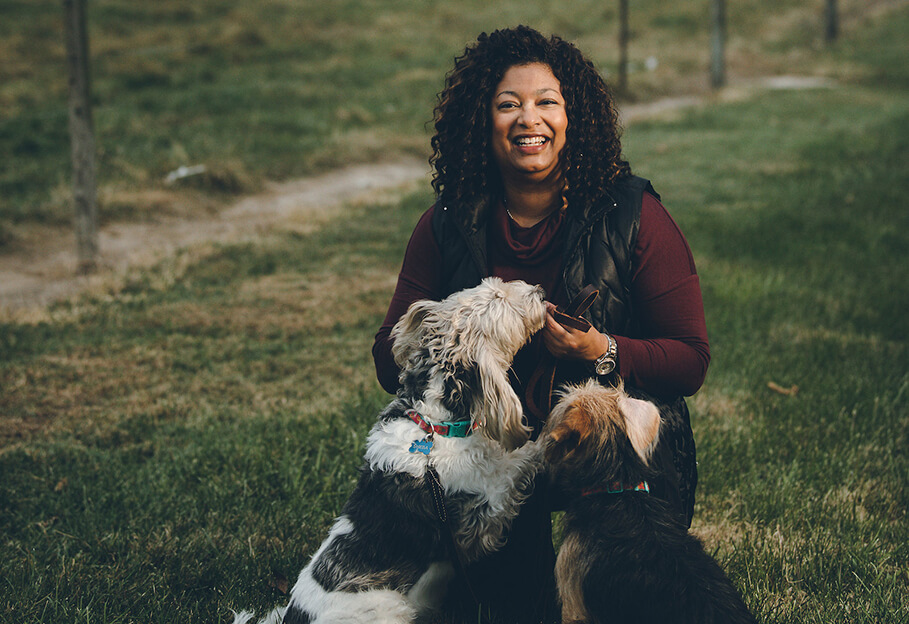 The American Veterinary Medical Association (AVMA) announced yesterday (Thursday, May 11) that the recipient of the 2023 AVMA Humane Award is Dr. Candace Croney, Purdue professor of animal behavior and well-being and director of the Center for Animal Welfare Science (CAWS). Dr. Croney holds a joint appointment in the colleges of Veterinary Medicine and Agriculture. The award recognizes Dr. Croney for her exceptional dedication and contributions to the field of animal welfare.
In announcing the award, the AVMA stated, "With over 20 years of experience in the field, Dr. Croney has demonstrated a deep commitment to improving the lives of both companion and farm animals through her extensive academic and public service work." The AVMA Humane Award is given annually during National Pet Week to a non-veterinarian to recognize achievement in advancing the welfare of animals through leadership, public service, education, research and product development, or advocacy. It is presented annually by the AVMA and supported through educational funding from Merck Animal Health.
"It is a privilege to be able to collaborate with so many people from diverse backgrounds and sectors to help advance animal welfare," said Dr. Croney. "I am profoundly grateful to the AVMA for this prestigious award, those who nominated me, and all of the people and animals from whom I've learned."
Dr. Croney has served as the director of CAWS since the center's founding in 2014. In addition to her faculty role in the colleges of Veterinary Medicine and Agriculture, she also serves as Purdue's associate vice provost of diversity, inclusion, and belonging. The AVMA praised Dr. Croney's influential work that spans the fields of animal behavior, welfare science, and ethics, with a focus on understanding the complex interplay among science, ethics, and culture in addressing animal welfare challenges.
"Throughout her career, Dr. Croney has worked tirelessly to raise awareness of animal welfare issues and engage stakeholders in seeking solutions to challenges," the AVMA announcement stated. "She has served on numerous scientific advisory committees, focusing on corporate social responsibility obligations to animal welfare within supply chains. Her contributions on animal behavior and ethics as a scientific advisor to animal welfare programs operated by large agricultural integrators, such as Tyson Foods, impact billions of animals annually. Dr. Croney is known for her hands-on approach, working directly with stakeholders to increase knowledge about animal welfare, analyze policy, audit data and documents, and conduct on-site visits to identify and implement impactful improvements."
The AVMA announcement emphasized that one of Dr. Croney's most notable achievements is the creation of the Canine Care Certified program, a voluntary, third party-audited care standards program to ensure good welfare in dogs raised by commercial breeders and help mitigate the deleterious effects of irresponsible breeding and care. Recognizing an opportunity to improve the lives of animals in this sector, Dr. Croney actively engaged with the community to develop scientific, evidence-based standards, an auditing and accreditation program, and educational outreach. The accessible education programs Dr. Croney and her team built provide resources essential for helping breeders, policy makers, and the public make informed decisions about meeting dogs' welfare needs, and have improved quality of life for thousands of dogs and puppies.
Dr. Croney was also responsible for the development of a bioethics curriculum at Purdue University for animal science and veterinary students, funded by the United States Department of Agriculture (USDA) Higher Education Challenge Grants program. In addition to her work in the academic and corporate sectors, Dr. Croney also has made significant contributions to government efforts to address farm animal welfare. She has received multiple awards and honors, including being named a 2020 Purdue University Faculty Scholar and receiving back-to-back Purdue University Seed for Success Awards in 2018 and 2019, as well as the Purdue Veterinary Medicine Excellence in Scholarship of Engagement Award in 2015.
"The 2023 AVMA Humane Award recognizes Dr. Croney's extraordinary accomplishments and the significant impact she has made in the field of animal welfare," said Dr. Lori Teller, president of the AVMA. "Her unwavering dedication to improving the lives of animals and her numerous achievements in scholarship, research, extension responsibilities, and outreach programming demonstrate why Dr. Croney is a deserving recipient of this prestigious award."
Click here to view the complete AVMA announcement of Dr. Croney's award.
Writer(s): American Veterinary Medical Association | pvmnews@purdue.edu