PVM Communications Team Welcomes Additional Intern
Friday, November 5, 2021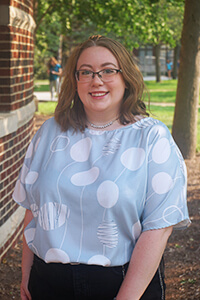 The communications team in the Purdue University College of Veterinary Medicine is very pleased to have the assistance of two communications interns this academic year. Hailee Rolofson and Madison Brod (ryhmes with "rode") started as of last week (October 25).
Hailee is a senior in the Brian Lamb School of Communication with concentrations in public relations and strategic communication, and business communication. She is also a proud volunteer for the FIRST robotics programs, through which she spends time teaching students and helping out at events. Outside of school and work, Hailee enjoys painting, jewelry making, and all things creative. Her favorite part of visiting home is seeing her dogs, Shadow and Tyler. Hailee is excited to wrap up her time at Purdue in Lynn Hall, working with the PVM communications team. You can find Hailee in Lynn 2121, or email her at hrolofso@purdue.edu.
Madeline, a first year Purdue student in pre-communication, was featured in last week's Vet Gazette. Welcome to both Hailee and Madeline!
Writer(s): Kevin Doerr | pvmnews@purdue.edu