PVM 60th Anniversary Celebration is Officially Underway
Friday, March 1, 2019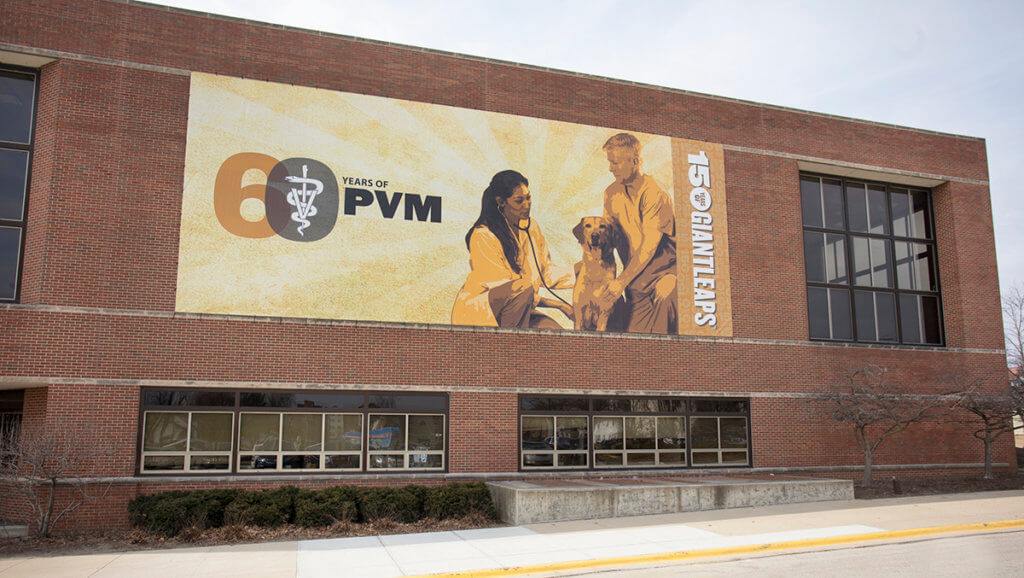 The Purdue University College of Veterinary Medicine officially launched its 60th Anniversary celebration today (March 1). A huge banner promoting the College's 60th and Purdue University's 150th Anniversary now graces the east side of Lynn Hall, greeting passersby traveling on the new Williams Street extension. The banner was installed Tuesday.
Also today, Purdue Veterinary Medicine faculty, staff, students, alumni, and friends are attending the College's 60th Anniversary Kick-off Luncheon being held in conjunction with the Indiana Veterinary Medical Association's (IVMA) annual meeting in Indianapolis.  The event features entertainment, a special anniversary cake, and a keynote presentation by PVM alumna Karen Cornell.  Dr. Cornell is a professor and associate dean for professional programs at the Texas A&M University College of Veterinary Medicine and Biomedical Sciences.  She earned both her DVM degree and PhD at Purdue in 1988 and 1993, respectively.  Her talk is entitled, "The Continuum of Veterinary Medicine:  Meeting at the Nexus of Change from Plow Horse to Poodles, from Anthrax to Zika, from Student to CEO."  The luncheon program also includes music by the Purdue Musical Organization's singing group called the Voiceovers, and audience participation in the singing of Happy Birthday as a 60th Anniversary cake is wheeled to the front of the Veteran's Hall meeting room at the Marriott Indianapolis East Conference Center.
Today's official kick-off event is just the beginning of the 60th Anniversary event schedule. Other planned events include:
Wildlife Medicine in Belize and Guatemala continuing education course // April 7-14
Fair Oaks Farms PVM Family Outing // June 29
Indianapolis Zoo PVM Family Outing // July 13
PVM Birthday Celebration // September 9
PVM Through the Decades event during the Purdue Veterinary Conference // September 19
Click here to view the 60th Anniversary website for more information.
Writer(s): Kevin Doerr | pvmnews@purdue.edu