Purdue Veterinary Ophthalmologists Keep an Eye on Vision Health of Service Dogs
Friday, May 19, 2023
Canines dedicated to lives of service benefitted from a special day set aside earlier this month for checking their eye health. The Purdue University Veterinary Hospital Ophthalmology Service participated in the American College of Veterinary Ophthalmologists (ACVO)/Epicur National Service Animal Eye Exam event by providing free eye exams for qualified service dogs on Monday, May 8. About a dozen service dogs received eye exams that screen for cataracts, glaucoma, and other eye diseases and disorders that can impair the dogs' vision.
The annual ACVO/Epicur National Service Animal Eye Exam event takes place each May, when participating ophthalmologists offer free screening eye exams for eligible service and working animals.  After a hiatus due to COVID-19, the event returned in full-strength this year, with more than 260 board-certified veterinary ophthalmologists participating across some 200 cities in the U.S., Canada, Puerto Rico, and Hong Kong.  It's the 14th year for the program, which, as of last year, had provided screenings to about 76,000 animals.
Here's a look at some of the service dogs that were helped as part of the event at Purdue this year: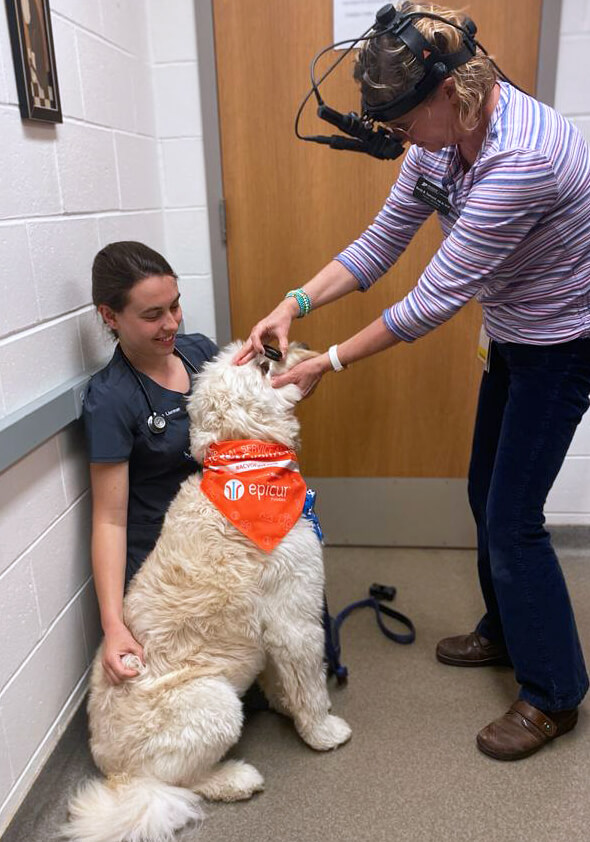 Ry and Zip are search and rescue dogs that also are certified for cadaver searches. Previously, Ry had one of his eyes removed after coming to Purdue for treatment of an iris mass that involved more of the eye than just the iris, which caused concern about potential cancer. Thankfully, Ry was found to be cancer free and has not missed a beat as a one-eyed search and rescue dog. These two housemates are quite the pair!
Buddy is a therapy dog that goes to libraries, special education schools, and nursing homes, where he is both a great listener and friend.
Kirstie, a sweet guide dog for the blind, has a litter mate with glaucoma. The free eye exams have helped her handlers keep track of potential conditions that could arise.
Robb is a sweet Goldendoodle that has been in service for four years as a mobility and retrieval dog, helping his handler with day-to-day mobility as well as retrieval of items that are out of reach.
Hannah is a German Shepherd trained as a therapy dog for post-traumatic stress disorder (PTSD) and helps her handler through the struggles associated with the mental and physical side effects from PTSD.
Rosco is a Golden Retriever that is a Boilermaker, serving his handler, who has ties to Purdue, by keeping alert for seizures.
Ella is a German Shepherd that has been her handler's long-time service dog and now is helping train a service dog named Hudson to take over when she retires.
Tate is a sweet boy who helps his handler as a guide dog for the blind.
Thank you to the Ophthalmology Team for providing this important complimentary vision care to these very important canines as part of the annual ACVO/Epicur National Service Animal Eye Exam event.  Patients treated as part of the event received a complimentary bandana. To make a donation to support the work of the Veterinary Hospital's Ophthalmology Service, click here.
Epicur Pharma, a division of Stokes HealthcareTM, founded in 1975, is the name-sake sponsor of the National Service Animal Eye Exam event and Stokes Pharmacy is a sister division that has been a dedicated ACVO supporter for many years.
Writer(s): Kevin Doerr | pvmnews@purdue.edu