Purdue Veterinary Medicine Makes Connections at IVMA Crossroads Veterinary Conference
Friday, February 11, 2022
In spite of a tricky snowstorm that swept into Indiana on the eve of the Indiana Veterinary Medical Association's (IVMA) Crossroads Veterinary Conference last week, Purdue Veterinary Medicine was well represented in the exhibit hall with a booth showcasing a breadth of services provided by the college. The conference was held Friday and Saturday, February 4-5, at the Embassy Suites by Hilton Noblesville Conference Center.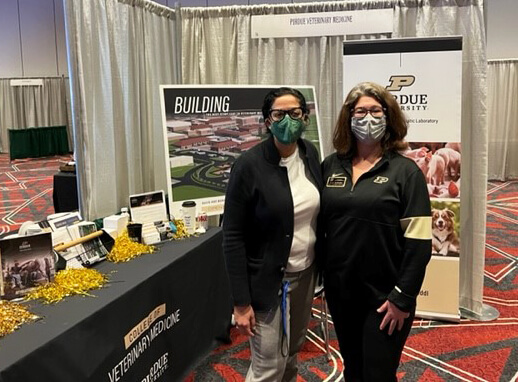 PVM Director of Alumni Relations and Special Events Susan Xioufaridou said the well-attended event provided a great opportunity to connect with the college's alumni and friends. "It was fantastic to be able to meet face to face with alumni who I haven't been able to see in person in two or three years," Susan said. "And you could just feel the energy in the exhibit hall."
Susan explained that part of that energy might have been triggered by attendees learning about new tests available from the Animal Disease Diagnostic Laboratory (ADDL). Or perhaps it was tied to the excitement surrounding the new Veterinary Hospital facilities, named the David and Bonnie Brunner Purdue Veterinary Medical Hospital Complex, which will be dedicated April 8. Or perhaps the enthusiasm bubbled over as people discovered the amazing ways alumni members of the Purdue Veterinary Alumni Association are giving back to the college in support of student traditions and experiences.
"Whatever the reason, there was plenty of information to share and the excitement and delight expressed by Indiana veterinary medical professionals was contagious," Susan said. A big thank you to Susan for coordinating PVM's booth in the exhibit hall and to Kelly Dold, marketing and communications manager for the Veterinary Hospital and ADDL, for her help in gathering items to display at the booth.
Writer(s): Susan Xioufaridou and Kevin Doerr | pvmnews@purdue.edu