Purdue Veterinary Conference Wellness Keynote Speaker to Assess Wellbeing Landscape in Veterinary Medicine
Friday, August 6, 2021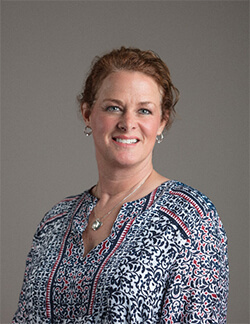 Snake Oil and Wellbeing Initiatives – What's the Connection? Dr. Jen Brandt, the American Veterinary Medical Association's (AVMA) director of wellbeing, diversity and inclusion initiatives, will answer that question at this year's virtual Purdue Veterinary Conference in September. Dr. Brandt is scheduled to provide the Wellness Keynote Lecture, which will be entitled, "Wellbeing and the Snake Oil Parable: Discerning and Deconstructing the Current Wellbeing Landscape in Veterinary Medicine."
Dr. Brandt will highlight the widespread scope of practice issues which frequently impact veterinary professionals, while also inviting attendees to deconstruct popular social media wellbeing-based narratives during her lecture. She will conclude with six foundational criteria everyone can apply to become more qualified discerners of wellbeing programming, maximize safety and efficacy, and reduce the risk of unintended harm.
In her role as the AVMA's director of wellbeing, diversity and inclusion initiatives, Dr. Brandt guides healthcare professionals in maximizing individual and organizational wellbeing by integrating macro and micro strategies, identifying what's working well, and applying solution-focused approaches. Her education and outreach efforts focus on removing barriers to wellbeing, diversity and inclusion, eliminating toxic work cultures, promoting workplace civility, increasing self-awareness and self-efficacy, transforming conflict effectively, and enhancing team communication.
Dr. Brandt, who received a PhD and Master of Social Work from The Ohio State University, is a licensed independent social worker and supervisor, experienced grief and trauma therapist, and healthcare team communications specialist. In 1997, Dr. Brandt founded The Ohio State University College of Veterinary Medicine's Honoring the Bond Program, one of the first programs in the nation aimed at recognizing and supporting the human-animal bond by providing education and resources to animal owners and animal care professionals. She also co-founded the American Association of Veterinary Medical College's (AAVMC) Veterinary Mental Health Professional's Group, which serves to enhance and build wellbeing and support programs at colleges of veterinary medicine, develop best practices in veterinary counseling and wellbeing agendas within colleges, and provide counsel and expertise to veterinary leadership.
Recently, Dr. Brandt helped launch the AVMA's Workplace Wellbeing Certificate Program to support veterinary professionals in developing the knowledge and skills needed to create healthy work systems. She also helped start the AVMA's Brave Space Certificate Program, which explores the impact of stereotyping, unconscious bias, and workplace harassment.
The 2021 virtual Purdue Veterinary Conference, to be held September 7-10, will offer four days of high quality tracks on small animal, equine, food animal, practice management, exotics, and topics of interest for veterinary nurses. Attendees can earn up to 24 hours of continuing education, and will have access to our virtual exhibit hall. Only those registered for the Purdue Veterinary Conference will be able to attend.
Click here for more information, including the conference schedule. Click here to register today.
Writer(s): Ben Shepard | pvmnews@purdue.edu