Purdue Hosts Canine Welfare Science Forum Tomorrow
Friday, June 8, 2018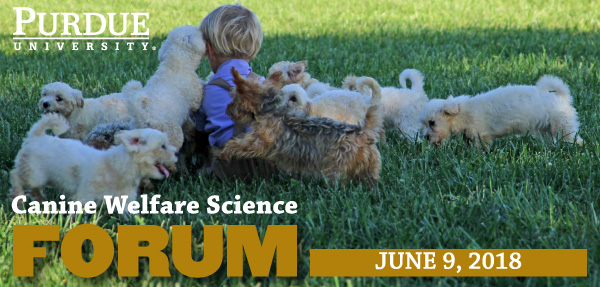 Resources for dog owners and canine professionals will be provided at a continuing education opportunity scheduled tomorrow, Saturday, June 9, at Purdue University.  This year's Canine Welfare Science Forum, scheduled for 8:30 a.m. to 5 p.m., in Stewart Center, Room 302, will address important aspects of providing a good quality of life for dogs.
The daylong forum is designed for anyone who is in regular contact with dogs, including dog owners, breeders, veterinarians, kennel professionals and academics working with or interested in canine welfare science.  "To ensure that dogs are afforded a good quality of life and that they meet owner and public expectations as safe, lifelong companions, they must be both physically and behaviorally well," said Dr. Candace Croney, director of the Purdue University Center for Animal Welfare Science (CAWS), who holds a joint appointment as professor of comparative pathobiology in the College of Veterinary Medicine and professor of animal sciences in the College of Agriculture. "Genetics impacts both of these key aspects of welfare and therefore must be attended to by those selecting and breeding dogs."
In addition to genetics, the forum will address three other areas of canine welfare: nutrition, socialization, and enrichment.  A variety of other animal welfare experts will speak at the event. Speakers include Mark Dunn, senior vice president of the American Kennel Club; Dr. Kari Ekenstedt, professor of anatomy and genetics in PVM's Department of Basic Medical Science; and Dr. Joe Camp, professor of comparative pathobiology in PVM's Department of Comparative Pathobiology.
For more information, click here to view a complete news release with additional details.
Writer(s): Emma Ea Ambrose, 765-494-2406, eeambros@purdue.edu; Kevin Doerr | pvmnews@purdue.edu