Practice Management and Communication Topics to be Featured at PVM's Annual Conference
Friday, July 12, 2019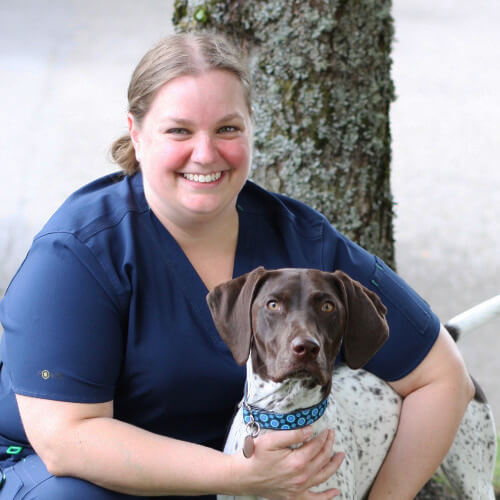 Purdue Veterinary Medicine's own Small Animal Hospital Veterinary Nursing Manager Megan Brashear, CVT, VTS (ECC) will speak during the 2019 Purdue Veterinary Conference September 19, sharing insights gained from 18 years of experience in emergency and critical care and technician/team management. Recognized as a leader in furthering veterinary continuing education, Megan will provide exceptional instruction related to management and communication. She speaks nationally and was named as one of the 2019 WVC Continuing Educators of the Year.
While most veterinary professionals didn't pursue a career in the field in order to work with people, getting along with others is a necessary part of the job. Megan's lectures aim to teach participants to shift their thinking in order to improve communication, and will provide tips on how to become a more effective leader within the practice. Megan will discuss communication styles and use case studies to illustrate the benefits of being a direct and compassionate communicator. She will also share examples of how to communicate in challenging situations, and how improved communication can help you keep your sanity. By implementing Megan's tips, attendees will be able to communicate better with employees, peers, and clients.
Proper hospital policies, procedures, and staff training programs also are vital in successful, well-run veterinary practices. Megan will provide lectures on how to develop and implement these tools within a practice. As a technician and manager, she understands the challenges that come with training staff. Megan's lectures will help attendees understand what policies and procedures need to be in place, how to organize staff training needs, create skill lists, and roll-out a training plan that helps the entire veterinary team. She also will provide tips for communicating change to create buy-in and compliance with the hospital training standards and protocols.
Click here to learn more about Megan's sessions in the conference's Practice Management and Communication track.
The annual Purdue Veterinary Conference is designed to provide continuing education (CE) opportunities for the entire veterinary team.  Attendees can earn up to 26 CE hours at the 2019 Purdue Veterinary Conference.  Content includes Small Animal, Food Animal, Equine, Exotics, Practice Management, Behavior, and topics of interest for Veterinary Technicians.  All conference sessions and special events will be held on Purdue's campus in West Lafayette, Ind. Learn more and register by visiting purdue.edu/vet/conference.
Writer(s): Andrea Brown | pvmnews@purdue.edu