Panda Expert Nears End of Visit to PVM as Guest of Dr. Jeff Ko and Veterinary Clinical Sciences
Friday, March 10, 2023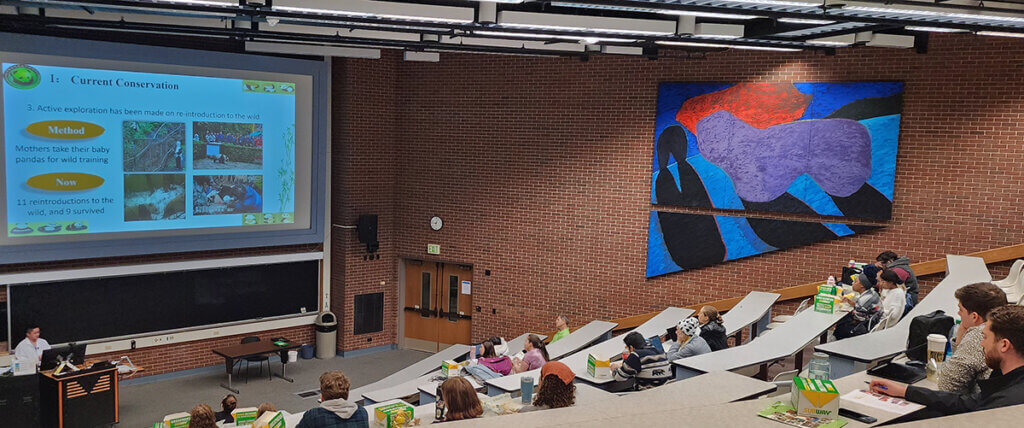 A chance meeting several years ago in China between Dr. Jeff Ko, Purdue professor of anesthesiology in the Department of Veterinary Clinical Sciences, and a Chinese veterinarian and panda expert, Dr. ChengDong Wang, led to a unique opportunity for the College of Veterinary Medicine over the past year. That's because, after they initially met, Dr. Ko extended an invitation to Dr. Wang to come to Purdue. He accepted and ultimately arrived at Lynn Hall last April for a yearlong visit.
With his stay at Purdue now nearing its conclusion, Dr. Wang took advantage of an opportunity Monday, March 6, to give a presentation jointly with Dr. Ko to the student Exotic Animal Club. During the luncheon meeting in Lynn Hall, Drs. Wang and Ko shared about panda anesthesia and oral and dental diseases and also talked about PVM's international veterinary student exchange program.
Dr. Wang works as the head of the Veterinary Research Program at the China Conservation and Research Center for the Giant Panda. He also is in charge of all the giant panda health and husbandry management in the Dujiangyan Base of Giant Panda Center, where there are about 150 pandas. He and his team also are partially responsible for pandas abroad, including those in the U.S. Dr. Wang earned his DVM degree in 2002 at the Sichuan Agricultural University College of Veterinary Medicine and later pursued graduate studies there, receiving a master's degree in 2011 and his PhD in animal husbandry, with a focus on special animal species, including pandas, in 2015.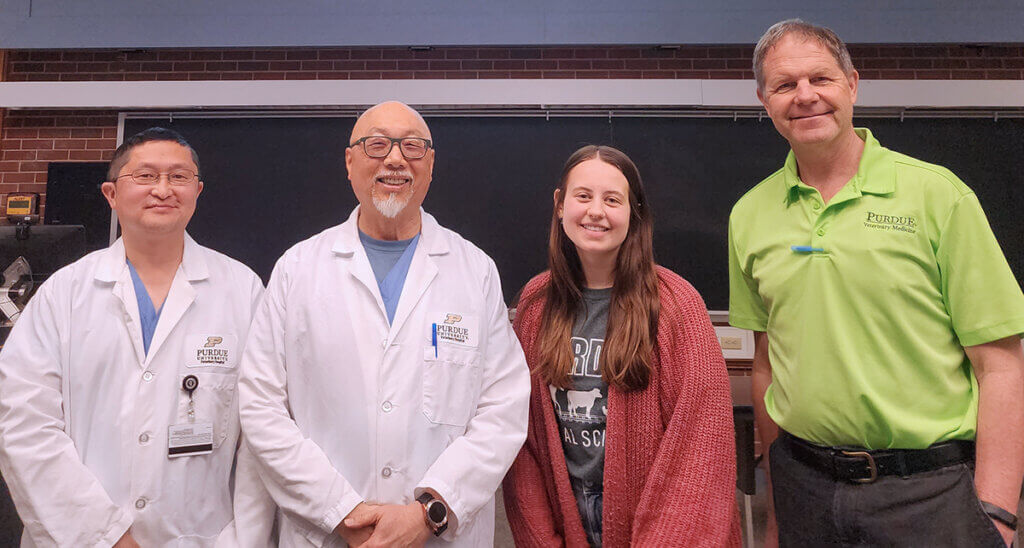 Dr. Ko met Dr. Wang in 2017, when, as part of the PVM Office of Global Engagement's international summer student programs, he took a group of Purdue veterinary students on a trip to the Sichuan Dujiangyan Giant Panda Base to learn about panda medicine. This summer student program also had been led by Dr. Riyi Shi, professor of basic medical sciences and Mari Hulman George Endowed Professor of Applied Neuroscience, in the previous year. Drs. Ko and Wang enjoyed sharing about their clinical experiences involving the giant panda, and in particular, anesthesia in the giant panda. Dr. Ko said Dr. Wang then accepted an invitation to come to Purdue because he wanted to learn more about clinical medicine at Purdue, as it pertains to anesthesia, dentistry, and other clinical specialty areas.
The next step involved Dr. Wang applying for a scholarship through the China Scholarship Council in 2019. He was awarded a one-year scholarship in May 2020 to support his coming to Purdue, and his visit also was approved by the head of the Department of Veterinary Clinical Sciences, Dr. Catharine Scott-Moncrieff. Due to the COVID-19 pandemic, however, the visit was postponed until April 2022.
Dr. Ko said during his time at Purdue, Dr. Wang has learned a great deal about anesthesia, working with the Purdue University Veterinary Hospital's anesthesia team, and dentistry, working with Dr. Steve Thompson, clinical associate professor of small animal primary care. He also observed both large and small animal surgery, medicine, and diagnostic imaging, and learned a lot about case management and clinical equipment. Dr. Ko said Dr. Wang's goal is to take all the skills and knowledge he's gained back to the Giant Panda Center and apply them to panda care. He also plans to teach his team about the high quality of veterinary care at Purdue and share the skills he learned with his team members.
As Dr. Wang prepares to conclude his Purdue visit next month, he sincerely welcomes Purdue Veterinary Medicine students and faculty members to visit his Panda research center. Additionally, several research projects related to panda anesthesia and dental care have been formulated between the Giant Panda Center, Sichuan Agricultural University, and PVM faculty members. Dr. Wang's last day at the college will be April 6.
Writer(s): Kevin Doerr | pvmnews@purdue.edu