New Assistant Dean at University of Illinois College of Veterinary Medicine is Purdue Alumna
Friday, April 24, 2020
Dr. Sara Connolly, a member of the Purdue DVM Class of 2006, now is serving in the newly created position of assistant dean for student success at the University of Illinois College of Veterinary Medicine. Those who knew Dr. Connolly as a PVM student who was active in both College and campus programs and organizations, are not surprised to see her move into an administrative role focused on veterinary students success.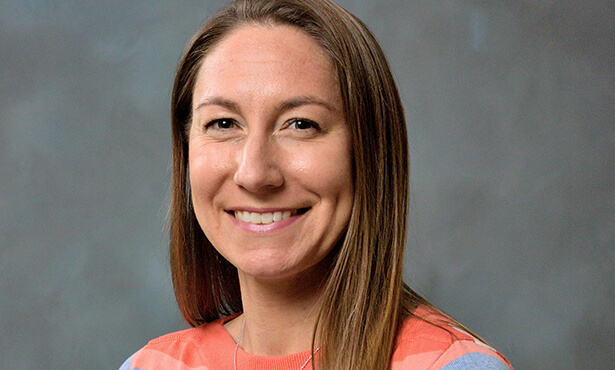 After earning her DVM degree, Dr. Connolly stayed on at Purdue to complete a residency in clinical pathology. She then spent a year and a half working at the University of Illinois College of Veterinary Medicine before accepting a position as a lecturer at the University of Melbourne. According to an article posted on the University of Illinois CVM website, Dr. Connolly loved Australia, but realized it was "too far from home." Two years later she returned to Illinois to take a position at Antech in Chicago.
Within a year, however, Dr. Connolly's love for being around students drew her back to the University of Illinois, where she accepted a faculty position. Board-certified as a clinical pathologist, Dr. Conolly has served as a clinical assistant professor in the College's Veterinary Diagnostic Laboratory since 2015. On March 23 of this year, she began a 50 percent appointment as assistant dean in the Office of Academic and Student Affairs.
Though Dr. Connolly currently is working in isolation due to a work-from-home mandate, she characterizes her new role as one that facilitates connections in several ways:
connecting current veterinary students with opportunities to explore careers through internships and externships;
connecting students from populations not proportionately represented in the veterinary field (including males, people from lower economic strata and rural areas of Illinois, as well as under-represented ethnic populations) with opportunities to envision a veterinary career; and
connecting practicing veterinarians with opportunities to mentor prospective veterinarians as well as current veterinary students.
"I love the service part of my job in clinical pathology, but I realized that teaching and working with students on rotations was actually my favorite part," Dr. Connolly said. "This new position allows me to combine my passions for advocacy and volunteering in my personal life with my passion for helping students."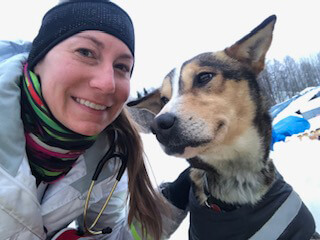 The remaining 50 percent of Dr. Connolly's academic appointment is split between continuing her service and teaching roles in clinical pathology and completing the research portion of her PhD in the Department of Pathobiology. Her research interests include exploring the aging process as it occurs in a population of canine athletes—Iditarod sled dogs—compared with sedentary pet dogs. She has collected data and/or served as a veterinarian at the Iditarod race in Alaska from 2017 to 2019. She also is an avid triathlete.
Dr. Connolly knows it will take some time to adjust to the new distribution of time in her academic appointment, so she plans to start by setting discrete goals for her assistant dean role. "I don't want to take on anything that I can't accomplish to the best of my ability," Dr. Connolly explained. "My first priority is to improve our web presence for prospective students, which I hope to accomplish over the summer. I'm also going to focus on building a statewide network for student recruitment."
Given that a disproportionate number of Illinois veterinary deans have come from a pathology background, including former dean and Purdue alumnus Dr. Herb Whiteley (PU DVM '77), does Dr. Connolly think her assistant dean role could lead to being dean of a veterinary college some day? "That's never going to happen!" Dr. Connolly said with a laugh. "Although it would be funny if it did, and I was quoted in print saying otherwise."
Click here to view the complete story about Dr. Connolly on the University of Illinois website.
Writer(s): University of Illinois and Kevin Doerr | pvmnews@purdue.edu