Mild equine asthma can distinguish winners from losers on the racetrack
Tuesday, April 16, 2019
Meet the Purdue prof leading the charge toward diagnosing and treating the disease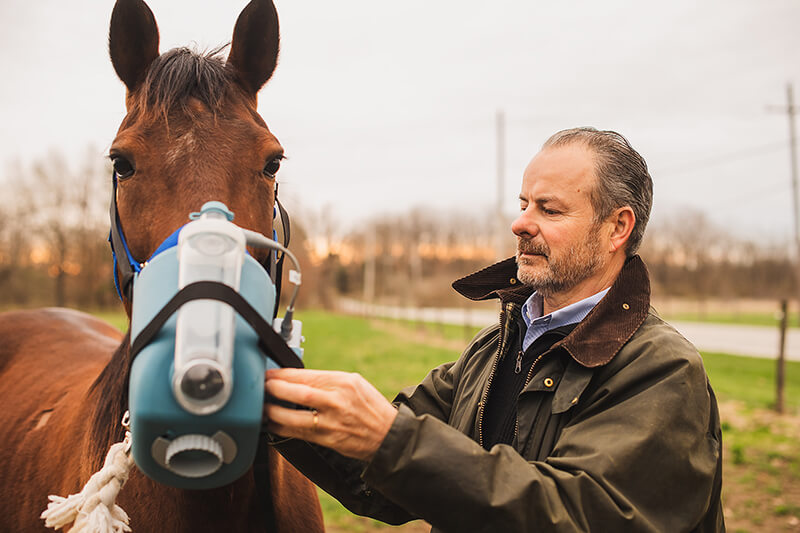 WEST LAFAYETTE, Ind. — From chariot racing in ancient Rome to the modern Kentucky Derby, horse racing has been celebrated in some form for more than a thousand years. Whether the horses' hooves were pounding around in a dirt-filled coliseum or a racetrack surrounded by spectators in wide-brimmed hats, they probably had one thing in common: asthma.

When just a few seconds makes the difference between first and last place, equine athletes need to bring their best game to the track. For those that don't, the issue can often be traced to the lungs.
"Unlike the heart or muscle, the lung in the horse athlete is a limiting factor," said Laurent Couëtil, director of Purdue University's Equine Sports Medicine Center. "Even in healthy horses, breathing is a limiting factor on performance. So if you take a little bit away from that, the consequences can be severe."
Read More at: Mild equine asthma can distinguish winners from losers on the racetrack
Learn more about Dr. Couëtil and his work at the Equine Sports Medicine Center.
Writer(s): Purdue Veterinary Medicine News | pvmnews@purdue.edu